Chris Rudyard
MNCS Acc - *AEDP *BSP *EMDR *EMI *IFS * Trauma Therapist
About me
Hello and welcome
Please note: I'm fully booked until at least summer 2022,  and I currently have about 30 people waiting on my waiting list. Therefore I am not taking on any new clients onto my waiting list for the time being.
Existing clients may 'choose & book 24/7'  HERE (I get fully booked weeks ahead, so you may need to book well in advance)
____________________________________________________________
My name's Chris Rudyard: I'm Human First, a Counsellor, Psychotherapist & Supervisor - MNCS Reg & Accredited, Fully Insured.
I have over 20 Years' experience helping adults, and children with all types of trauma and difficulties. I am the owner of 'Counselling For Liverpool'. I have real employed experience working in services post qualification. I have well over 10k hours of experience, I stopped counting a quite a long time ago..
I have my own professional office in South Liverpool which is not shared with other therapists and provides free onsite parking.
I do not subscribe to one model of therapy, as I have many diverse training's in cutting-edge, and powerful psychotherapies that get to the 'root cause' of it.
In my experience, good therapy needs to be collaborative, flexible, and have depth. It needs to be something that is felt, something that engages your mind & body, with a therapist that is highly attuned.
I work by not only helping you get to the 'root of it', but to help heal the roots of 'it' too. The therapies I do are deep, interactive, non-shaming, and are brain/body-based psychotherapies that are in line with neuroscience. I will not squash you tightly into a protocol-led therapy.
I realise at this stage you may just want to get started and talk to a trusted, and well-known professional counsellor & psychotherapist, in an accepting, and safe space, that's fine we can do that.
I have helped 1000's of people from all over the world to work beyond their difficulties.
I always like to meet someone new to help or to catch up with people that have benefited from my sessions in the past. I make my clients important to me so that therapy works.
You can go straight to my website and book online there by clicking here now
Seeing me ensures:
No notes will go onto your medical records
Your sessions will not be shared within the NHS, or anyone else
There are no tedious written assessments, lengthy questionnaires or overwhelming paperwork

There is no need to prepare - no thought diaries

There no requirement to talk if you don't want to
There is no need to deal with a third party
There will be no 'CBT type' homework
You won't get the cold, rigid type of therapist
I don't just 'nod' and listen..unless it's required

You don't go into a strangers home
You are not expected to sit still if that's uncomfortable for you
You book your own appointments online
Your appointments will be on time i.e not late
You get a therapist who is fully trained in more than one model of therapy
You get a therapist who understands many models, attachment, trauma, and 'parts work'
You will not be forced into an organisational target system
Gentle yet powerful methods
___________________________________________________________________
What can you benefit:
People I've worked with have gained:
answers
better relationships
calmness
clarity
closure
confidence
connectedness
control
direction
healing
knowledge
meaning
progression
regulation
relief
restful sleep
self-energy
self-awareness
strengths
understanding
ways of coping
well-being
___________________________________________________________________
What else do people see me about?
People who see me have usually tried self-help books, been to see their GP,  tried CBT, and done normal talk therapy. People who see me usually want something more than what's available through the NHS, private healthcare and charities.
People see me about:
anger/anxiety/stress/burnout
addictive & binging behaviours inc. alcohol, cocaine, pornography and food
bereavement & grief
childhood experiences
complex trauma histories
deep-rooted phobia
dissociative identity disorder (DID)
extreme dissociative experiences (out of body/not feeling/amnesia)
family & relationships
fear & terror
flashbacks, dreams & nightmares
illness
physical problems, pain and unexplained pain/s
panic attacks
psychosis & drug-induced psychosis
relationships
self-injury
sex (performance issues, and no sex drive)
sleep problems
'Treatment-Resistant Depression & PTSD' (it's not that these are not treatable, it's just that some therapies such as cbt & talk therapy are not able to help. Also this label means that medications haven't helped either)
work - some professionals have really difficult and intense jobs, they find it helpful to offload, process, and look at their practice to improve it.
__________________________________________________________________
Not sure what the problem is?
Sometimes problems seem to be about how you're feeling physically.. Sometimes people go to see their GP because of how they feel and leave without treatment because there is nothing medically wrong. Or that the medication has side effects, or doesn't seem to do enough or anything.
Physical symptoms that turn out to be 'medically unexplained' can be due to being 'run down', stressed or underlying trauma that is being played out through the nervous system. To work with these concerns therapists need to have a good understanding of 'parts work', trauma, and the nervous system.
Examples of trauma symptoms that I work with:
auditory hallucinations - body dysmorphia (BDD), chronic fatigue/exhaustion -dissociation/not feeling -de-personalization/de-realisation - dizziness/Labyrinthitis/vertigo - Emetophobia - feeling on edge - IBS/irritable bowel syndrome - chest & stomach pains - Fibromyalgia - hallucinations - headaches/migraines - lump in the throat - Misophonia -OCD - panic attacks - phantom pain - sexual performance, and sex-related issues - shaking - skin rashes - sleeping problems - 'spacey' feelings - stammers - excessive sweating - tinnitus - tight chest.
It's always a good idea to consult your GP too if you are experiencing any of these symptoms.
___________________________________________________________________

Where do I start, how do I know what to talk about?Start by booking online. You can call me first if you need to - leave a message and I will call you back asap. Please note that I have clients so it may be a while before I call you back.

In the first session, we'll start to work out together what's going on, and where to start. You may not feel like talking - just let me know.
Whether you know what is bothering you or not, you are welcome to come and see me.
___________________________________________________________________
What I have to offer:

My approach to therapy is a fluid one, I am human first, and I'll develop a way to work with you as an individual. Different training and approaches may be viewed as having many different 'lenses' to be able to see and work with people. Whether you're wanting inner child work, trauma focussed work, or somewhere just to talk things over, I develop a way of working together that will help you.
I'm pretty easygoing, genuine, open-minded, and I have a warm, accepting attitude.

I usually work by having therapeutic conversations, and I also have ways of working that don't require talking about the issue. There is research to show that normal talking therapies alone are ineffective in treating trauma, and can even embed the trauma further.

I originally trained as a Person Centred Therapist and discovered that there were many more therapies that go deeper, and could often be more helpful at times. Today I am trained in many therapies. I find the most beneficial therapies that I use are: Eye Movement Desensitisation & Reprocessing/EMDR, and Eye Movement Integration/EMI, Internal Family Systems/IFS, and Brainspotting/BSP (trauma therapy).
I am also trained and experienced in Attachment & Trauma, Neuroscience (The brain and nervous system) and how this affects recovery. I have also trained in CBT, NLP Professional Coaching, Clinical Hypnotherapy, and Solution Focused Counselling. I do not use any intervention that I have not had training in.
More important than all these theories is that I understand you, and can relate to you as an individual. Much of my work encompasses human relationships and the difficulties that arise through being in, or out of them.
Working with me ensures tight confidentiality, without the NHS or 3rd parties sharing your/knowing your personal information.
Overall, I love my work, accompanying and seeing people get to a better place.
___________________________________________________________________
Other Stuff
As well as therapy, and the work I do I am interested in many things including, cooking, film, health, music, and travel.
Book Online 24/7
Training, qualifications & experience
Many different professionals & people come to see me inc:

actors, artists, business persons, consultants, engineers, lecturers, medical professionals, musicians, office workers, parents/carers, religious persons, scientists, sports persons, solicitors, students, teachers, trades-persons, travellers, and young people.
Most of my clients today tend to be students and professionals in their 20's - 50's, but I've work with people from many walks of life.
Experience
It's always a good idea to check through your therapists' experience and training...
I have over 20 years of experience gained working within well-known services, with many people from many kinds of backgrounds. This has expanded my knowledge, and stretched me personally and professionally, making me a flexible, robust and very experienced practitioner. I found that services were often restrictive which impacted on peoples' recovery, which is why I now only work on a private basis.
As well as my direct therapy work with individuals, I have provided training and consultation for organisations inc. schools around mental health matters.
My work and practice have been audited by the BACP and have passed this process. This means I have met certain criteria required to evidence that I am ethical in my professional responsibilities as counsellor & psychotherapist. I am also an accredited member of the National Counselling Society.
I have also gained BACP Accredited status for organisations.
Prior to my own private practice I have extensive experience working in services:
*The Priory Therapy Centre & The Priory Residential Hospital Preston* - CQC regulated therapy service. Therapist/counsellor/psychotherapist/assessor - adults - anxiety & depression, BPD, dual diagnosis, drug & alcohol use, relationships, trauma & C/PTS(d). Short to longer-term work.
*Counsellor & psychotherapist* (Merseyside, Manchester, Salford, Wigan) - setting up counselling services within schools, providing counselling & therapy for: pupils, parents/carers, teachers & staff.
*Counselling & psychotherapy* - A BACP Accredited counselling service - A great deal of my work here encompasses short - long term working with both perpetrators and survivors. Common themes I helped with were: abuse, anger/anger management, 'BPD', dual diagnosis, domestic violence, family, personality, relationships, psychosis, PTS(d), schizophrenia & traumatic experiences. I  worked for this counselling service for 6 years, which was funded with thanks to Wigan CCG/NHS.
*Counselling for Liverpool ©* - owner for 15 years - working with people on a private basis providing counselling & psychotherapy for a range of personal issues. Short to long term work. Addiction, anxiety, relationships, and trauma & C/PTSD. Training & Supervision also provided.
*7 Employee assistance programs* - counselling employees from some of Liverpool's employers and international employers. Telephone & face to face - Adults counsellor/therapist - short-term work (6-8 weeks). Trauma debriefing, and intervention. I also completed triage mental health assessments and risk assessments on a daily basis.
*Government departments & officials* - I have worked with staff of government departments such as The Home Office, Dept for Education, Dept for Health, Foreign and Commonwealth Office, Ministry of Defence. I have provided coaching, counselling, crisis/trauma intervention, management support and psychotherapy to these persons.
*Insurance companies* - I have provided counselling for several large insurance companies who refer people for help with experiences of trauma, accidents and injury
*Looked after children's (LAC) counsellor* Inc. parents/carers with experience of trauma - funded by Wigan local authority
*Counsellor & Mental Health Practitioner* - Manchester - Forty Second Street - mental health assessments & counselling sessions for 11-25-year-olds with experience of trauma, and substance use. Funded by NHS/CCG
*Relate - The Relationship People* - North & South Greater Manchester - Counsellor & Psychotherapist.
*Face to Face charity* - Manchester -adults counsellor for those with low/no income - voluntary
*Bereavement & Palliative Care Counsellor - Hospitals, medical centres, GP clinics - bereavement, cancer, life-threatening illness, and trauma - Trafford NHS & Macmillan Centre
*Pupil Referral Units (PRU's) & Social, Emotional and Mental Health (SEMH) schools* - counsellor & therapist - short- long term counselling & therapy
*Mental health advice/support helplines* - triage assessments, supporting people in crisis, advising professionals & carers on mental health matters.
*Online advice & support* for concerns around self-harm - TheSite.org, now called: themix.org.uk
*GP's surgeries & NHS clinics* - counselling, psychotherapy & mental health assessments across Manchester & Wigan
*Therapeutic residential units, residential homes & schools* for people of all ages with moderate-severe Epilepsy, learning & social difficulties including those who have a diagnosis of ASC/Asperges/Autism. Inc The David Lewis Centre.
*Residential/assessment units*, leaving care units for those with 'dual-diagnosis, diagnosed, undiagnosed, awaiting assessment for mental illnesses. Bury, Cheshire, Wirral, Wigan, Manchester.
*Substance misuse counsellor* - NHS/CCG. Working with those using drugs/alcohol, or those relationships affected.
*Suicide prevention practitioner* - national charity - providing guidance to professionals & carers. Supporting and intervening with people in crisis, and those experiencing suicidal ideation, and who are actively in the process of suicide.
*Participation* - helping support young people, parents/carers, and professionals feedback to commissioners/CAMHS, and services, to help shape mental health services.
*The Samaritans* - 2 years 2002 - working with people in crisis, those who are feeling suicidal, and actively pursuing suicide. Telephone, and face to face - Manchester - voluntary
*BSP-UK* - I have assisted at many trainings including Brainspotting Phase 1, 2, 3, and Online. I have worked in small to larger training groups of up to 100 professional counsellors, psychotherapists, psychologists, and other types of therapists.
___________________________________________________________________

Professional Qualifications & Training
My training exceeds the minimum requirements to be able to provide counselling under the BACP & NCS regulating bodies. I am trained in several approaches to therapy, the IFS approach is at the heart of all my work. I can also practice hypnosis, but would only do this at my request on a case by case basis. Hypnotherapy alone is often not an appropriate method.
If you haven't guessed by now my passion and interest is therapy and trauma. I read lots, listen to lots, and get lots of top-quality training, which in turn you will benefit from.

My training has been gained through some of the most well-renowned trainers from around the world:

AEDP - Accelerated Experiential Dynamic Psychotherapy - Lv1 AEDP Therapist. The Dyadic Repair of Attachment Trauma: Healing at the Edge of Transformational Experience. Immersion - AEDP is an evidence-based, experiential therapy, with thanks to Dr. Diana Fosher at AEDP Institute NYC. 
EMDR/Eye Movement Desensitisation & Reprocessing Therapist - Lv 1, 2 & 3 This is a well-known therapy intervention for traumatic experience & complex trauma. EMDR can be quite an intensive treatment..and takes 100% commitment. EMDR is an evidence-based psychotherapy. Official training in EMDR UK & Ireland Accredited Course. With thanks to Dr. Derek Ferrell - Past president of Accrediting body EMDR UK & Ireland. Current Consultant, Accredited EMDR trainer & lecturer. Liverpool, UK. Find out more EMDR Therapy
EMDR 2.0 An Enhanced Version of EMDR Therapy.  EMD Bomb,  Flash, Flash Forward, Mental Video Check. Thanks to Dr. Ad De Jongh & Dr.Suzy Matthijssen
Brainspotting Phase 1 - British Psychological Society approved training. Cutting edge, and gentle therapy for processing traumatic experiences, amongst other 'difficult to shift' experiences. This approach is also great if you don't want to talk about the problem in detail, BSP uses the integration of neuropsychology and mindfulness. With thanks to Dr. Mark Grixti. Birmingham & Manchester. Find out more: Brainspotting Therapy

Brainspotting Phase 2 - British Psychological Society approved training. Enhanced BSP for complex trauma and a range of difficult to process experiences. I have successfully used BSP for addiction, anxiety, dissociative experiences, nightmares, phantom pain, PTSD, sex problems, and unexplained anxiety. With thanks to Dr. Mark Grixti. Brighton & Manchester, UK
Brainspotting Phase 3 - BSP training. Fully adaptable, and enhanced BSP approach, able to be used for many 'difficult to process' trauma issues that impact on, creativity, dissociative identity, EGO states, performance, sports enhancement, and complex trauma & PTSD. With thanks to Dr. David Grand (New York). Barcelona, Spain & London, UK
Brainspotting Addictions & Trauma - Specialist treatment for all addictions. From chocolate, biscuits, crisps, through to cocaine, drug use, smoking, OCD, & self-harm. This approach incorporates attachment theory, neuroscience, and trauma. With thanks to Dr. Roby Abeles (Australia) - London, UK
Brainspotting Masterclass - Enhanced training in the Brainspotting approach & theory. Working with deep-rooted complex trauma networks, and dissociation. With thanks to Dr. David Grand (New York) - Founder of Brainspotting - Barcelona, Spain
EMI/Eye Movement Integration Level 1 Practitioner - a specialised Neurotherapy designed to treat trauma & PTSD (distressing memory & experience). This is a hybrid of popular EMDR therapy, it integrates, NLP, metadata, and 24 different eye movements. With thanks to Eva Pollani (Austria) - She is Europe's lead EMI accredited trainer) - Bath, UK. Research http://www.academieimpact.com/pdf/struwig.pdf
EMI/Eye Movement Integration Level 2 + Supervision - this approach has been researched and found to be helpful with phobias and deeper rooted trauma. With thanks to Eva Pollani (Austria/Europe's lead EMI accredited trainer) - Bath, UK.
Ego State Therapy with EMDR - 'Parts' Therapy for trauma & C/PTSD from abuse, sexual abuse, and childhood dissociative and non-dissociative ego states with EMDR. With thanks to Robin Shapiro (Seattle, USA). She is author of EMDR Solutions 1 & 2, and Trauma Treatment Handbook) - London, UK Find out more: Ego State Therapy
Cert IFS/Internal Family Systems - Intensive Lv1- Therapy which helps you gain a better sense of Self, and gives a much greater awareness to personality. IFS is a robust theory of personality and is now recognised and evidenced therapy, particularly for trauma. IFS is the fastest growing therapy in the USA and is becoming much more popular in the UK amongst therapists, and non-therapists. IFS works with 'parts' and 'protective parts' of personality. IFS can be helpful to many challenging personality presentations, such as anger, addictions, OCD, complex childhood trauma. IFS is a very mindful, gentle, yet powerful therapy. It is more of a directive therapy, it has a permanent healing component to it, and makes use of 'memory reconsolidation'. Thanks to Dr. Osnat Arbel (Israel) & IFS-UK/IFS Institute & Team. Sheffield, UK. To provide IFS you must have completed this training. Internal Family Systems (IFS) has been hailed by Dr. Bessel A. van der Kolk, the world's leading expert in trauma, as "the treatment method that all clinicians should know to treat clients effectively." IFS is an evidence based psychotherapy. Find out more here: IFS Therapy

Cert IFS/Internal Family Systems Lv2 Intensive - Deepening and Expanding IFS - training to enhance psychotherapists' IFS skill set and knowledge basis. Thanks to Dr. Osnat Arbel (Israel) & IFS-UK/IFS Poland Institute & Team
Cert IFS/ Internal Family Systems Lv3 (Highest) - training to enhance psychotherapists' IFS skill set and knowledge basis. Thanks to Dr. Richard Schwartz (USA) & IFS Portugal Institute Team.
Cert IFS Intensive - Treating Complex Trauma - In-depth training in IFS has helped me to become more knowledgeable, confident, and robust using the model. With Thanks to Dr. Frank Anderson (Boston, USA) (CPD Cert)
Cert Creating Complex Trauma Clients at the Edge: How Brain Science Can Inform Interventions Dr. Frank Anderson (Boston, USA) (CPD Cert)
IFS Masterclass with Robert Falconer (USA): The Farther Reaches of IFS
The Integrated Trauma Therapist: Incorporating IFS with AEDP, EMDR, SP, CPT, DBT and Psychedelic Medicines for Treating Complex Trauma and PTSD. Frank Anderson, Bessel Van Der Kolk, Janina Fisher, Richard Schwartz (CPD Cert)
Polyvagal Theory, Oxycontin, and the Neurobiology of Love -  London, UK. With thanks to Dr. Stephen Porges Author and creator of 'The Polyvagal Theory' & Dr. Sue Carter (North Carolina, USA) (CPD Cert)
Integration of Mind, Brain, & Body in the Treatment of Trauma - London, UK. With thanks to Dr. Bessel van der Kolk - (Boston, USA) - Author of 'The Body Keeps The Score' (CPD Cert)
Broken Bonds: Traumatic Attachment and Affect Dysregulation - London, UK. With thanks to Dr. Janina Fisher - (Boston, USA) - Author of 'Healing the Fragmented Selves of Trauma Survivors' (CPD Cert)
Stabilizing the Unstable - With thanks to Dr. Janina Fisher (CPD Cert)
Treating Dissociative Disorders (with EMDR & Parts/Ego States) - Dr. Dolores Mosquera & Kathy Steele (CPD Cert)
Returning to Wholeness - Understanding and Integrating Trauma - with Dr. Gabor Maté
Basic Principles of Somatic Experiencing - Somatic Experiencing International - with thanks to Isabell Correa
Postgraduate - Person-Centred Therapy & CBT (Cognitive Behavioural Therapy) Level 7 This training also included 3rd Wave CBT techniques such as mindfulness, and exposure techniques. Temenos - Sheffield, UK. with thanks to Dr. Joe Curran & Linda Smith
Accredited BACP Diploma Level 4 - Theory & Practice of Counselling (This course specialised in, and was renowned for Person-Centred Psychotherapy training - Person-Centred Counselling Services (PCCS) Training Partnership - PCCS was renowned for its radical training and approach. It was one of the first soley person-centered training centres in the UK - Manchester.  Although Person Centred Therapy is not striclty 'evidence based, it is recognised as helpful to common mental health problems. With thanks to Frances McDonnell & Tracey Walshaw
Accredited Diploma in Clinical Hypnotherapy (CECCH). inc. EMDR, EFT, Ego State Therapy, Eriksonian Hypnosis, NLP Professional Coaching, 'Rewind Technique, Solution Focused Counselling & Hypnotherapy - Birmingham, UK
Cert in Counselling Supervision - British Psychological Society approved training - Skills Development Centre. Manchester, UK
Diploma in NLP (Neuro-linguistic Programming) Wigan UK, With thanks to Marylin Tucknott (Canada)
Cert in NLP Professional Coaching  - CEC - Birmingham, UK. Get motivated, set & achieve goals, work beyond blocks, and stay on track.
Cert in Solution Focused Hypno-Psychotherapy, Solution Focused Counselling Skills, Ericksonian Hypnotherapy, Cognitive Behavioural Hypnotherapy - CEC - Birmingham, UK. With thanks to Nick Cooke
Counselling Skills Level 3 - ABC Awards - Manchester, UK. With thanks to Gail Jardine
Counselling Concepts Level 2 - ABC Awards - Manchester, UK. With thanks to Gail Jardine
Cert of Proficiency BACP – British Association for Counselling and Psychotherapy
MNCS Accredited & BSP Approved Cert in Supervision
I believe qualifications and training are very important. I believe what is more important is: experience in charities & NHS (this is often where the hardest work is), where/who you trained with, and therapists' trauma knowledge. Your commitment to the therapy process will be a crucial element to the outcome of therapy.
___________________________________________________________________________
Professional Development & Further Training
I commit to more than the 30 required hours of Certified CPD/ongoing training every year. I've trained with some of the most revolutionary pioneers in psychotherapy and neuroscience in my field. I have completed over
Over 180 hours CPD training hours in 2018
Over 170 hours CPD training hours in 2019
Over 160 hours CPD training hours in 2020
Over 100 hours CPD training hours in 2021
I have professional, individual monthly supervision


Anger Management
Applied Suicide Intervention Skills Training (A.S.I.S.T) - Living Works
Attachment theory & adoption training
Bereavement/loss & palliative care counselling - NHS/Trafford Bereavement & Palliative Care Service
Child & adult safeguarding Lv3/4
Conflict resolution
Counter-terrorism training (WRAP)
Counselling young people - Relate
Couples & relationship counselling - PCCS Training Partnership
Data protection & GDPR 2019
Domestic violence - Relate
Effects of childhood traumatic stress on physical & mental health - Dr. Maté
Family support - Beechwood cancer care
First Aid 2017
Group work - NHS
Gestalt therapy dream work
Hakomi Introduction - Mallorca - Dr Halko Weiss
Health & safety - QCF
IFS Compassion for Addictive Processes Cece Sykes LCSW, ACSW; IFS Senior Trainer
Intro to Gestalt therapy - Brian McMinn
Intro to Existential Psychotherapy - New School of Psychotherapy - Dr. Emmy van Deurzen
Polyvagal Theory - Dr. Deb Dana
Polyvagal Theory during the COVID-19 pandemic: Deb Dana on creating safety and connection through online technology
Supporting LGBTQ+ mental health
Mental health - NHS
Self-harm - Teaching School Alliance
Suicide TALK - Living Works
Timian (challenging behaviour) - BILD
Trauma-informed practice & scope
Treating Complex Trauma Clients at the Edge: How Brain Science Can Inform Interventions - Frank Anderson
Transactional Analysis
Young people, sex & the law
Enhanced DBS/CRB 2020
ICO registered 2021
To see a fuller description of what I do, and the experience & training I have gained go to Counselling in Liverpool
Member organisations
Registered / Accredited
Being registered/accredited with a professional body means an individual must have achieved a substantial level of training and experience approved by their member organisation.

National Counselling Society
The National Counselling Society

This Not For Profit association of counsellors and psychotherapists aim to support the counselling profession, members and training organisations.

In 2013 the NCS register was accredited by the Professional Standards Authority under the Accredited Voluntary Register Scheme. Accredited by the Professional Standards Authority.

British Association for Counselling & Psychotherapy
BACP is one of the UK's largest professional bodies for counselling and psychotherapy. Therapists registered with the Association fall into a number of different membership categories such as Individual Member, Registered Member MBACP and Registered Member MBACP (Accred), each standing for different levels of training and experience. MBACP (Accred) and MBACP (Snr Accred) members have achieved a substantial level of training and experience approved by the Association.

Registered members can be found on the BACP Register, which was the first register to achieve Accredited Voluntary Register status issued by the Professional Standards Authority. Individual Members will have completed an appropriate counselling and/or psychotherapy course and started to practise, but will not appear on the BACP Register until they've progressed to Registered Member MBACP status.

All members are bound by a Code of Ethics & Practice and a Complaints Procedure. Accredited by the Professional Standards Authority.
Accredited register membership

Accredited Register Scheme
The Accredited Register Scheme was set up in 2013 by the Department of Health (DoH) as a way to recognise organisations that hold voluntary registers which meet certain standards. These standards are set by the Professional Standards Authority (PSA).
This therapist has indicated that they belong to an Accredited Register.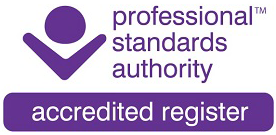 Areas of counselling I deal with
Other areas of counselling I deal with
Neurotherapy - scientifically based psychotherapy for trauma, PTSD, and addiction
AEDP, BSP, EMDR, EMI & IFS therapies are fast-acting, deep, and the most powerful forms of psychotherapy that I have had personally & professionally used. You may wait months to years for EMDR on the NHS..if you are even able to access it. The other therapies are not usually available through the NHS or EAP services.
You may have had EMDR before, and not got along well with it - don't worry I am able to make adaptations to EMDR and combine it with other more helpful methods rather than being rigid with the model.
More and more research now showing that traditional 'talking therapies' are not that effective as a way of healing trauma. Trauma is more than a memory, it leaves a physical imprint on your nervous system/senses. Therefore trauma is both mental and physical, so traditional 'talking therapies' and CBT are limited in some ways. For example: if you had a trauma/cut to your skin, talking about it won't really help - it needs an appropriate treatment for it to heal correctly.
Scientifically normal talking therapies such a Solution-Focused Therapy and CBT create an 'adaptive neural network' in the brain to help you feel better. AEDP, Brainspotting, EMDR, EMI & IFS therapies go down the line of the ruptured neuronal network healing the ruptured neurons in the brain as they go, and then these therapies add an additional 'adaptive network'. Basically, this means that Brainspotting, EMDR, EMI, & IFS therapies are not just papering over the cracks, they do a more thorough job, which prevents relapse over the same issues.
I consider BSP & IFS to be the most beneficial forms of therapy that I incorporate. 'Talking therapy' gets you so far, and these more unique therapies get you the rest of the way!
Treating certain traumas with talking therapies is like trying to talk an ankle injury better - it might help you feel a little less stressed, but there's much more that can be done. BSP, EMDR, EMI & IFS therapy work with your whole nervous system to help you recover.
Neurotherapy & Somatic therapies (brain/body-based therapies) have been used to help regulate and process, anxiety, anger, cravings, trauma & PTS(d) symptoms. EMDR, EMI & BSP are scientifically based and are researched to prove beneficial in many circumstances. BSP goes much deeper into the nervous system than traditional talking therapies, as they work subcortical regions of the brain. They are also used for addictions by going deep into brain regions where the 'reward system' is.
Trauma-focused therapy - Specialist quick EMI treatment for traumatic events no matter how long ago they were. EMI has been used successfully for abuse, bullying, crimes inc. knife & gun crimes, road traffic incidents, sexual abuse, rape, and witnessing of traumatic incidents (secondary trauma). Most people will not identify their trauma as trauma. I work with lots of people who witness trauma in their work, and people that have had trauma happen to them.
What could a trauma be?
Numerous experiences could cause trauma. Trauma is the wound caused by experience. Most people who have experienced trauma would not class it as such, and/or 'downplay' it.
a prolonged stressful period
abuse & attacks
adverse childhood experiences (ACEs)
bullying
developmental trauma
drug-induced trauma
injury inc. sporting injuries
'incidents'
narcissistic abuse from another
neglect & abandonment
a near-death experience and severe illness
pre-verbal & pre-birth trauma
rejection from parent/loved one
sexual trauma
significant loss
surgery
traumatic birth & in utero trauma
witnessing a traumatic incident, injury or a death
Please note the labels below are just that. I do not believe they are 'disorders' and more a phenomena that occur on a spectrum. I do not use these labels, but some people have acquired them through a self-diagnosis, or have a more official diagnosis from a psychiatrist. Please note that most GPs cannot diagnose these kinds of 'disorders' however they may be able to diagnose anxiety or depression. These kind of conditions require more than counselling to treat them.
Borderline Personality Disorder (BPD)
I find the label largely unhelpful, people are not 'disordered'. People are multiplicity and have 'protective parts' of their personality through traumatic episodes. I see that people that carry this label are deeply hurt, display trauma symptoms, and have created adaptive and protective ways of being.
Dissociative Identity Disorder (DID)
This is a way of viewing personality. A person who has been involved in heavy trauma can have fragmented & polarized 'Parts'. These Parts of personality can become protective so that they overtake you/Self and become rigid parts. Sometimes because the protectors overtake they also hold experiences and memories of their own, so Self remains safe. Dissociation is normal and an everyday occurrence. It can come in many forms: daydreaming, overwhelming feelings, extreme mood swings, memory loss, fear, feeling childlike, falling asleep, unwanted behaviours, waking up in not knowing how you got there... I am by no means an expert in this area but can work with you if you would like.
Everyone has 'parts', and everyone dissociates sometimes, and some people dissociate more often than others.
Dissociative Amnesia
Following on from above, parts can protect another hurt part that holds an upsetting memory, or there may be extreme parts of the personality that create an amnesia between each other. People will have this to different degrees - think of who you are at work and at home... A common example: At home you may not be able to recall a work password - however, when you are at work you may be able to recall it.
Body Dysmorphia Disorder (BDD)
Most people with this condition have suffered abuse or bullying around their looks, or maybe it was a relative.. The lens people look at themselves through can become distorted through trauma. Accompanying this can be behaviours/conditions like bulimia, dieting, eating habits,.
My trauma work is greatly influenced by Dr.Bessel Van Der Kolk, Dr.David Grand, Dr.Diane Fosher, Dr.Dan Siegal, Dr.Deb Dana, Dr.Gabor Mate, Dr..Janina Fisher, Dr.Peter Lavine, Dr.Richard Schwartz, Dr. R.D Laing, Robin Shapiro, and Dr.Stephen Porges
Fees
Additional information
One:One Sessions
My fees are excellent with respect to my experience, and specialist further training. There is no obligation to continue after your first session.
Additional £10.00 cost for 5pm appointments onwards.
(I charge the same for EMDR and any other approach I use, as you are paying me for my experience, time and skills, not so much the technique)
_________________________________________________
Longer Sessions
As I have a lot more to offer these days besides traditional talk therapy, I find that people get more from longer sessions.. IFS & EMDR usually need to be 1.5 hours.
If you've been in therapy before you may be familiar with feeling constricted with 50 minutes. 1.5 hour sessions give us longer to process, allows us to slow down, and helps us relax more into the session. The more relaxed you are, the more easily your brain will be able to make the changes you require. As well as this some therapies take longer as there is more to do!
Enhanced Addiction Session is £120.00 which is 1.5 hours These sessions can be integrated into a course of counselling, psychotherapy & hypnotherapy, or as a 'stand-alone' piece of work. The technique can help manage cravings and compulsive behaviours inc. Alcohol, Cocaine, Behaviours (OCD, Self Harm), Food, Smoking, Substance, Work.
I recommend extended sessions for EMI, EMDR, or IFS work - 1.5 hour sessions - £120.00 - More helpful for: Anxiety, Trauma & C/PTS(d) and those who feel they want 'more' from therapy.
________________________________________________________
Consultation/Supervision for Therapists & Professionals
£75.00 per 1 hour (unavailable at present)
Qualified therapists only. I work with therapists who work with trauma or who are 'eclectic' in their approach. Must be trauma-informed. I like to work with people in addition to their regular supervision.
Professionals. I help support professionals such as Teachers, Therapeutic workers, psychologists in their work through a trauma lens' This also helps prevent 'burnout'.
I accept the following payments online: Amex, Bank Transfer, Cash, Mastercard, Visa, Visa Debit.
I do not offer any 'concession', 'free' or 'introductory' sessions, this is because I am working in all my sessions. It would be unrealistic to base how therapy would be based on this dynamic and limited experience - It's like taking a car for a test run.. around the block.
I do not work with students who need counselling hours for their counselling studies - I do work with those who want to heal their own trauma to enable them to better help their clients.

I want you to get where you want to be quickly and efficiently, so we start therapy as soon as possible. I do not need to waste your time with interviews, unnecessary assessments, or form filling - we go straight into therapy.
Staff packages: Businesses, Charities, EAP's, NHS, and Schools
£600 - 6 Staff Sessions - NLP Coaching/Counselling/Trauma Therapy. Other packages are available, email or call for a quick informal discussion. 
__________________________________________________
Insurance companies charged at:
£120.00 per insurance therapy session (not currently taking insurance companies)
(All missed or cancelled appointments with less than 48hrs notice are to be paid for. Missed or cancelled sessions from business packages will be reduced from the number of sessions offered)
Availability
M

onday

T

uesday

W

ednesday

T

hursday

F

riday

S

aturday

S

unday

Morning
Afternoon
Evening
Night
Monday - Friday 8.00am - 8.00pm
Saturdays 8.00am - 1.00pm
FACE TO FACE, Online & Telephone
24 Hour Self Booking System through my website - no need to contact first - unless you want to.
Further information
Sessions available 8.00am - 8.00pm
Monday to Saturday (subject to availability)
20 min minute walk from Liverpool South Parkway train station
Close to Speke Retail Shopping Centre 
A list of my popular web pages:
Anger Management Counselling in Liverpool
Therapy for alcohol, drugs, and addictions in Liverpool
Bereavement counselling in Liverpool
Couples counselling in Liverpool
_________________________________________________________
Testimonials
Please be aware that everybody will have their own unique experience of therapy.. Some words from some of my clients:
"Chris is a very knowledgeable and supportive supervisor. His wide breadth of understanding of different modalities has helped me to evaluate my practice and review areas where I have felt stuck with clients. His willingness to consider my point of view, even when perhaps we haven't fully agreed, has enabled me to step back from ideas which I have been holding on to and to reconsider things in different ways to the benefit of my clients." A person centred supervisee 2020
'I hadn't any experience of coaching before, so I didn't know what to expect, and found it helpful. Through the sessions, it became really clear what it was that was holding me back. I also found the beliefs I had, didn't fit with who I am, and this was also limiting me'. A Client 2018
'I have seen counsellors before but Chris has been the only one that I felt has really helped. A huge thank you!'. A Client 2018
'Chris was easy to talk to, a good listener and he helped me a lot!'. A Client 2017
'Counselling has transformed my existence, and it doesn't bear thinking about how I would have been without it, and I shall always be grateful. A Client - 2007.