What's worrying you?
Hearing voices
Hearing voices is not as rare as you might think. Many of us will have heard noises or voices that others haven't heard at some point in our lives. It's estimated that as many as one in 10 people hear voices on a more regular basis. For some, this can be a scary experience, for others, it can be a comfort.
Here we'll discuss why people hear voices, how to tell someone "I hear voices in my head" and when it may be worth seeking professional support. We'll look at what therapies can help and offer advice for friends and family.
What does hearing voices feel like?
We're all totally unique and experience the world differently, so it makes sense that those who hear voices will have different experiences. These voices may crop up when no one else is around, or when you're in a room full of people. There could be just one voice or many. You may recognise the voice as someone you know or it could be the voice of a stranger.
For some, the voices can be positive, uplifting and even comforting. For others, what they hear can be confusing, frightening and commanding. It may sound like someone is standing next to you talking, or it may be more like a thought. Sometimes people have a combination of the two.
I noticed these people in my head could interact with each other; Jamie became a soothing ear to Ed. I could hear their conversations sometimes and noticed they weren't so frightening.

- Read Jess' story of dissociative identity disorder.
You may not hear voices at all. You may hear other noises like knocking or music. When you hear something other people can't, it's generally called an auditory hallucination. Other forms of hallucination include seeing, smelling, tasting and feeling things others don't.
Why do people hear voices?
There can be many reasons why someone hears voices. You may find certain situations or environments trigger your voices, for example when you sit down to eat dinner or when you feel stressed. Other reasons include:
not getting enough sleep
falling asleep/waking up
having a high temperature
taking recreational drugs
taking prescribed medication
being bereaved
being bullied or abused
experiencing something traumatic
having a spiritual experience
having a mental health condition
As the experience of hearing voices is so diverse, it can be very difficult to know for sure why someone hears voices. It's likely that a number of factors are at play. While this can feel frustrating to someone looking for a definitive answer, it does mean that the most important explanation is the one that the person who hears the voice finds most useful.
In the following video for Mind, Juno talks about his experience of hearing voices.
Does hearing voices mean I have schizophrenia or psychosis?
It is true that schizophrenia and psychosis do include auditory and visual hallucinations as symptoms. For this reason, many people believe that if they are hearing voices, they must have one of these conditions. However, this is not always the case.
There are other mental health conditions that can lead to hearing voices, including:
But, not everybody who hears voices gets a medical diagnosis - you can hear voices without having a mental illness. Research shows that many people hear voices or have other hallucinations, it is not always a sign of being unwell.
Telling someone "I hear voices in my head"
If you do start to hear voices, it can be concerning. Sadly there is still a stigma surrounding mental health and hearing voices, which can make you feel like you should keep it to yourself. You may worry what people will think or what it might mean to admit you hear voices.
While this is understandable, it can be very difficult for you emotionally to keep this part of your life hidden. If there's someone in your life you trust, you may want to consider letting them know what you're experiencing. If you are worried about how they might react, you could print off this page or send them the link so they can learn more about hearing voices.
Remember, often when people react negatively it's because they only know of damaging stereotypes and myths.
When to get professional support
If you're frightened or confused because of what you're hearing, struggling to focus or feel unable to carry out everyday tasks, help is available. Getting professional support from a doctor or counsellor can be helpful when you're struggling to cope with hearing voices.
If you go to your doctor, they will likely explore physical causes first. Once these are ruled out, your doctor may refer you to a mental health professional. Speaking to a counsellor can help you manage your voices and cope better with any associated thoughts or behaviours you may be struggling with.
Treatment for hearing voices
There are a number of treatment options that can help if you're finding it hard to cope with your voices. Typically, you'll be recommended talking therapies and you may also be offered medication.
Talking therapies can help you explore difficult emotions and learn how to manage and cope better with your voices. There are many different talking therapies available and it's important to find what works for you. Here are some examples of talking therapies that can help with hearing voices.
Psychotherapy - This can be especially helpful if you suspect your voices are related to previous trauma. A psychotherapist can help you understand why your voices say what they say, what makes you hear the voices and how you can better cope with them.
Cognitive behavioural therapy - CBT can help you deal with how your voices make you feel about yourself, though it doesn't look at underlying reasons. CBT is helpful for reducing the anxiety you may feel about your voices, helping you gain control and stand up to them.
Compassion-focused therapy - CFT looks to balance out the threat and drive systems of our brains with the soothing system, an approach that can work well for those with critical voices.
This video from the Cultural Institute at King's College London explains more about this compassionate approach:
Mindfulness-based cognitive therapy - MBCT combines the practice of mindfulness with cognitive behavioural therapy. This can help you regain your focus when voices are distracting you and help you manage how you feel about your voices.
Medication
If you are finding it very difficult to manage your voices, you may be prescribed antipsychotic medication. These can help stop the voices or make them less frightening. You may still hear the voices, but feel more indifferent towards them. Alternatively, the medication may help to quieten the voices, making them less intrusive so you are less upset by them.
To search for a therapist dealing with hearing voices, use our search tool. Simply enter your postcode in the location box to browse professionals in your local area.
What does recovery look like?
The definition of 'recovery' will change from person to person. Being able to live your life and enjoy life is the most important thing. Many people are able to do this with their voices. So, for some, recovery may mean they do not hear their voices, but for others, recovery means living happily alongside their voices.  
What else can help?
Some people are able to cope well with their voices, without the need for psychiatric support. If you don't feel the need to speak to a professional, there are other ways to get support. And indeed, if you are getting professional help, you may want to explore these avenues too.
Talking to other people who hear voices
It can be very easy to isolate yourself when you're experiencing something people don't seem to talk about openly. Knowing that you are not alone and reaching out to others who have similar experiences can provide a huge amount of support.
You can search online for support groups. You can attend these in person or online, depending on your preference. This is a space for you to discuss your experiences, offer support and share things that help. For more information, visit the Hearing Voices Network, which is a great place to find this kind of support.
Understanding where the voices have come from and why
When it comes to coping, it can help you to get an understanding of where your voices may have come from. For some, this requires the support of a professional, but developing your own self-awareness, journaling and considering your past is something you can try at home.
Sharing your knowledge with others
If you are in a comfortable place with your voices, you may want to share your experience and knowledge with others. When it comes to fighting the stigma of mental health and hearing voices, we believe speaking out and talking about our experiences is key. Many people also say the experience of talking or writing about their experiences is therapeutic.
Gaining control
Hearing voices largely becomes a problem when you feel you have no control over the situation. If you can work towards establishing a relationship with your voices and gaining control over them, you are more likely to feel at peace with your voices. Here are some ideas to try and regain control:
Distract yourself from the voices by listening to music, exercising or doing a hobby you enjoy.
Arrange certain times with your voices when you can talk/engage with them.
Tell them they do not have power over you - stand up to them.
Try and ground yourself using mindfulness techniques - focus on the present moment, what you can feel, see and smell.
If you find these tactics don't work, you may want to get some professional support.
Spiritual help
If you feel what you're experiencing has a spiritual meaning, you may want to speak to someone from your faith about this. Some counsellors do integrate a spiritual approach in their work, so this could be a possibility for you to try.
Combining the practical and motivational advice with the spiritual help was a winning formula for me. I learned how to fight my problems and not give into them. I was no longer going to be pushed around by depression, panic attacks, or that voice in my head.

- Read Christoulla Boodram's story.
Advice for friends and family
Having the support of friends and family can make a big difference in a voice hearer's life. Here are some ways you can show support:
Accept their experience of voices and avoid dismissing them as 'not real'.
Help the voice hearer to communicate with the voices and recognising their meaning.
Encourage the voice hearer to share their experience with other voice hearers.
If they are struggling to cope, encourage them to speak to their doctor.
Hearing voices is more common than we think. Remember you are not alone and there are people available to support you and help you live your life happily, with or without the voices.

Trust our content
We are a PIF TICK 'trusted information creator'. This means you can be assured that what you are reading is evidence-based, understandable, jargon-free, up-to-date and produced to the best possible standard.
All content was accurate when published.
Would you like to provide feedback on our content?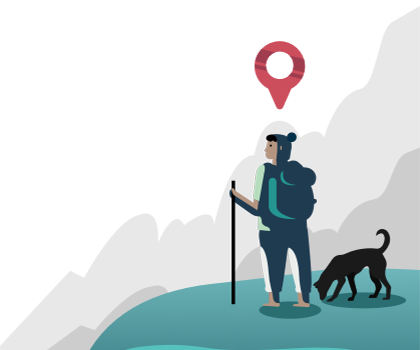 Find a therapist dealing with hearing voices