Types of therapy
When deciding on an appropriate counsellor or therapist, it can be useful to understand the different therapies they may use. While all can be effective, you may find one approach more appealing than another, or find that some approaches are better for a certain area of counselling than others.
Here is a breakdown of some of the different therapies available.
---
Couples counselling, relationship counselling or marriage counselling is a type of therapy that looks to aid communication and facilitate change within an intimate relationship. Typically, the term 'couples counselling' is applied when the therapy is specifically designed for two people within a relationship. With this in mind, counsellors who offer this form of therapy should have the relevant training to help them work with the dynamics of a couple.
---
Behavioural therapies are based on the way you think (cognitive) and/or the way you behave. These therapies recognise that it is possible to change or recondition, our thoughts or behaviour to overcome specific problems.
---
Psychoanalytical and psychodynamic therapies are based on an individual's unconscious thoughts and perceptions that have developed throughout their childhood, and how these affect their current behaviour and thoughts.
---
Humanistic therapies focus on self-development, growth and responsibilities. They seek to help individuals recognise their strengths, creativity and choice in the 'here and now'.
---
Arts therapies involve the use of creative arts such as music, art, drama and dance - in a therapeutic environment.
---
Intercultural therapy (also known as multicultural therapy) is a type of talking therapy that is particularly sensitive to and addresses the importance of culturally diverse backgrounds within a therapy setting. This type of counselling focuses on working therapeutically with the individual experience of patients who feel marginalised by the majority culture, due to their individual constructs within social settings.
Intercultural therapy places the importance of cultural experience at the forefront of therapy and hopes to help individuals from culturally diverse and minority backgrounds to develop a healthy ethnic and cultural identity, possessing self-acceptance and self-esteem.
---
Ecotherapy is an umbrella term for a type of therapeutic treatment that focuses on participating in loosely structured activities that take place in nature. Tapping into the calming properties of the natural world and nurturing this connection is central in the approach to healing.
Ecotherapy works on a holistic basis and focuses on the activity rather than an individual's health. Activities include conservation, gardening, stargazing, hiking and farming and are led by therapists and counsellors or trained professionals.
---
Walk and talk therapy is best described as taking the 'traditional method of counselling outside.' It's a form of talking therapy in which a counsellor and their client will walk together along a local route such as a coastline, public footpath or park whilst conducting the counselling session.
This form of therapy can be particularly helpful for people who find the traditional counselling room claustrophobic, who struggle to find time to get outside and can help shift current perceptions and feelings of being 'stuck'. Walk and talk therapy can also be helpful for people who struggle to discuss their feelings, and can use nature as a metaphorical expression of emotions.
---
Internal family systems therapy, or IFS therapy, is an approach that recognises the different 'parts' within us and a core inner Self. It's thought that our core Self is calm, connected and compassionate, but our access to it can be hindered by other parts which can become extreme in nature due to life experiences. This can lead to unhelpful behaviours, including addiction, perfectionism and self-criticism.
The aim of IFS therapy is to help you acknowledge and communicate with your different parts, understand them and reconnect with your core Self. The hope is that the Self will take charge and help the parts work harmoniously together.
---
The premise behind somatic therapy is that our bodies can hold onto emotion, making it imperative that we work with both body and mind to release stress and trauma. Somatic therapy utilises body-focused techniques such as grounding, self-regulation and movement to help us process both physically and mentally.
---
Although psychological therapies generally fall into the categories above, there are also a number of other specific therapies too.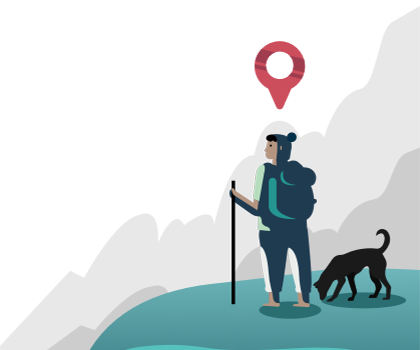 Find the right counsellor or therapist for you