Walk and talk therapy
Walk and talk therapy is a concept that can be best described as "taking the traditional counselling session outdoors".
Walk and talk therapists often use their local surroundings to their benefit, such as having the session while walking along the coast, using local footpaths, walking around hills and valleys, and maybe more local natural beauty spots. We really don't need to look too far around us to find what Mother Nature has to offer.
---
What is walk and talk therapy?
In this short video, walk and talk therapist, Annie Callingham, explains the benefits of outdoor therapy and answers some common questions. 
---
Benefits of walk and talk therapy
Walk and talk therapy can be an especially helpful method of working for people who don't have the opportunity to get out into nature very often and for those who feel as if they thrive better when they do. I have learnt that having therapeutic conversations with clients in the great outdoors, either while walking, sitting in a wooded clearing, or a mixture of both, adds a totally different and positive dynamic to the experience.
Of course, counselling in-clinic, over the phone and online still has a place for many clients. However, as the choice of how sessions take place must always sit with the client, it's important to outline the benefits of walk and talk counselling to understand more options.
Outdoor counselling is good for those who may feel a little anxious or claustrophobic in the environment of a one-on-one session in a room -  the potential intensity of eye contact is removed for those who find it an uncomfortable part of therapeutic work.
When we move our bodies and shift our environment, we can think differently about aspects of our lives that have before seemed immovable. Being outdoors is a physically more relaxing experience for our bodies and, therefore, our minds are freer to open up.
Working therapeutically outdoors can help with feelings of being "stuck", as we are moving forwards in the sessions physically and the sense of looking forwards to the changes that clients want from therapy.
Being outside releases endorphins and is generally mood-enhancing, can support weight loss, lowers blood pressure, boosts immunity, speeds up digestion, and improves heart health.
Walking together side by side also means a sense of equality and union in the partnership between client and counsellor, along with the often hugely valuable silences in therapy that are much easier to bear for many people.
Working outside can be especially helpful for people who don't have the opportunity to get out into nature very often, and for those who feel as if they thrive better when they do.

- Annie explains more about walk and talk therapy during the pandemic.
Walk and talk therapy FAQs
Understandably, there may be some questions at this point. Let me try to answer those:
What about the weather? 
An obvious question that I get asked often. I'm happy to walk in any weather, but clients might prefer not to, and there is no pressure to do so. I understand if it's too hot or pouring with rain, and walking feels like too much; we can always switch to another way to have the session instead. Whatever is preferred by the client at that time.
What about confidentiality? 
I offer my walk and talk therapy on a farm, offering the utmost client confidentiality, knowing you will not bump into anyone you know during our session. I know that other walk and talk therapists maintain their confidentiality boundaries by agreeing that, in the unlikely event that they should meet anyone they know, they will indicate it to one another using a codeword or phrase and pause the conversation until they are alone again. 
What about boundaries? 
Although the physical boundaries are free, both client and counsellor must remember that we are still engaged in a therapeutic relationship. The working contract is still present and valid, even though we are outside. Professional boundaries are important for our work's emotional safety and integrity and something that will be explained in the first session, just as though the session were indoors.
What if I'm not used to walking? 
We'll walk as slowly or as quickly as feels comfortable for you. You may decide you'd like to take a pause at a nearby bench or walk throughout. It's totally up to you as the client. We might link our work to the pace that we are moving at, as it can sometimes be a good indication of what's going on for you.
What's the difference between outdoor therapies and therapy outdoors? Outdoor therapist and counsellor Sean Tierney explains the key differences and similarities and the benefits of both in his article, Outdoor therapy vs therapy outdoors.
---
What can clients expect from the sessions?
Walk and talk therapists will typically meet at the same time and place each week. This offers clients a sense of start and finish, and is an ideal way to safely ground clients after the session before they continue the rest of their day.
Choosing suitable attire is in the hands of the client. Having sessions on a farm, I like to remind clients of needing the correct footwear, coat, etc., for the time of year (and livestock!). I take care of the first aid kit, COVID compliant cushions to sit on, antibacterial hand gel, and other items in case of emergency. Walk and talk therapists will have conducted a risk assessment for the client's safety; for example, I disclose that only I open and close gates to aid towards the reduction of the spread of COVID-19.
There are several routes that I walk regularly, and we can select one of these to suit you; you may prefer to have a slow walk, or you may prefer to walk to a seating area or a walk through the woods, where you can experience "stillness and peace" while we work together. Other therapists may have differing routes, so it's always worth asking if you're unsure of what to expect.
There is nothing more important than the relationship between counsellor and client when working therapeutically towards making changes in your life. If walk and talk counselling is a way of working that you think might work for you, why not give it a try? You have nothing to lose.
As therapists, we are here to answer any questions you may have prior to starting sessions so that we both know what you hope to gain from therapy. If you're unsure about anything, please ask your therapist. No question is too simple. If it puts you at ease and helps you in your counselling journey, it's a question worth asking.
This page was written by walk and talk therapist, Annie Callingham in June 2021.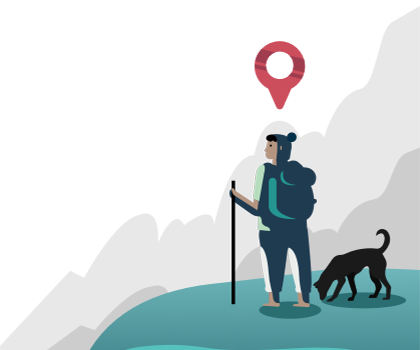 Find a therapist dealing with Walk and Talk Therapy