Telephone counselling
Telephone counselling works in the same way as face to face counselling but the sessions are conducted over the phone. Therapists may offer this as an additional avenue of support between face to face counselling sessions, while others may focus solely on conducting sessions over the phone.
---
When you think of counselling, you'll likely picture a room with two chairs. One for the client, and one for the counsellor. And this image isn't wrong, counselling does take place in a face to face setting.
However, professional support has developed. No longer are we limited to our local area - or needing to travel - to get the help we need. Telephone counselling and online therapy are becoming increasingly popular, offering all of us better access to professional support, in the comfort of our own homes.
Telephone counselling allows you to get the help you need, wherever you are, during a time that suits you. We have over 14,000 counsellors offering telephone support, simply browse profiles to find a counsellor you resonate with.
How does telephone counselling work?
The first step is simply to search for a counsellor that offers telephone support. On Counselling Directory, you can easily browse profiles until you find the counsellor you would like to work with. The next step is to make contact. You can either email or call the counsellor for an initial discussion. If the counsellor feels that telephone counselling is going to be an appropriate method of treatment, a session can be booked in for a time that is convenient for you.
During the initial conversation, the counsellor will take the opportunity to discuss the areas that need to be addressed, to find out some background information about you, the reasons why you're seeking counselling, what you hope to achieve from therapy and to discuss the number of counselling sessions that may be needed. The counsellor will also usually outline their confidentiality policy as well as general information, such as their cancellation policy.
Remember to give your telephone and online sessions time. Like face to face counselling, it can take a while to adapt to the process and for you and your therapist to develop a rapport with each other.

- Rebecca Morgan in Four tips for getting the most out of online and telephone counselling.
What are the benefits of telephone counselling?
There are many benefits to telephone counselling. As with online therapy, telephone counselling can offer you a greater sense of confidentiality and anonymity. This can be particularly beneficial if you feel nervous, embarrassed or fearful about talking through your experiences, as it gives you a greater degree of control. Receiving counselling in the comfort of your own home can also help ease some of the initial nerves you may have.
"For clients with a hectic or full schedule, telephone counselling can be a more convenient means of accessing emotional support. For example, if you travel regularly, have significant work commitments or are a full-time carer, you may have little free time available to attend regular weekly face to face sessions," writes a counsellor in their article, Learn more about telephone counselling.
"Telephone counselling in these circumstances can be more time-efficient as you can schedule regular sessions more flexibly to suit you. This type of counselling can also be more economical as many counsellors offer lower telephone session fees."
"Finally, if you live remotely or experience health conditions which pose a barrier to seeing a counsellor in person, this means you can still receive support."
---
How can you keep your remote therapy session private?
Remote therapy has allowed many more people to access professional support, whether due to cost, convenience or comfort. But that's not without its own set of worries or risks.
The benefit of face to face counselling is the guaranteed safe space and client confidentiality. While for those of us seeking remote therapy at home, privacy isn't guaranteed. But there are ways in which you can ensure your sessions remain as safe as possible, including creating a comfortable space for your sessions to take place and asking those you live with for privacy.
Thorbjorg Vigfusdottir, educational psychologist and CEO of Kara Connect, shares five tips on creating a safe and private space for your child's next virtual therapy session. While written with children in mind, these tips are useful for all of us exploring virtual therapy.
Online therapy
Like telephone counselling, online therapy offers access to professional support at a time and location that is convenient for you. There are many forms of online therapy, including email counselling, online chat and video chat counselling.
To learn more about online therapy, and its benefits and to find an online counsellor, head over to our dedicated online therapy page.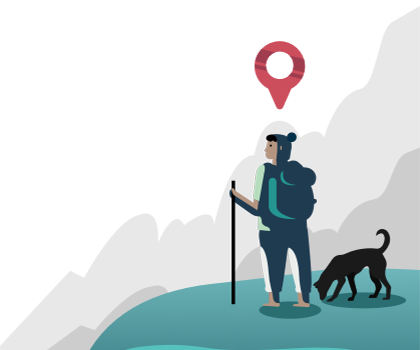 Find the right counsellor or therapist for you