JANET JOOSTEN ( CBT therapist, Existential therapist, Integrative counsellor,
Soulbury, Buckinghamshire, LU7
0781 577 0903
0781 577 0903
Registered / Accredited
Soulbury, Buckinghamshire, LU7
About me
I am a registered Psychotherapist, qualified Cognitve Behavioural Therapist , accredited Integrative counsellor, Existential therapist . *I also offer Pet bereavement counseling.
I have two clinics:

Soulbury ( near Leighton Buzzard): a quiet back drop for therapy in a small Buckinghamshire village  approx 18-20 min drive from MK town centre.
Leighton Buzzard town centre:  A vibrant Bedfordshire town with easy access to train station and bus services.
My Consulting Address in Soulbury is in easy reach of Stoke Hammond, Bragenham, Stewkley, Linslade, Great Brickhill, Stockgrove, Leighton Buzzard, Wing, Heath and Reach, Drayton Parslow, Leedon, Ledburn, Cublington, Dunton, Clipstone, Grove, Mursley, Little Billington, Fenny Stratford

Nearest Train Stations
Fenny Stratford (4 miles)
Leighton Buzzard (4 miles)
Bletchley (4.3 miles)
Bow Brickhill (4.9 miles)
Cheddington (5.7 miles)
Woburn Sands (6.4 miles)
Aspley Guise (7 miles)
Milton Keynes Central (7.4 miles)
Ridgmont (8.3 miles)
Aylesbury Vale Parkway (9.1 miles)

Services offered
Pet bereavement counseling
Existential psychotherapy
Cognitive Behavioural Therapy
CBT/ Coaching
Brief Solutions Focused Therapy
My main aim to make therapy assessable to all.

My Approach
Although my core orientation is Existential, I am also a qualified Integrative counsellor. This means that I am able to include aspects of therapy from a number of theoretical orientations: Humanistic, Solutions Focused, Cognitve Behavioural Therapy, CBT coaching, and Time Limited Existential Therapy, I also offer pet bereavement counseling.
Personal and Professional Development as a Therapist

.     I have an Advanced Diploma in Existential Psychotherapy at Regent's College – London.
I have completed a Post Graduate Diploma in Counselling and Psychotherapy at Regent's College. The underlying ethos which the whole of Regent's College educational and training programme rests is its integrative attitude which can be summarised as follows: Humanistic; Psychodynamic and Existential.
I have a Postgraduate diploma in Cognitive Behavioural Therapy.
I have had 10 years of personal Psychoanalytic Development.
I have worked with young people aged 12- 16 within the school setting.
I have work with young people aged 16-25 for the Youth Information Service.
I have an adult private practice working from home.
I work for a number of EAP companies. I am experienced with CORE.
I have worked as a CBT/Coach for Volkswagen in Milton Keynes.
I supported women who had been raped and sexually abused.
I counselled women survivors of domestic violence.
I have worked with women who are experiencing infertility problems at a private clinic.
I have worked three evenings a week for MIND. At MIND I learned assessment skills developed as a result of assessment practice at counselling placement.
I provided counselling to terminally ill patients and support and advice to their family members and friends.
I have worked as a prison counsellor. Here I gained experience in setting up a new counselling service.
I worked as a prison visitor supporting vulnerable and new prisoners.
I worked with adults with learning difficulties and became involved with recreational sport and dance therapy.
I became involved in other voluntary groups offering emotional support to people with a physical disability.
I became an advocate supporting vulnerable adults.
I instigated and set up a keep fit group for older adults. I also offered emotion help and support for issues surrounding loss of health and independence.
Training
Courses, attended over the last few years:
Pgd Cognitive Behavioural Therapy.
Certificate in counselling skills at LondonGuildhallUniversity.
Attachment and Loss (Bowlby).
Counselling following rape and sexual abuse, plus on going training with Rape Crisis.
Counselling adult survivors of abuse. (Rape Crisis).
Conducting assessment interviews. In house training (MIND).
Primary Certificate in Cognitive Behavioural Therapy and Training. Centre
      for Stress Management.
Solution focused therapy.
Building clients self esteem.
Effective Group Work.
Brief Anger Management.
Skills for Managing Self Harm.
Philosophy of Counselling
In practice I use an integrative approach to counselling and psychotherapy. This derives from my academic training and my own world view. I have studied other traditional psychoanalytic theories, but always return to what I feel is right, an integrative approach. My integrative/existential training has provided the background I needed for my own personal growth and self development.  I am more self accepting, self aware, genuine, authentic and confident to be myself.  I also integrate aspects of Cognitive Behavioural Therapy and Solutions Focused applications.
From an existential perspective I focus on freedom of choice in shaping the client's life. I explore by means of clarification and description the meaning of life and existence. I find it more important to ask how or what the client is experiencing as opposed to why questions. I contrast to this I intend to integrate Cognitive Behavioural Therapy which I believe to be an extremely important development for the extension of existential thought and practice.
I have never needed a professional front, but am now confident to be myself and to project similar freedoms for my clients. The existential approach significantly underlies my work. For example I never think how can I treat, change or cure a client, but how can I develop a therapeutic relationship with this individual for them to use for personal growth and development. I believe that clients are unique individuals with their own particular strengths and possibilities.
I do not judge what is right for my client nor do I wish to take responsibility. At the same time I see that I have a responsibility to my client. I firmly believe that if a client is treated with warmth and respect, that person will value him or herself and become confident and therefore more able to function effectively. Underlying strength will begin to re-assert it's self in useful positive choices allowing the client to be able to find inner strength and establish her or him self in the world once again.

I never impose my values, opinions and expectations onto my clients. I view myself and others as a unique individual, and because of that understanding I have come to see others for what they are. That is a unique individual with their own world view, hierarchies and belief systems. I try to be informed about the historical background, traditions and values of my client. In areas where I feel that I am lacking in certain knowledge I will seek resources to assist me in this and I regularly monitor my functioning through consultation and supervision. I consider it vital that I maintain an open mind to the presence of gender, racial, cultural and socio-economic diversity and to be aware of unintentional bias that could greatly influence the counselling process.
I know that I relate well to people at all levels of society. My practice is varied and my clients are multi-cultural.  This adds a huge amount of interest and challenge. I felt the best way to work multi-culturally and to ensure the incorporation of non-discriminatory into my practice would be to work within the code of ethics of all counsellors according to theukcp anti-discriminatory practice.
In addition to this my understanding of the dynamics of oppression, racism, discrimination and stereotyping enabled me to work with people from different cultures and backgrounds. This also includes people form different age groups, sexual orientation, physical and learning abilities and social economic status.
Memberships
UKCP Reg, (United Kingdom Council for Psychotherapists),
Professional member of the (Society for Existential Analysis).
The way I work:

Existential Psychotherapy.
The Existential/Integrative approach to Psychotherapy is a detailed exploration of the meaning of life and aims at enhancing your self knowledge. Psychotherapy can provide a safe place for you to explore your thoughts, feelings and emotions in a non-judgmental environment. My aim is to lead you through a journey of self discovery and understanding whilst clarifying your life circumstances and where you want to be in your life. I will encourage you to explore the dilemma's, conflicts, contradictions and issues in your life. The focus is to help you think things through and gain new ideas and perspectives and enable you to evaluate your options and see a way forward. Alongside the issues and concerns you bring to therapy, we will explore the areas you want to change, where would you like to be in your life and what prevents you from getting there. To understand our thoughts and feelings often brings a sense of relief and the opportunity to deal with them more effectively. Existential psychotherapy is a joint venture that provides the opportunity to think together collaboratively about your situatation.

Cognitve Behavioural Therapy
Cognitve Behavioural Therapy helps you see how your thoughts and behaviour are related to way the way you feel. For example if you are feeling depressed you tend to have negative thoughts (such as I am a failure in all things and no one likes me). As a result of this you stop going out and meeting people or avoid doing things you normally find pleasurable. This can make you feel even more badly about yourself, leading to more negative thoughts. Cognitive Behavioural Therapy can help you to participate in the activites you once enjoyed. It can also help you notice the way you think about yourself and how this affects your behaviour. By examining the way you are thinking, it can put you in the position to consider you assumptions and beliefs, and look at whether there are alternative ways of viewing things. Cognitve Behavioural Therapy can also help to change your behaviour. For example if your anxious about traveling on a train, by bus or by car you might avoid traveling. Although this prevents the anxiety of traveling, it can lead to more avoidance, and perhaps finding it difficult to go out altogether. Cognitve Behavioural Therapy will help you face up to your fear, and give you tips on how to cope better thus increasing your confidence about traveling. Cognitive therapy is particularly good for people who tell themselves that they shouldnt feel certain emotions,
decide that everything that goes wrong is their fault, use mind reading to decide other people think badly of them, notice only the things that go wrong in life and ignore the things that go right, and take all the blame for mistakes and give credit for all the successes to other people.
To find out more about Cognitve Behavioural Therapy phone or email me. Leaflets and details on request.
Pet bereavement counseling
There has been an increased recognition of the importance that animals have in the lives of of people. I would like to highlight the deep bond between humans and their animals and the profound impact of loving and caring for them. pets provide us with companionship, protection,entertainment,excercise, social contact and the love of the great outdoors. When a pet is gone, the owner experiences a deep sense of loss and grief.
Grieving for a pet can be similar to mourning the loss of a family member. Some owners experience feelings of deep loneliness and isolation. These emotions are perfectly normal. Our pets are often seen as part of the family. So, when it comes to saying goodbye it can be an extremely tough and emotional time. Saying goodbye can be the hardest decision ever made by pet owners.
Some people may not understand the intense feelings of sadness you may feel after losing a pet, but please remember there are people out there who understand. As a pet counselor I can offer you a space to share pain and suffering you are experiencing after the loss of your pet.
Solutions Focused Brief Therapy ( SFBT)
Solutions Focused Brief Therapy is an approach that enables you to make changes in your life in the shortest possible time. Time sensitive in its approach, with its distinctive methods, will actively guide you away from focusing on problems and encourage you towards thinking about solutions.Of course SFBT acknowleges distress but focuses on success. Therapy consists of discussions in which you would be encouraged to find your own solutions by the therapist using different forms of questions to enable this process.

The basic assumptions of SFBT are:

Change is constant and inevitable.
You are the experts of your self and define goals accordingly.
You have the resources and strenghs to solve problems.
Furture orientated - history not essential.
An emphasis on what is possible and changeable
Short term 3-6 sessions.

Integrative counselling.
Because we all think, feel and react in different ways, Integrative counselling can bring about change in your life and produce a unique therapy that is adapted to suit your needs. As an Integrative counsellor I can use the insights and techniques from Person centred, Psychodynamic, Cognitive Behavioural and Existential therapy to help you bring about some of the changes you want in your life. In the first session we will look at the kind of therapy that suits you best. For example if you are someone who needs to deal with the influence of past trauma such as childhood abuse, sexual assault, and neglect you may choose to talk about your past, exploring memories and dreams, drawing on psychodynamic techniques. However if you are dealing with a trauma that is recent, or it is still happening (i.e. domestic violence, break-up of relationship) you may want explore ways of using a person centred cognitive approach to therapy. If you are experiencing panic attacks, low mood or want to overcome a phobia you may want to examine your thoughts, feelings and behaviour and explore ways of overcoming your fears by using cognitive behavioural techniques. Or you may want to explore who you are, who you want to be, by looking at your thoughts, feelings, fantasies, dreams. Acknowledging your potential as well as recognising limitations by using an Existential Approach to therapy.

Finally you may want to work reducing your levels of anger, stress and improve self-esteem. This can be achieved by talking as well as behavioural experiments and role play, drawing on cognitive behaviour techniques. It may be that anxiety is dominating your life cognitive behavioural therapy is helpful to enable to look at your anxiety in a stuctured and practical way. Anxiety manifiests itself often exhibits it self in the following features:
Social Anxiety
Social anxiety is a condition in which you experience high levels of anxiety about being criticised or judged in a negative way both others which leads you to having high levels of fear about you're your ability to cope in a social situation. There is no magic solution or quick fix method that cures your social anxiety, but CBT techniques and encouragement  can help you devise and implement strategies in a graded step for step way which will help you grow in confidence in your ability to deal with social situations.

Panic attacks.
The best way to describe a panic attack is an intense short period of anxiety with out any obvious explanation such as an external threat or medical reason. Panic attack symptoms can include breathlessness, faintness, nausea, chest pains, irregular heart beat, and feeling terrified. They are not life threatening but often the first time you experience one you think you are about to die or that you are experiencing a heart attack. The main trigger in panic attacks is often the fear that you are going to have a panic attacks. CBT offers ways of identifying the thinking patterns that are reinforcing this belief and causing you to panic. I will assist you in retraining your self to cope with the irrational fear of panicking, so that you can begin to take control of the situation and enable you to increase your ability to cope with panic attacks if they happen and more importantly lessen your fears of them.
CBT coaching
CBT coaching ing is an integration of cognitive behavioural therapy and coaching techniques. CBT coaching techniques involve step for step strategies that helps you close the gap between where you are now and hat you want to achieve. It offers the chance to think through your options and decide on what you want to try out to help you achieve your goals. The techniques are practical and straightforward and unlike counselling and psychotherapy they do not include an analysis of your past. CBT coaching is solution and goal orientated and not problems focussed,
Training, qualifications & experience
Qualifications/Training.
BA (Hons) Psych
Dip. Psych
Post Graduate Diploma Pychotherapy and Counselling (Regents College London);
Adv.Dip. Existential Psychotherapy (Regents College London);
PgD Cognitive Behavioural Therapy.
Member SEA ( Society for Existential Analysis).
Diploma Person centred couples counselling.

Code of ethics:
I work within the UKCP (United Kingdom Council for Psychotherapy) I am closely bound, and accountable to the codes of ethics and practice. Copies an be obtained on request. I undertake regular supervision for my work subject to the code of ethics.

I am also a professional member of the Society for Existential Analysis.

Experience:
A BA Honours degree in Psychology was followed by a seven year training as a women centred counselllor working with women survivors of rape sexual assault and sexual abuse. . In 2001 I decided to embark on a professional training at Regent's College in London. reading Integrative Psychotherapy at postgraduate/MA level graduating in 2004. A year later I trained as an Existential psychotherapist at Regent's College graduating in 2007. I am a Cognitive Behavioural Therapist at PgD level and a couples counsellor in training. My first three years as a counsellor were spent working with women survivors of domestic violence. In addition to this I worked within the prison setting as a prison counsellor. During the two years of my Advanced Diploma I worked for MIND. The work was varied and included working with client's with mental health issues, anxiety, depression, bereavement, male and female domestic violence and sexual abuse. I have worked with men and women who were experiencing infertility problems at a private clinic.  I have also worked as a school counsellor with young people aged 13-16 and young people aged 16-25 in the community. I also work as a counsellor for a number of organizations providing work place counselling and have a private practice in Soulbury, leighton Buzzard and Milton Keynes.
Member organisations
Registered / Accredited
Being registered/accredited with a professional body means an individual must have achieved a substantial level of training and experience approved by their member organisation.

UK Council for Psychotherapy
The UK Council for Psychotherapy (UKCP) is a leading professional body for the education, training and regulation of psychotherapists and psychotherapeutic counsellors. Its register is accredited by the government's Professional Standards Authority.

As part of its commitment to protect the public, it works to improve access to psychotherapy, to support and disseminate research, to improve standards and to respond effectively to complaints against its members.

UKCP standards cover the range of different psychotherapies. Registration is obtained by training or accrediting with one of its member organisations, or by holding a European Certificate in Psychotherapy. Accredited by the Professional Standards Authority.
Accredited register membership

Accredited Register Scheme
The Accredited Register Scheme was set up in 2013 by the Department of Health (DoH) as a way to recognise organisations that hold voluntary registers which meet certain standards. These standards are set by the Professional Standards Authority (PSA).
This therapist has indicated that they belong to an Accredited Register.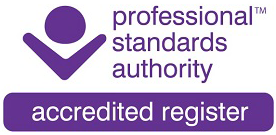 Areas of counselling I deal with
Other areas of counselling I deal with
I am passionate about working with those who are experiencing life transitions associated with becoming older.

I am also passionate about working with people at the end of their lives or who are terminally ill.

Emotional care:   recovering from open heart surgery, its normal to feel sad, angry and helpless.
I am a pet bereavement counselor.
Therapies offered
Behavioural therapy
Cognitive and behavioural therapies
Cognitive behavioural therapy (CBT)
Cognitive therapy
Existential therapy
Humanistic therapies
Integrative
Interpersonal therapy
Other therapies
Solution focused brief therapy
Fees
Therapy session is £50 and last for 50 minutes. Sessions are held a regular time slot each week. Weekly attendence is important for the therapy progress. Missed and cancelled sessions  are payable in full if less that 48 hours notice has been given by email or text.
Payment is taken at the end of each session by cash or bank transfer in advance.
Further information
Leighton Buzzard Clinic: 34 High Street, Leighton Buzzard, Bedfordshire, LU7 1EA.
BUPA Insured and Reg.
AXA/PPP
Webcam availability
Published articles