What's worrying you?
Dementia
Coming to terms with the diagnosis of dementia can be very difficult, not only for the person who has been diagnosed but also for family and friends. While dementia is not physically painful and does not affect the appearance or mobility of the person, it can change their personality unrecognisably and, sadly, irreversibly.
One of the most important factors in maintaining quality and enjoyment of life for people with dementia and their families is accessing support.
What is dementia?
Dementia is the umbrella term used to describe a range of progressive neurological disorders (conditions that affect the brain). There are many different types of dementia, with Alzheimer's disease being the most common. Dementia can change the way a person thinks, feels, functions and communicates. It is a progressive condition, which means that it gradually gets worse over time.
There are 900,000 people currently living with dementia in the UK.
Dementia is most common in people over the age of 65 (with one in 14 people over 65 currently living with dementia). While the risk of developing dementia increases with age, the condition can affect younger people too. In the UK, there are more than 42,000 people under 65 living with dementia.
The most common change associated with dementia is memory loss. This can become so severe for those living with the condition that they may need daily care to do basic things, such as eating, washing, and going to the toilet. People with dementia are vulnerable to rapid mood changes, anxiety, depression and bouts of aggression. Memory loss can be very scary and disorientating and, in turn, can be sad and frustrating for loved ones, who must learn to cope with the massive changes in their lives.
Although it cannot be cured or reversed, dementia can be managed. In recent years, more attention has been given to dementia counselling as a way of helping those with dementia, and their families come to terms with the diagnosis. Counselling is recognised as an effective tool for helping make life as normal as possible for people in the early stages of dementia. It is also an excellent support line for carers struggling to cope with the changes and new responsibilities.
Are you caring for a loved one with dementia? In this video, counsellor Caroline Ellison explains how therapy can support those diagnosed with dementia, and the people caring for them.
Types of dementia
There are thought to be approximately 100 different types of dementia, and each type is caused by something slightly different.
The most common types of dementia include:
Alzheimer's disease: caused by a buildup of tissue in the brain.
Vascular dementia: caused by blocked arteries leading to the brain.
Mixed dementia: a combination of Alzheimer's and vascular dementia.
Lewy body dementia: a build-up of protein deposits in nerve cells.
Frontotemporal dementia: caused by damage to the temporal and frontal lobes of the brain.
Early-onset dementia: this describes the condition that affects people who are under the age of 65.
Less common causes of dementia include Creutzfeldt-Jakob disease, heavy alcohol abuse, HIV, Huntington's disease, multiple sclerosis (MS) and motor neurone disease.
What does dementia feel like?
Caring for a loved one who has, or is exhibiting signs of dementia, can be frustrating - it can be incredibly draining, emotionally and physically. It can be difficult to know what they want or understand what's going on in their mind because, often, they don't know themselves. Without a functioning memory, how are they supposed to make sense of the world, or even their own thoughts and feelings?
'Memory' is not just remembering what you had for dinner yesterday, it stores everything. Without memory, how would you be reading these words? Basic skills like speaking, knowing when to cross a road, and telling the time are all stored in our memories. In fact, everything we do in life requires a certain amount of skill and prior knowledge.
People with dementia often struggle to recall these vital memories. They lose their grasp of reality, find it difficult to carry out basic tasks and over time, can even lose their sense of self.
Therapists who can support people living with dementia
How to recognise signs of dementia
The earlier the signs and symptoms of dementia are spotted, the earlier a diagnosis can be made. Once diagnosed, plans for the future can be made. This may include researching the condition yourself, sourcing medication, seeking counselling and support and looking into possible care options.
Not everyone is in the position to care for their own loved ones, if you need a helping hand, that's OK.
Below are 10 of the more common signs of dementia.
Memory loss
We all have forgetful moments. But, when forgetfulness starts to affect the ability to lead a normal life or is putting someone in danger, further help is recommended.
Difficulty with daily tasks
Memory loss can make it very difficult to carry out what many of us see as basic, daily tasks, such as cooking dinner, washing and cleaning the house.
Speaking problems
Dementia can often make people forget words and lose track of what they were saying.
Confusion over time and place
It's not uncommon for individuals with dementia to get lost in their own street or neighbourhood, even if they've taken the same route for years. It can be very easy for people to become lost or disorientated when living with dementia.
Inability to make judgements
Making good judgements, like knowing when to cross the road, requires quick thinking and common sense. With dementia, this can be difficult and the ability to make such decisions can be lost.
Problems with abstract thinking
Sometimes to understand something - using a phone, for example - we have to be able to remember other rules first, such as what the numbers mean. In reality, numbers are little symbols. It's only because we learn what these symbols mean as children that we can decipher them as adults.
Losing things
It is common for people with this condition to forget where things belong. They may forget where they've put things or put their belongings in the wrong place. This makes it easy for important things to become lost, which often adds to the confusion and frustration of the condition.
Mood changes
Living in a world where nothing seems to make sense can be extremely distressing. With everything changing and shifting around you, how are you supposed to know what to believe? People with dementia often experience great surges of emotion, such as anger and sadness. These can lead to emotional outbursts.
Personality changes
Those with dementia often lose a grip on who they used to be. Dementia can also result in a loss of inhibitions, which may lead to socially inappropriate or over-familiar behaviour.
Loss of motivation
People with dementia can often become passive and lose interest in things they used to enjoy.
---
Dementia support
Therapy and counselling can give much-needed support by providing people with dementia, and their carers, the opportunity to speak in confidence about the issues that might be troubling them.
Talking therapies can help people come to terms with a dementia diagnosis, identify ways to live with the condition and can also help with related issues, such as anxiety and depression. Alternative therapies, such as music therapy, dance therapy and art therapy, can provide a break from the everyday realities of the condition.
Cognitive behavioural therapy
Cognitive behavioural therapy (CBT) is a talking therapy that focuses on the present rather than delving into the past. Because of this, CBT is thought to have a positive on people with dementia, as it can help address problems that they are currently facing. 
CBT may also involve learning relaxation techniques or breathing exercises, or trying out new activities. The hope is to improve the person's enjoyment and quality of life.
CBT for dementia often allows the carer to sit in on sessions, allowing them to learn some of the techniques to practise at home.
Music therapy
Dementia can often create a feeling of isolation, for the person themselves as well as for their loved ones. Music therapy aims to reduce this. It looks to improve self-esteem, promote social interaction and encourage memory recall.
Sometimes, listening to a song from the past can trigger previously forgotten memories - something that is invaluable for those who have memory problems. It can give people with dementia the chance to explore their own creative abilities, helping to regain their sense of who they are.
---
How can dementia counselling help?
There is plenty of advice available for families dealing with dementia. The problem with the advice found in books, leaflets and online, is that it is very general. Dementia is inconsistent by nature - what works one day might not work the next and, unfortunately, everyone can be affected differently.
For this reason, it can be beneficial to have an expert work with you to get to grips with the unique patterns of your own, or your loved one's, condition.
Making life as normal as possible
When a family member gets diagnosed, life does change. Whatever your role in the family - whether spouse, child, or even if you are the person who has been diagnosed - you're probably keen to make life as normal as possible for everyone affected. Counsellors work with families to help them adjust and manage the changes. This may include reminders on regular hygiene, looking after the house and eating regular meals.
A counsellor can help those affected by dementia work out ways of dealing with everyday challenges. This might involve assigning care duties to different family members, learning reminder and prompt techniques, and developing a structured, simple routine to help cope and continue with life.
Counselling can help by providing support for people living with dementia (and their families), as well as helping them discover ways of coping in the longer term.

- Read 'Dementia – How counselling can help both carers and the cared for'.
Communication
Dementia is a scary, inconsistent condition. It's heartbreaking seeing someone you love deteriorate and lose themselves. Part of dealing with the condition is learning to accept the new identity of your loved one and to get to grips with their new behaviour. One of the biggest challenges will be to communicate with them effectively. People with dementia may have trouble finding the right words to use and sometimes use substitutes that make no sense. A counsellor can work with you to develop better ways of communicating.
Mental health
Dementia doesn't only affect the person diagnosed. Friends and family can also be affected. The responsibility of being a carer, the grief of losing a loved one and the fear and anxiety of a future infinitely different to the one you imagined, can lead to a number of mental health issues, including stress, anxiety, depression and low self-esteem.
If you are a carer, it is important you take care of yourself too. Self-care is an essential part of maintaining overall health and well-being - it's not selfish to take a step back every now and then.
---
What should I look for in a counsellor?
It's important you feel comfortable with your counsellor. Who you think will be the most helpful will depend on both your own personality and that of the counsellor. We recommend contacting a professional who is experienced in dementia support and understanding the condition, and the effects it can have on those caring for, or loved ones of the individual.
You may need to speak to several professionals before you find the right person, but that's OK. If someone's not right for you, they'll understand.
When searching for a counsellor, it is important to check they have the relevant experience and are qualified in their field. At Counselling Directory, we have a proof policy in place, which requires all professionals to provide us with proof of qualification or membership in an accredited professional body. 
We encourage all members to include as much information as possible on their profiles to make the journey easier for you. Take your time. Finding someone you resonate with is important.
---
Further help

Trust our content
We are a PIF TICK 'trusted information creator'. This means you can be assured that what you are reading is evidence-based, understandable, jargon-free, up-to-date and produced to the best possible standard.
All content was accurate when published.
Would you like to provide feedback on our content?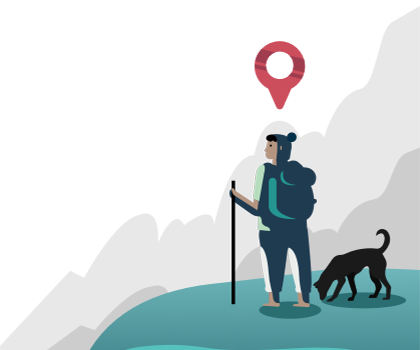 Find a therapist dealing with dementia