Lynda Gooby

Verified Professional

Every professional displayed on Counselling Directory has been independently verified by our team to ensure they have suitable credentials to practise.
MBACP, MNCS(Acc) Counsellor, CBT Therapist & Clinical Hypnotherapist
Chelmsford, Essex, CM3 1DH
About me
Skype and Telephone appointments are available
I am an experienced and qualified Integrative Counsellor, CBT Practitioner and also a qualified and accredited Clinical Hypnotherapist

I work with Adults, Children and Couples offering both short term and long term therapy.

I am a registered member of The British Association of Counsellors & Psychotherapist (BACP) an Accredited Member of The National Counselling Society (NCS) and an Accredited Member of The National Hypnotherapy Society (MHS)
The Accredited Voluntary Register (AVR) scheme was set up by the Department of Health to ensure that the public are able to choose safe, ethical and competent professionals for their health and social care needs.

As a counsellor I offer a warm, supportive, safe and confidential space to talk about your feelings, thoughts and concerns, without judgement. My purpose is not to give you advice or direct you to take a particular course of action but instead help you work through your issues towards a healthy and happy outcome. I will not sit in silence either, but actively interact and work with you, responding with empathy and understanding.
I have an integrative training which enables me to draw upon a range of approaches including transactional analysis, cognitive behavioural therapy, psychodynamic and person centred, to help clients explore what brings them to therapy. I do not believe that one approach is appropriate for everyone and think it is important to tailor my approach to meet the needs of the individuals.
This can provide a secure base from which to explore your thoughts, feelings and anxieties. This will enable you to gain confidence and will enable you to manage your life more effectively. As well as exploring present difficulties we can focus on your past to consider how previous experiences might be impacting on your current issues. I will enable you to explore thoughts and feelings that may not have been spoken about before. This can feel daunting and upsetting but it can also bring a sense of relief and understanding which can provide a way of moving forward.
The decision to start therapy and choosing the right Counsellor, I know through personal experience can be very daunting.

In additional to being a counsellor and CBT therapist I am also a fully qualified Clinical and Transpersonal Hypnotherpist offering a range of hypnotherapy interventions to help with -

Anxiety and Panic
Stress
Exploring the past
Confidence
Looking for direction
Weight management
Smoking cessation
Pain management
I am happy to have a chat on the phone if you have any questions.
I cannot always answer my phone, but please do leave a message and a number that I can reach you on and I will return your call as soon as I can. Alternatively you can email me and I will contact you as soon as I can, usually within 24 hours.

Please see my website for more details www.lgoobycounselling.co.uk

My therapy practice is located in Great Waltham, (5 minutes from Broomfield Hospital) Chelmsford which is a peaceful, discreet and quiet location. There is plenty of roadside parking.
Training, qualifications & experience
Qualifications:

Diploma in Clinical and Transpersonal Hypnotherapy
-Stress and Anxiety
-Smoking cessation
-Relaxation
-Weight Management
-Pain Management
-Positive Birthing
-Past life regression
-Inner child/age regression
-Phobias
Practitioners Diploma in CBT
- Addictions
- Personality Disorders
- Stress
- Anxiety and Depression
- Relationship Counselling
- Solution focused brief Therapy

Certificate in Clinical Supervision
AQA Diploma in Therapeutic Counselling
- Therapeutic Practice
- Transactional Analysis
- Cognitive Behavioural Therapy
- Developing Practitioner
AQA Intermediate Certificate in Counselling
- Counselling Skills and theory
- Working with Grief & Loss

BACP Certificate of Proficiency
Certificate in Couples Counselling - Integrative approach
Certificate in Transactional Analysis
Child Safeguarding Certificate ECC
Certificate Domestic Abuse Enhanced Awareness ECC
Certificate Understanding Drugs and Addictions : Kings College Hospital
I have experience in private practice working with Adults, Young people, Children and Couples. I have worked at a local Hospice offering bereavement counselling for a number of years with adults of all ages and backgrounds. I also have experience of counselling children in both primary and secondary schools for a domestic violence organisation.
Furthermore, I have particular experience with issues such as bereavement, depression, sexual abuse, domestic violence, relationship difficulties, stress and phobias. I also work with people who wish to explore issues such as their life direction, self esteem, confidence, or for personal development, as well as working in a more general context.
However, often the issues may be rather more undefined and may include a more general feeling of anxiety, depression, futility, loneliness or simply feeling stuck or lacking a real purpose in life. Or perhaps you are not sure exactly what is bothering you and wish to explore these thoughts and feelings.


ANGER:
It is important that you learn to identify where and when you feel angry. Write it down, is there a pattern? Do you have consistent "triggers" can you begin to identify why you are so angry? Is anger masking other feelings such as embarrassment, hurt, or shame? Talk to someone you trust or if that isn't enough, you may need to talk to a counsellor to help you manage your anger in a less destructive - more  appropriate manner.
Working towards managing your anger in a problem solving way not problem causing.

ANXIETY & PANIC :
Anxiety is a general term used to cover a range of feelings; apprehension, uncertainty, fear, nervousness and worry. It is a normal part of life, which we can experience from time to time when faced with something challenging such as an interview, exam or certain social situations. It can be useful in that it can make you feel more alert and protect you from dangerous situations, but for some people the level of anxiety can become so bad that it dominates their lives and stops them from doing the things they want to do. Panic is defined as sudden, often unexpected, intense feelings of anxiety and fear. It is accompanied by physical symptoms, which include; sweating, hyperventilating, dry mouth, dizziness, increased heart rate and tense muscles. These symptoms are caused by the release of adrenalin into your blood stream, which prepares your body to take action either by running away, facing the danger or you can freeze ( known as fight or flight)

STRESS :
Stress can be useful in small doses as it can motivate you to do your best and to remain focused and alert.
However, after a certain point it can lead to a feeling of being under too much pressure mentally and emotionally, it affects how we feel, think and behave.
Many of life's demands can cause stress such as work, relationship and money. Some common signs of stress include sleeping problems, sweating, loss of appetite, difficulty concentrating, irritability, feeling overwhelmed, isolated or depressed.

ABUSE & BULLYING :
Abuse can affect anyone from all walks of life. It can take the form of physical abuse, emotional abuse, sexual abuse or neglect. Bullying is also a form of abuse, which has a detrimental affect on a person's life.

Physical abuse can occur through hitting, punching, burning, scalding, choking, kicking, throwing, beating or other actions, which cause physical injury.

Emotional abuse can happen through name calling, intimidating, humiliating, manipulating, criticising and threatening which damages self - esteem and self - worth.

Sexual abuse is any type of sexual behaviour which is not consensual or which is between an adult and a child or older child and younger child.

BEREAVEMENT/LOSS:
Bereavement is a state of being which usually results from the loss of someone we love through death. Loss is the disappearance of something important from our lives such as the death of a person, loss of health, loss of job, loss of friendship, loss of home or loss of relationship and family life through divorce and separation.
Grief is a natural reaction to bereavement and loss. Nevertheless, the experience of grief can be overwhelming and frightening, triggering feelings of shock, numbness, anger, guilt, loneliness, fatigue and intense sadness. Grieving is an individual experience which is influenced by many factors including cultural background, religious beliefs, age, personality and circumstances.

BETRAYAL:
The discovery of betrayal can be highly traumatising. The relationship can become chaotic and a wild roller coaster ride. Reactions to betrayal - At the heart is broken trust. And the questions haunt, can I recover? How do I know you won't do it again?

DEPRESSION:
Feeling sad or 'fed up' from time to time are common reactions to the ups and downs of life and these feelings usually pass. However, depression is characterised by persistent feelings of sadness or low mood. These feelings can become so overwhelming that they interfere with a person's ability to carry on with their normal daily lives.
Some people may not realise that they are depressed and they struggle on knowing that something is not right but not knowing why. Some of the signs of depression include :

- Feelings of hopelessness and helplessness
- Worthlessness and loss of confidence and self - esteem
- Loss of interest in things which were once enjoyable
- Tiredness and change in sleeping patterns
- Irritability
- Inability to make decisions

Depression is not a sign of weakness, it can happen to anyone, sometimes the reasons are obvious and sometimes they are not. However, certain risk factors can contribute to depression such as genetic factors and early life experiences, which make some people vulnerable. Distressing life events for example ; divorce, bereavement and losing a job can also trigger an episode of depression.

DRINK/DRUG/ADDICTION:
Addiction is a chronic and often misunderstood illness. Many believe addiction and drug and alcohol or substance abuse are a sign or moral weakness, while stopping the addictive behaviour is simply a matter of willpower. Scientific studies, however, have proven this is not the case.
Addiction not only impacts on the addicted but can have a negative impact on close family and friends causing conflict, insecurity, frustration/anger and stress.

LOW-SELF-ESTEEM & LOW SELF - CONFIDENCE :
Self - confidence is defined as a belief in oneself and ones power or abilities. Self - esteem is about a person's overall sense of self - worth or self - respect. The two are closely linked but not necessarily connected. Confidence is about how we present ourselves to the world and what we achieve where as self - esteem is how we feel about ourselves inside.

When self - esteem is low resilience in the face of life's challenges is diminished. A person with low self - esteem views themselves in a more negative light, tending to focus more on their mistakes and weaknesses. Whereas a person with high self - esteem will hold more positive belief about themselves and this helps to protect them against the knock backs in life.

Negative experiences in childhood can damage self - esteem creating a sense of self, which does not feel valued or important, therefore developing a negative core belief about oneself. Additionally, negative life changes in adulthood can shake and damage self - esteem. -

Feeling worthless
Feeling incompetent and unrealistic about your abilities
Feeling unloved
Being overwhelmed with fear and negative thoughts
Being unrealistic about goals
Being drawn into destructive relationships
Fear of change
Distorted views of self and others

RELATIONSHIP ISSUES:
All relationships and families go through difficult times as the family dynamic grows and changes. However, prolonged difficulties can result in conflict, insecurity and stress.

This can lead to lack of communication, which may leave partners and family members feeling trapped, isolated, frustrated, angry or depressed. Relationship and family difficulties can be caused by difference in opinion, personalities, beliefs, unresolved childhood trauma, goals or personal circumstances. These include financial problems, unemployment, moving house, illness, lack of trust or a change in family circumstances, for example the new arrival of a new baby, children becoming teenagers, or the blending of families.

PHOBIAS:
Talking treatments, such as Cognitive Behavioural Therapy are often very effective methods for treating phobias.  I know through personal experience, you always have a choice in how you feel, which I know sounds odd!! It is not the situation that creates emotions, but our thoughts about those situations - and thoughts are things we can test and change. 
Most common phobias are - Public Speaking 74%, Death 68%, Spiders 30.5% Darkness 11%, People/ Social situations 7.9% and Flying 6.5% (Source US National Institute of Mental Health 2014)

SEPARATION:
Sometimes the decision to divorce or separate is not a joint one, and a partner is left behind while the other embarks on a new relationship. This can be overwhelming, feelings of abandonment and loss can feel quite crippling

SELF HARM:  
Self -harm is a way of intentionally causing physical pain or injury to one's own body. It is a way of releasing and expressing deep, emotional distress, which can't be put into words or thoughts. It can also be used as a way of trying to gain control, as a distraction or a self -punishment .
However, the relief is only temporary as the underlying issues still remain. Self - harm can manifest itself in a number of ways. For instance :

Cutting, burning, biting
Substance abuse
Head banging and hitting
Taking personal risks
Picking and scratching
Neglecting oneself
Pulling out hair
Eating disorders
Over dosing and self - poisoning
Commonly, it can be linked with other issues such as depression, anxiety and low self - esteem.

TRAUMA:
How do people react to trauma? -

Feelings of numbness and unreality
Fear/ anxiety/ loss of confidence
Tearfulness
Feeling low or depressed
Sadness and feeling of loss
Anger
Guilt ( feeling responsible for what happened, or survivor guilt at having survived if others did not)

TRUST ISSUES:
The first step is determine if you think the lack of trust is due to the way your partner has acted in the past or your own trust issues from the past or both
How much are you able to trust yourself?

I HAVE EXPERIENCE OF WORKING WITH ADULT SURVIVORS OF CHILDHOOD:
Sexual Abuse
Emotional Abuse
Physical Abuse

DOMESTIC ABUSE:
Domestic abuse or violence can be physical, emotional, sexual, or psychological. Common behaviours include name calling, threat making, manipulation, humiliation and blaming. Other dangerous signs of domestic abuse or violence involves the aggressor attempting to isolate the victim from others. Monitoring the victims behaviour, among other acts.

I offer both longterm therapy, if you wish to explore deeper aspects of yourself, or short term therapy, if you wish to focus on a particular issue. 


Counselling normally takes place once a week (depending on need) - sessions last for 50 minutes. Every person's counselling needs are different, some people benefit from just a few sessions while others continue for longer.

In our first initial meeting, we will explore your concerns and issues and if we both feel we can work together, we can book further sessions. There is no obligation to continue if you do not want to.

If we agree to work together, we will form and agree a contract this will outline confidentiality, supervision, day, time, cancellation of session, missed sessions, fees, note taking and data protection inline with the NCS and BACP ethical framework.
I am committed to continued professional development and regularly attend  workshops, seminars and short courses to enhance my knowledge and keep up-to-date with today's approaches.

I hold full professional liability insurance, an enhanced DRB and attend regular 1:1 and group supervision. 
Member organisations
Registered / Accredited
Being registered/accredited with a professional body means an individual must have achieved a substantial level of training and experience approved by their member organisation.

National Counselling Society (NCS)
The National Counselling Society

This Not For Profit association of counsellors and psychotherapists aim to support the counselling profession, members and training organisations.

In 2013 the NCS register was accredited by the Professional Standards Authority under the Accredited Voluntary Register Scheme. Accredited by the Professional Standards Authority.

British Association for Counselling & Psychotherapy (BACP)
BACP is one of the UK's leading professional bodies for counselling and psychotherapy with around 60,000 members. The Association has several different categories of membership, including Student Member, Individual Member, Registered Member MBACP, Registered Accredited Member MBACP (Accred) and Senior Registered Accredited Member MBACP (Snr Acccred).

Registered and accredited members are listed on the BACP Register, which shows that they have demonstrated BACP's recommended standards for training, proficiency and ethical practice. The BACP Register was the first register of psychological therapists to be accredited by the Professional Standards Authority (PSA).

Accredited and senior accredited membership are voluntary categories for members who choose to undertake a rigorous application and assessment process to demonstrate additional standards around practice, training and supervision.

Individual members will have completed an appropriate counselling or psychotherapy course and started to practise, but they won't appear on the BACP Register until they've demonstrated that they meet the standards for registration. Student members are still in the process of completing their training.

All members are bound by the BACP Ethical Framework and a Professional Conduct Procedure.
Accredited register membership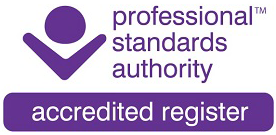 Accredited Register Scheme
The Accredited Register Scheme was set up in 2013 by the Department of Health (DoH) as a way to recognise organisations that hold voluntary registers which meet certain standards. These standards are set by the Professional Standards Authority (PSA).
This therapist has indicated that they belong to an Accredited Register.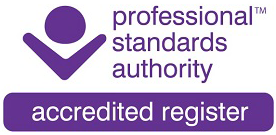 Accredited Register Scheme
The Accredited Register Scheme was set up in 2013 by the Department of Health (DoH) as a way to recognise organisations that hold voluntary registers which meet certain standards. These standards are set by the Professional Standards Authority (PSA).
This therapist has indicated that they belong to an Accredited Register.
Areas of counselling I deal with
Fees
Additional information
All sessions are for the therapeutic hour of 50 minutes and progress reviewed on a regular basis.
Individual Counselling
From £45 per session

Couples Counselling
£60 per session
Hypnotherapy and therapeutic intervention
From £65.00 per session 1 hour
Smoking cessation and weight management please contact me for fees.

Clinical Supervision
£40.00 per session
When I work
Daytime, Evening and Saturday morning
Skype and Telephone appointments available
Further information
Above all, I believe that the relationship between myself and my client is very important and I aim to build a supportive, safe and confidential relationship where we can discuss and explore your thoughts, feelings and issues together without judgement, fear or shame. Research has proven that the effectiveness of talking therapies mostly depends on the quality of the relationship between therapist and client. It is not necessarily the theoretical approach, age, gender or experience of the therapist that is most significant. There are no meaningful differences between counselling and psychotherapy. I am accredited counsellor and a psychotherapist, and I am happy to identify myself as either.
It is often a daunting task and takes courage to pick up the telephone and make the first appointment. A first session is to allow the client to meet me as a therapist, to ask questions, and to discuss your needs and expectations and any anxieties about beginning. Choosing a therapist is often intuitive and I would advise any client to listen to their gut feeling after a first session to decide whether to begin working with me. You may find a few sessions are all that you need, or you may wish or feel you need open-ended longer term work. My approach as a therapist is to be passionate and calm, non-dogmatic and empathic and supportive and challenging. It is worth considering that full accreditation to a professional body is important, as it indicates the therapist has undergone a recognized training, continuing professional development and adheres to a recognized code of ethic -

I am a Registered member of  the British Association for Counselling and Psychotherapy (BACP).  I abide by their Ethical Framework for Good Practice in Counselling and Psychotherapy which can be found at www.bacp.co.uk/ethical_framework.

I am an Accredited member of the National Counselling Society(NCS) and an Accredited member of the National Hypnotherapy Society (NHS