Andrew Richardson

Verified Professional

Every professional displayed on Counselling Directory has been independently verified by our team to ensure they have suitable credentials to practise.
Feelbetter Counselling
St Austell, Cornwall, PL25 4LY
About me
My experience over many years is that long-distance online counselling is not only possible but can be as effective as being in the same room - for help with depression, all kinds of anxieties, addictions and the enormous range of life problems that can disable us.
Are you exhausted and depressed, beset by anxieties or lost in addictions and does no-one seem able to help?
Do you want to know why you are suffering as you are and see a clear way back to control and a life that works?
I have the answers you need and a track record that you can have faith in.
I have been practicing full time for over fifteen years and almost uniquely for a private therapist I keep evidence of the progress of all my clients. Over 85% feel better or are fully recovered within four sessions.
My counselling approach is very different from most featured in this directory. First, I will be doing more of the talking, particularly in that first session and we will not be spending much time when you are talking at length through your problems and your feelings. Second, hypnosis will play an important part in your recovery – so you can experience relaxation, we can clear trauma memories and unhelpful habits and patterns and so you can rehearse the changes you require and yearn for. I will have my audios for you to listen to between sessions.
Go to my website for more information on my free 30 minute consultation and my questionnaire. I help most my clients quickly (within four sessions) and I want to help you too.
I am trained in the Human Givens approach which teaches a profound understanding of the causes of most depressions, anxiety disorders, addictions and much else.  An important part of your recovery will be that you understand very clearly why you are feeling and behaving as you are. You will find this liberating.
Where I am: I have my full-time practice at my home in St Austell, Cornwall.


Are you depressed and can I help you?
If you answer Yes to these questions – then I certainly can help you, quickly and reliably.
Are you mentally and emotionally exhausted?
Can you barely drag yourself out of bed in the morning?
Have you slept for ages, but in the morning you are not refreshed?
Is your self confidence low and hope disappearing?
Do you feel a burden on your family but know that you need something that they cannot give you?
Do you feel trapped in your head – unable to escape thoughts, projections and self obsessions that you know are ridiculous?
Finally, have you been to your GP, tried antidepressants or CBT and been disappointed. Also are you sick of all those tips and techniques – because however sensible they are, they just seem too hard.
My message to you is one of Hope. Contact me now. Look at my website. You will not be disappointed. My confident expectation is that you will be feeling lighter and more hopeful within a week or so.


Anxiety help for you now
Many people become so angry and frustrated with their anxiety because they know that the thoughts and fears they have are not rational. So they can be very hard on themselves which just makes the problem worse and they are reluctant to seek help.
Is that true for you? If so, then take heart. Your anxiety, however it manifests does not mean you are either crazy or weak willed. There is reliable help – whether you suffer from panic attacks, trauma, social anxieties, performance worries, phobias of all kinds or anxieties that are spreading out to large areas of your life.
To understand why I can make a difference so quickly and reliably, visit my website – the link is above. View the YouTube video below.
Tell me more about Human Givens.  Although still relatively new and originating in the UK, Human Givens is already recognised and used in the NHS.  The source of your emotional distress will normally be identified quickly and then a range of techniques and insights will be used for their quick relief. These techniques come from many sources and include trance and hypnotherapy.  All are used appropriately as Human Givens is based on the very latest scientific understandings.
My background is not typical for counsellors. I am in my late sixties and had a successful business career before training in the Human Givens - which was fifteen years ago. This means that I have never been exposed to any kind of counselling before my Human Givens training. This freshness and independence is I believe one reason why I am so effective.
I see clients at my home during weekdays, most evenings and if needed at weekends also.

Here are a selection of Inspiring Testimonials (many more on my website)
"I was desperate when I contacted Andrew. I had seen several "traditional" therapists,but none had ever suggested that there could be permanent help. That first session wiped away all of the pain of 35 plus years. I could not believe it. What a gift Andrew has. Sure, Human Givens is the wrapper around his service, but it is he that makes the difference."   Dylan
"Andrew has given me my life back.  He is the real thing. I liken him to an alchemist of the mind; His dross was my exhausted dysfunctional mind and in a totally grounded pragmatic manner, like a plumber unblocking a clogged up drain, he helped me to shift my perception and to put the light on." Michelle
"I had learnt to have little faith in the NHS to deliver! In contrast, my first meeting with Andrew was a wholly pleasurable experience. He and I developed a meaningful rapport and focused on the root causes of my mental health issues.  I now consider myself to be at last content with my inner self."  Scott
"When I left our session last week to go and get the train, the tubes were suspended as someone had thrown themself under a train at my home station. I was so shocked and felt a deep sadness and loss. I also felt very, very lucky to have found you, as it could have easily been me under that train." Olivia
"You helped me so much in so many ways. I think I've only truly began to appreciate that fully now on reflection." Cris
"Without you, things would never have changed. I owe you so much and all that you have allowed me to achieve through setting me free. I am a success story (cannot believe that)." Amelia
"I can't really remember how bad I was when I first saw you but it all seems like a couple of years of a bad dream now." Nick
"I don't know quite what you did but you were the only professional I have ever seen that I wanted to come back and see again."  Helen
"I think I'm... free. The day after I last saw you...everything clicked, I felt this huge overwhelming relief and broke down in tears because there was light at the end of the tunnel. The binge eating has gone...I now let myself play games and enjoy friends around me instead of panicking that I'm not working...I feel amazing...the best I've felt in my whole adult (and teenage) life." Tyler
"You have given me so much that I want to give you something back as a testimonial that is a true reflection of this.  However, I only return to the exact same thought.  That is - that you have given me the most unexpected and powerful gift - you have given me back myself." Lucy
"I just wanted to say thank you profoundly for your work, help, and patience in getting me dug out in 3 to 4 short moves. It must take incredible mental strength, flexibility, and perception to do what you do. You are opening up a completely different way of thinking for me and I'm learning a great deal." Chris
"You have saved my life, quite literally.  I never thought I would ever feel like me again.  You have brought me back so quickly and safely. I wish you all the best with your work and the practice, especially the depression expertise.  You have an incredible talent." Hazel
"Andrew is an amazing Practitioner. Deep relaxation and hypnosis enabled me with his help to address my issues at a sub-conscious level. His patience, understanding and solution focused approach really encouraged me. Even when I could not understand what was going on, he had a way of exploring situations and being able to identify the causes of my difficulties." Natasha
"Andrew's intuitive skills and profound knowledge of mental health sussed me out very quickly and put me back in touch with my own inner strength. That is his remarkable strength. I felt I could trust this man with understanding my depression, like nobody else had been able to, and I felt his positive drive would get me there. And it did."  Jo
Training, qualifications & experience
HG.Dip.P - the post graduate practitioner qualification in the Human Givens
MHGI - member of the Human Givens Institute
I also have the Advanced Post-Graduate Studies Certificate in Human Givens.
GQHP - on the General Hypnotherapy Register

I have been practising as a Human Givens counsellor for eight years now and as the approach is still new (dating from the late 1990s), I am one of the more experienced HG therapists.

Accreditation is with the Human Givens Institute.  I abide by the HGI code of ethics and am subject to HGI disciplinary and complaints procedures.
I am also a member of the General Hypnotherapy Register.

My Specialist Areas
Anxieties including around professional performance, depressions, PTSD, obsessive behaviours including eating disorders, loss of self confidence, addictions, anger and needs for meaning and redirection. Also stress reduction, the alleviation of physical symptoms of stress (e.g. chronic pain, IBS) and the resolution of personal and work problems.
Member organisations

Human Givens Institute (HGI)
The Human Givens Institute (HGI) is both a membership organisation and a professional body representing the interests of those in the caring and teaching professions who have an interest in or utilise the human givens approach. Counselling Directory register Registered Members (MHGI) and Fellow Members (FHGI), who will have completed the Post Graduate Practitioner's Assessment (Part III) and who are fully qualified to practise as a human givens therapist or counsellor. Accredited by the Professional Standards Authority.
Accredited register membership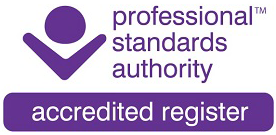 Accredited Register Scheme
The Accredited Register Scheme was set up in 2013 by the Department of Health (DoH) as a way to recognise organisations that hold voluntary registers which meet certain standards. These standards are set by the Professional Standards Authority (PSA).
This therapist has indicated that they belong to an Accredited Register.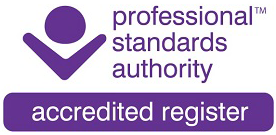 Areas of counselling I deal with
Fees
Concessions offered for
Additional information
My normal session fee is £80 - for around an hour. I do not clock watch and am flexible over the length of each session.
Concessions are always available - never will I refuse to see anyone on the basis of cost.
I will travel with prior arrangement. I hold CRB clearance.

And remember, I offer a Free 30 minute consultancy – with the option then to complete that first session – effectively at half price.
When I work
At my home during the week, most evenings and at weekends if necessary.
Further information
•

Andrew has a busy private practice, of over fifteen years.

•
Andrew's book "The Depression Optimist" is an Amazon best seller.
•
Andrew was one of the original participants in the research of the Human Givens Foundation and continues to measure the progress of all his clients. He now has close to 1000 clients on his continually updated database. He therefore knows that over 85% experience improvement or full recovery within 4 sessions.
•
Andrew receives regular referrals from PTSD Resolution (

www.ptsdresolution.org

) as a military trauma specialist. He has helped survivors of Afghanistan, Iraq, Bosnia, Northern Ireland and the Falklands.
•
Andrew offers a free 30 minute consultation to kick start your recovery.
•
Andrew sees clients at his home during weekdays, most evenings and if required at weekends also.
•
Andrew's background is not typical. In his mid-sixties, he had a successful business career before training in the Human Givens - which was ten years ago.