Low self-esteem
The benefits of having a dog in the therapy room
When we look at counselling, we conjure up thoughts about what it's like. Which type of therapy would suit me? Will it work? Should I go with a counsellor who is integrative and uses different approaches and models? Or should I find a counsellor who only uses one approach? Here's another question to ask - would you consider a counsellor who uses a dog as an aide in the therapy room?
What are the benefits of animal-assisted interventions?
Animal-assisted interventions aim to encourage physical and mental well-being. This type of intervention is currently being used in a variety of organisations and environments, including care homes, schools, hospitals, prisons, and the counselling sector, all with positive results.
This type of therapy could also help people with emotional and behavioural problems, who find it hard to express themselves. They could be experiencing the fear of loneliness, isolation, or illness, or just feel lost in themselves and feel too ashamed or scared to talk to someone.
Being with the dog can take the focus off of them and could help the client to explore emotional thoughts and feelings that can be difficult to talk about.
The dog lives in the here and now, doesn't mind what you look like, and accepts you just the way you are.
Having a dog in the therapy room helps clients to understand boundaries. The dog is very good at self-soothing, taking themselves away from situations they are not comfortable in. They can also mirror the client's emotions and feelings. For example, being sad, the dog will look sad; being happy, the dog will look happy.
Acceptance, unconditional positive regard and congruence are the same three conditions the dog will show towards the client.
Interacting with the dog has the benefit of looking at the client's self-worth. The dog would like to play and engage with the client. Having a dog that is wanting their attention and engaging in play has the benefits of lifting their mood, sense of belonging, and being noticed. This is especially helpful with clients who are experiencing bullying, isolation, or shyness.
With regards to domestic abuse, this type of therapy helps give the client a better understanding of trust, touch, caring for themselves, and self-respect, as the dog is being non-judgemental. This is a safe way for them to explore their thoughts and feelings without being criticised or judged.
Other benefits include:
reducing stress and anxiety
caring for the animal, caring for yourself
social interaction
developing relationships
improving your mood
---
Taking the dog outside
Having the dog in the therapy room is great, but you may want to go outside for a walk. Not everyone is comfortable in the counselling room, so going outside and exploring also has its benefits.
This different approach to counselling and going outside could restore calm, motivate, and uplift us. Having exercise outdoors in a natural environment with fresh air can be beneficial.
The dog can also help with social isolation or anxiety. The dog would want to say hello to other people, and the client could feel safer having a dog with them. They could also see how the dog interacts with other people.
Having the dog also makes us slow down as they stop to smell their surroundings (flowers, trees, etc). This is a time for self-reflection, or even mindfulness, as we all live such busy lives at times.
Find a counsellor who offers animal-assisted therapy near you today.
Share this article with a friend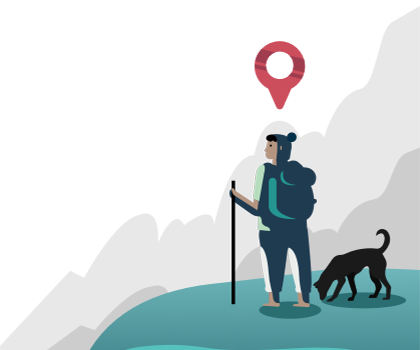 Find a therapist dealing with Low self-esteem