Mental health
Anti-bullying advocate is champion for charities
Anti-bullying champion Ben Smith ran 10,506 miles to raise funds for charities.
The Counselling Directory interviewed anti-bullying campaigner and long distance runner Ben Smith, 34, who ran 401 marathons in 401 days, raising over £294,000 for anti-bullying charities Kidscape and Stonewall.
For Ben Smith, bullying is a personal issue. Ben, of Portishead, was bullied for eight years in school. The daily physical and emotional abuse took its toll. After a nervous breakdown, Ben tried to kill himself at the age of 18.
Life didn't get easier for Ben in university. He had problems trusting people, problems making friends and felt people were out to get him. Bullying had taken a toll on his confidence and self-esteem. Depressed and not wanting to be alive anymore, Ben tried to take his own life for the second time.
At 31, Ben hit a turning point and decided to take charge of his life. He came out as gay. Ben says the bullying he experienced at school stripped him of his ability to accept who he is, but at 31, he said no more. After coming out, life started making sense and Ben started feeling inner peace and strength.
Soon after, Ben turned his focus to fighting bullying. He got into running and took to it after feeling a huge sense of accomplishment from running his first half marathon in 2012. In the next two years, Ben would run a total of 30 marathons while planning the 401 Challenge.  
Ben started marathon run 1 of 401 in September 2015. 401 days, 23 pairs of trainers and 10,506 miles later, he has exceeded his fundraising target.
Unfortunately, Ben's story is like so many others in that he did not ask for help for being bullied or the issues he dealt with as a result of being bullied. "For me, it was the shame, the fear of making it worse as a child. No matter how many times people say you should tell someone – the advice people give is to talk about it, but most of the time kids are terrified to talk about it, they don't want to make it worse", he said.
But Ben wasn't alone in this challenge – 9,485 people joined Ben at some point on his runs and many people shared stories of their own struggles with bullying with Ben along the way.
"I did feel sometimes like I was a bit of a counsellor. I think what running does is break down barriers and people show their true colours… it brought out a lot of people from their shell, people told me things they have never told anyone before, that I will never tell. It was 401 days of therapy", Ben said.
It was an interesting experience talking to so many different people, he said, only something he was able to do because he went through counselling and dealt with the events in his past before he started the challenge. "If I can't talk about it openly with people and not feel ashamed, how do you expect someone else to do that?"
Bullying has many challenging aspects, one being how to help someone who is being bullied. Ben encourages people to act. "If you see someone you know, in your heart of hearts, is being treated, in your opinion, in the wrong way, then you confront it. Not with violence, but say something, bring it to the attention of someone. That person may not have the strength (to do it themselves). Maybe you are the answer, you are the key. We have a duty as human beings not to stand by and watch people being hurt for being different."
Despite people's hesitation to help, most of the time, "People do stand up, when they see something that doesn't sit well with them or isn't right. I think collectively as a human race, I think we do stand up (to bullying). But it's a lot easier to walk away and say 'it's nothing to do with me.' We all have to take responsibility for what's going on", Ben said.
What kept Ben going through the gruelling running schedule was "the daily interactions I had with people, seeing people achieve things they never thought they could. When you see someone do something they never thought they could, that look in their eyes, it's like their boundaries start falling away. I got the opportunity to see that every day" and, as far the as the physical, mental and emotional toils of running straight out for more than a year? "In the really dark days, I thought, I tried to take my own life before. I honestly think you can't get any worse than that… and I have got through that".
Along the way, Ben visited 101 schools, giving motivational talks. But he is aware that there is a lot more work to do. "There is still a lot of … campaigning to keep (bullying) in the public domain", Ben said. "If you have a relative dying of cancer, people around you show you sympathy and support, but if you have a family member suffering from mental health issues, you're, in a way, ostracised. They are both diseases and I don't understand why cancer has this (pull) and mental health doesn't, when most issues come back to mental health".
Ben, who plans to continue his legacy with the 401 Foundation, says the challenge was successful, not because what he's done, but what the project has done for other people. "That, for me, was always the overriding motivation".
Ben will spend the next three months cooling down from his record-breaking run, which includes one month of back-to-back half marathons, followed by a month of 10km runs and daily 5km runs in the third month. For more information on The 401 Challenge or to donate, visit www.the401challenge.co.uk.
Photo courtesy of Michael Lloyd/Freelance
Share this article with a friend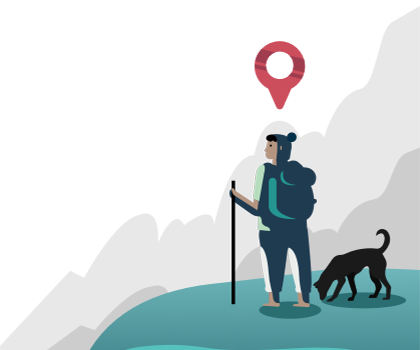 Find a therapist dealing with Mental health