Anxiety
The benefits of walking and talking therapy
All of us have had to learn to cope with the new challenges that COVID-19 has brought us in the last few months, and for many of us, the virus is pervasive and causing feelings of anxiety and uncertainty.

Counselling in the open-air
How walking and talking therapy can be a good way to talk about your problems   
People have had to put off coming to face-to-face counselling, which is sad because now more than ever in these fretful times, counselling can be of great help. But you can now consider having counselling at this moment when you might need it most - with walking and talking therapy, which I have practised for some years. It allows you to be in the open air – and in today's language, completely "socially distanced".

Why does walking outdoors help when having counselling?
Mental health charity Mind carried out extensive research a few years ago, which showed that walking in the countryside could help reduce depression and anxiety. In their survey, they reported that 71% of respondents felt decreased depression and less tense after a "green" walk, while 90% felt their self-esteem increase after a country walk.

And it's not just Mind that believes in the benefits of being out in green spaces - other mental health organisations and the NHS recognise the benefits of the activity on good psychological health and mental well-being. In fact, any kind of exercise can help to reduce levels of stress, depression and anxiety. The benefits of being outdoors have been echoed by the Government over the last few months.


I was lucky enough to grow up on a farm and from a young age, I instinctively knew that being in the countryside was good for me. And now, many decades later as a professional counsellor, I appreciate even more now that being out in the open air is therapeutically beneficial.
What is walking and talking therapy?
It is simply that, we walk and talk without the constraints of being inside. Some clients are more comfortable walking and talking and find it easier to start discussing their problems when strolling along a country path.

I am happy for my client to set the pace of the walk – if they want to meander along and have a relaxing walk that is fine, but equally, we can set a quicker pace if that's what they feel comfortable with. The footpaths are easy to walk and start from my front door. So, in other words, you do not have to be super fit!


I have found walking and talking therapy effective with people of all ages. Older clients who follow a gentle pace find being surrounded by nature very reassuring. While some of my young teenage clients have found it a good alternative to being in my counselling room, as they have a sense of freedom and feel more able to unburden themselves.
I believe nature is intrinsically good for the soul, whether we are troubled or not, but especially so when we are struggling with problems.
Just being connected to nature can be beneficial. I find that whatever people's problems are – depression, anxiety, loss and grief, or any kind of difficult life transition, whether they are personal, relationship-based, family or work-related – they can be comfortably talked through while walking. And in these times of anxiety brought about by COVID-19, being outside in the open air is even more important. Walking can help to ground you and that in itself is good.

I live in a peaceful location in Suffolk, where there are numerous footpaths in the middle of beautiful rolling countryside. Sometimes we might see deer, rabbits and hares along the walk. I believe nature is intrinsically good for the soul, whether we are troubled or not, but especially so when we are struggling with problems. Perhaps you might have tried traditional counselling and it was not for you: walking and talking could be an excellent alternative. Or if you are nervous - as most people understandably are on their first visit to a counsellor – then have a think and consider the great outdoors for talking over your problems.

There are counsellors in the UK offering walking and talking therapy. In these difficult and anxious times when many of us counsellors are doing more and more online and telephone counselling, it is also good to have the option of working safely out of doors. 
Share this article with a friend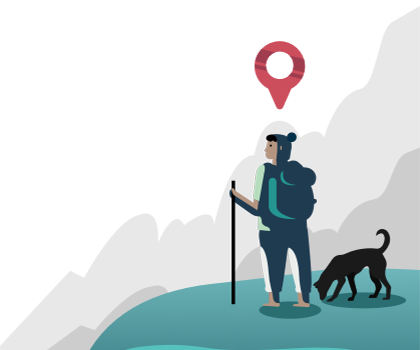 Find a therapist dealing with Anxiety