Trauma
Feeling vulnerable
Today I woke up bleary-eyed after a fitful night's sleep. My dreams had been menacing, menopause night sweats did not help and my heart had been all out of kilter (more than my normal - I have LBBB and an irregular heartbeat).
Yesterday I got a phone call from my doctor telling me that she was making an appointment for me at the urgent breast clinic. I discovered a lump under my left arm, which had been bothering me for a couple of months, so I finally decided to go to the doctors. My blood test results have come back with a couple of abnormalities.
As a counsellor, I work with clients who are experiencing anxiety and trauma all the time. I know how to dispel negative destructive thoughts so that they don't form an unhelpful thinking pattern. Nonetheless, I have still allowed my head to go there.
However, panic is bubbling and I feel it could overwhelm me, negative thinking, worst-case scenario thoughts, I'm sure you can resonate. What if it's cancer and I'm dying? With these thoughts comes a wave of further panic - what about my children? How will they cope, who will take care of them?
After talking to my husband, I recoiled from the depths of despair and rationalised that the lump could well be something and nothing; a cyst, a benign lump? I can put it to the back of my mind and, with distraction, continue about my day. After all, it might be two weeks until I get an appointment.
Well, I waited three long weeks to be seen again. I'd been up and down but, on the whole, I felt very positive. I went in alone after waving goodbye to my ever-optimistic and loving husband. First came the breast check. There may have been a time I would have felt embarrassed, however, after two children, five miscarriages and a hysterectomy, dignity left a long time ago.
Next was the mammogram. The lady was very cheerful, she had kind eyes, which was all I could see as we were both wearing masks due to the pandemic. This being my first, I was not prepared. I honestly felt my breasts were going to quite literally burst. A sense of panic coursed over me as the clamp tightened. At the point of 'burst' (in my head), the pressure released. Then the same with the other one, I felt particularly vulnerable throughout this procedure.
Onwards to the next stage: the scan. Very similar to the scans I'd had when I was pregnant, I was thinking, "I've got this. I'm ok, not too uncomfortable." I just felt very exposed. At the end, I felt anxiety rising. The physician took an age to speak. He said the lump under my left arm had been a cyst, but it has since burst and was nothing to worry about. For a short moment, relief washed over me. But, it was only to be short-lived.
He continued to tell me that he has found a small lump in my right breast and that he was going to do a biopsy, right there and then. It all happened so fast. As I lay there, a rabbit in headlights, I weighed up what this might mean. I was jolted swiftly back to the moment as I felt a sharp sting in my breast. It was the anaesthetic being injected in.
Next, what to me looked like a piece of dentist equipment was passed over my head as I lay with my arm above my head, breast exposed. I couldn't say it was a pleasant experience, neither was it terrible. Uncomfortable is how I'd describe it. He explained it was quite an invasive thing to dislodge cells and that my body would be jolted.  
The device sucked out the cells to be sent away for testing.
All done, I dressed feeling a bit traumatised but surprisingly ok as I typed out a message to my husband, explaining what had just happened. I sat in the waiting room thinking about my family, about how much I loved them and just how important life is. It sounds dramatic I know but, right then, there felt such clarity on just how fragile life was feeling.
Two more weeks to wait.
I opened my post box and there was a letter from the hospital. I opened it quickly, then read it and read it again. It said, "We are pleased to inform you that the Cytology was benign."
I didn't know how to react. I told my family and friends who were all super happy for me. So, why didn't I feel happy myself? I reflected on this and realised I was feeling guilty - like a bit of a fraud, really. There was nothing wrong after all and I'd worried everyone for nothing.
I explained this to my ever-patient and understanding husband. He looked at me incredulously, 'you are silly' he said and hugged me. I hugged him back and made some excuse that I was just popping upstairs. I sat on my bed and sobbed. It was at this moment I allowed myself to feel. For two weeks I had quietly by myself researched wigs, mastectomies and all types of cancer treatment, not so much in a negative way, just in a prepared, 'I can beat this' type of way.
I sat tears pouring down my face as relief finally sank in.
I wanted to share this story because I'm certain many other women have gone through similar situations. The fear, the feeling of being out of control, coupled with vulnerability as various medical people prod and poke intimate parts of your body. All of this while simultaneously carrying on your normal day to day duties - the school run, work, maintaining the home, the never-ending to-do list…
It made me realise that most of us are in perpetual motion. We don't stop to think, to feel, we just carry on in a robotic fashion. When things are troubling us we have a tendency to speed up, not slow down, like an inbuilt, broken pedometer.
Society suggests that we need to be in control, strong, courageous, have everything under control; at the very least social media reinforces this unrealistic way of living in pictures and adverts. So, when something comes along out of the blue and throws a spanner in the works, failure is not an option!
But this is a truly ridiculous notion. Whatever kind of trauma we are experiencing it's OK to sit with it. It's OK to take time out. And it's OK to reflect and indulge in self-care.
So, why couldn't I heed my own advice? Well, we all cope in our own unique way, my house has certainly never been so clean these last few weeks! Humour aside, there have been times I've sat with my thoughts, there have been times when I've felt in despair, I've been irrational, bad-tempered and scared. I have vocalised my fears and, graciously, I've felt loved, cared for and more importantly heard.
As a therapist, I feel that listening is the most impactful thing anyone can do for someone they know who is struggling right now. Just listen. A person who feels heard is so empowering.
It's also vital that we maintain a balanced view of our situation - what can you do to help yourself in the here and now? Yes, there are things out of our control, but there will definitely be things that we can be in control of. For example, I reflected on what I can control right now, such as my diet and how much exercise I could do, rather than focus on what I've not been doing.
I'm now back on the treadmill, exercise bike and rowing machine. Heart health is really important to maintain, and it's worth noting just how much exercise can benefit our mental health, too.
For some women, their plight will be far worse than mine was. The diagnose will not be what they were hoping for. For some women, trauma may present in a completely different way. To all of those women, I want to tell you that you are all strong, courageous and resilient women and I wish nothing but good things for you.
Share this article with a friend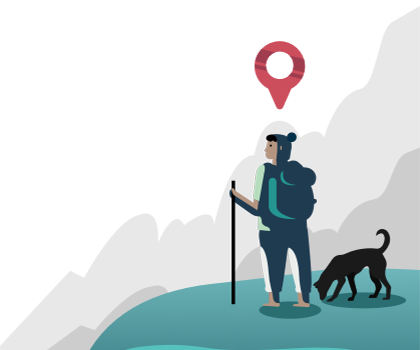 Find a therapist dealing with Trauma