Anxiety
Anna Richardson: The naked truth
Known for daring documentaries that tackle sex, body image and social taboos, Anna Richardson is brave, risky and strong. She is a TV presenter that pushes boundaries and sparks conversation (we're looking at you, Naked Attraction). Off camera however, she has battled a series of mental health issues, from anxiety, to depression and agoraphobia. In this honest interview with Happiful, Anna speaks out.
"It's really important to know yourself," she tells Happiful. "It's the 21st century!"
"I'm not afraid to talk about anything and I want to try to dispel any taboo," she explains.
You shouldn't be ashamed to talk about being vulnerable, so I'm OK with nakedness and being mentally naked.
Anna's known for her frank, gutsy personality and it's what makes her controversial TV shows so watchable. The Sex Education Show aimed at improving the nation's knowledge of sexual issues and more recently, Naked Attraction was brought to our screens. The unique dating show certainly isn't one to watch over dinner, but the British public love it.
Her parents were open-minded and compassionate, Anna tells Happiful, but they lacked emotional depth. In her teens, in the aftermath of her parents' divorce, Anna struggled to connect with her mum, who'd been profoundly scarred by her own mother's suicide when she was just 19.
"I think because of that trauma she became emotionally stuck at 19."
"Once, when I really needed a lot of emotional support, mum turned to me and very coldly said: 'I will support you practically, but I will not support you emotionally'. I think that was a combination of 'I can't because I don't know how to' and 'I won't support you because why should you get it when I didn't?'"
Anna believes she is genetically prone to mental health issues. She tells the team of her mother's breakdown and her brother's OCD. She's no stranger to therapy.
15 years ago, Anna sought therapy following an incident in a hotel room while on a job, where she woke to find two men in her room, rummaging through her suitcases.
"I was terrified," she recalls. "I just wanted to get out of that room."
Anna started experiencing serious mental health problems a month later.
"I suddenly became utterly overwhelmed by severe anxiety and panic disorder," she says. She was experiencing "thumping, beating heart, sweating, shaking and palpitations". Anna explains how breathing became difficult, she couldn't sleep or speak because of an overwhelming fear of the dark. She experienced flashbacks, a symptom of post-traumatic stress disorder (PTSD).
"I was left severely shaken. I was also very fearful of being in crowded situations. I felt very vulnerable and found it very difficult to leave the house."
Night, the darkness - everything frightened me. I thought I was going mad.
After being prescribed antidepressants, her symptoms got worse. A friend recommended a "brilliant" psychotherapist - just as Anna's agoraphobia was at a peak.
"I was getting to the point where I couldn't leave the house and couldn't use the car," Anna says. "One day, I rang [my psychotherapist] saying: 'I can't make it to see you because I can't leave the house, I'm too shaky.'"
What happened? The therapist told Anna to leave the house, get in the car and drive herself to her appointment, because is she didn't "her world would get smaller and smaller".
"She was being the strict parent that I needed."
Read the interview The Naked Truth About Anna Richardson or pick up a copy of the January issue of Happiful in your local Waitrose.
Share this story with a friend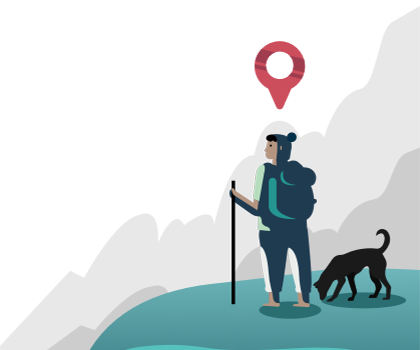 Find a therapist dealing with Anxiety