Bereavement
Moving beyond loss
Loss is inevitable, but it hurts, it is lonely and it feels wrong. Moving beyond loss is a personal story and a personal achievement.

It hurts. There is no way round it. Losing a partner, a job, a parent or a child. And there is no better way of going forwards than coming to acknowledge the pain we all feel. Just we need to do that when we are ready to do so. The first bit is usually quite numb and people wonder when the pain is going to hit.

Its lonely. Only you know what you are missing, because it is your relationship with that person, which has gone. A part of you, a part of who you are, will never be just that way again. You are part of a social network, that knows you as "in this job", "wife or husband to", "mother of", so everything changes, and you have to cope with being a different person, without the person who helped most, to do it with you.

Its wrong. You want to sort out who is responsible for putting you in this terrible distress. Too often people decide that it is their fault and add guilt to their already large burden and it is difficult to lay that one down. The anger says "How dare you leave me with all of this!".. and it is all part of the process of finding a place in our lives for this event.

Roads in the right direction…..

Putting the record straight
In the case of an accident there is a formal process of putting the record straight. When you lose a job there is often a review process, a reference. Families may collect photographs or documents or memorabilia of different kinds. They may actually have to keep everything as it was to be sure that the precious record is not lost. But there is more than this. No-one is perfect and the record hold some things which made us angry or distressed, so there are family rows at funerals and people my hear things which have been kept secret for years. So putting the record straight means listening to the good as well as the bad in people's lives. This is where having a friend or counsellor is useful, in challenging the picture you have built up about someone you have lost.

Finding your self in the midst of loss
People can find themselves with a very frail sense of themselves, when they are assaulted by the pain of loss and moved outside of the normal structure of their lives and social support. This is particularly so when someone loses their job. Often there is little money to support social activities and a feeling that they no longer count. They imagine that people will ask whether they have found anything and they will be ashamed to say again "No!".

But it is also in our pressurised lives, one of the few opportunities we have to stop, look at the directions our lives are going in and make efforts to take new tracks, but in order to do that there is some useful work in reviewing how we have understood who we are and to bring parts of our living which have had the back seat into the forefront. Having more time can give us the opportunity to repair relationships and interests which have been neglected or misunderstood. More than that we can repair out sense of ourselves, find a new way of being and with that the way forwards.

Building a new world
Broken worlds cannot be re-instated. From the debris, by your own choice a new house must be built. It is not clear in the beginning what the results will be. You will certainly have to bring in some new materials from places in yourself you did not know about. There is no blueprint, but you may say, "I need a holiday", or I need to find another job or to learn some new skills. Actually everyone who suffers a loss needs to learn some new skills, to find some other ways of being themselves. The alternative to building a new world is to numb out of the painful one we find ourselves in, through a quick-fix relationship, a time of heavy drinking. But that only prolongs the process, though it is not unusual.

It is hard work, to go out there and be, to take the dog for a walk, do the shopping, enjoy chance meetings, accept less than you had until the house is built, but that is the task and it is helpful if you can be supported in identifying the progress you are making, until one day you find you have forgotten about building and are busy once again moving in the stream of a life you have made for yourself.
Share this article with a friend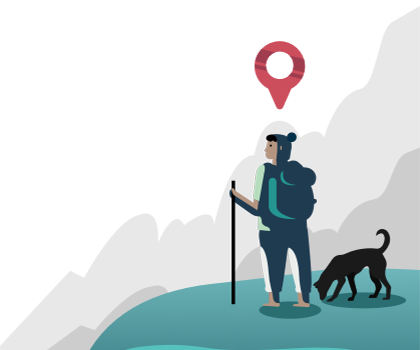 Find a therapist dealing with Bereavement