Bereavement
Ask the expert: How can I cope with grief during the pandemic?
As we approach the one year anniversary of the pandemic in the UK, it's hard not to think about what we've lost. Some have lost loved ones, others may be feeling a more ambiguous loss.
Here, counsellor and psychotherapist Nora Allali-Carling answers your questions about how we can process this loss and support others.
---
I've lost a loved one to COVID and am finding it hard to process as it was so unexpected. Is there anything I can do to help myself accept what's happened?
It can be particularly traumatic losing a loved one to COVID, especially if it was sudden or unexpected. It is an incredibly distressing time to be bereaved so making sense of the loss at this time can feel quite surreal. When you feel ready and able, accept support from others and allow them into your space of pain. It can feel like you're facing this grief alone, especially when you're unable to see family and friends under the recent restrictions.  
More than ever, it's important to try to maintain remote contact with friends and family via telephone, Internet or video calls. Keep talking about your loved one and your sense of loss. Sharing how you feel or reading how others feel in support groups online can help you come to terms with the loss.  
If you are feeling particularly sad, talk to your doctor and try taking some time outdoors in nature. Be gentle with yourself and embrace all your emotions.  
A friend of mine has lost someone recently and I feel so awful for them. How can I best support them when we can't be together in person?
There are a number of ways you can support your friend who has lost a loved one and trying to stay connected to them is one of the most important ones.  
Let them know you are there if they want to talk and allow them to talk freely about their loved one, cry freely and sit with their grief. Try to use their loved ones name as it keeps the person alive in their heart and mind. Restrictions permitting, perhaps think about something practical you could do to take off their plate, a chore or job which would ease the burden from your friend e.g. order the shopping, book the MOT, etc.
It is an idea to encourage your friend to speak to their doctor and consider looking at some national online charities that offer bereavement support.
I can't stop thinking about what I lost during the pandemic, the experiences I didn't get to have and the opportunities that never arrived. Do you have any tips for dealing with this type of ambiguous grief?
Every loss has a meaning. Your hopes, plans and dreams about what could have been are now gone and these things which didn't happen, but should have, are worth mourning. Revisiting the missed opportunities which never arrived can cause deep feelings of disappointment.
A loss like this is more poignant to some because we plan for most things in our life. We plan for events months and years ahead as we plan decades ahead for our retirement.
One way to combat this would be to journal about your disappointments and what you imagined would be, and let them go – release them out of your body. You could also talk to someone you trust and are comfortable with.
One of the most essential things you can do is to try to give back to yourself in this process of mourning. Try to focus on self-love and self-care where you give something back to yourself to enjoy.  
Someone close to me has passed away but I'm unable to go to the funeral. Do you have any advice for finding closure when funerals aren't available?
Often, with sudden deaths like Covid related deaths, it is not possible for people to attend the funeral and this can be difficult. This can lead to issues of denial and it may be difficult to begin to mourn their loved one as it can feel surreal.
The sense of loss is really extraordinary because some may feel they have lost their last minutes, hours and days with their loved ones. Often, people can feel as though they have lost the opportunity to begin the farewell process which is a fundamental part of mourning. 
One way to help find closure is to try to keep talking about your loved one, sharing stories about your connections, relationship and experiences together.
Also, to keep their photo visible, to cook their favourite food or play a song they liked. To continue this bond with your loved one validates the grief and normalises the continued connection. Perhaps also consider planning a memorial at a later time and imagine what you would say about them and their life, what music would be played, food etc.
Sometimes, this can bring comfort to some of the bereaved, knowing that one day they will get the opportunity to honour and celebrate their loved one's life.
I'm really struggling after a bereavement and am not sure where to turn. Could grief counselling help?
Bereavement and grief counselling can help enormously after a bereavement, as it can help you come to terms with the loss. It provides you with the tools to understand the loss, accept the loss and to live again, albeit differently.
Grief counselling provides a safe and supportive space in which bereaved clients can allow their most painful feelings to be expressed and witnessed. This can help process the intense feelings present as you go through the stages of grief, and adapt to a new life.
3 tips for those struggling to cope with grief
1. Turn to friends and family members, connect with people, talk to people, accept help of any kind.
2. Establish a routine, and include your health and well-being in this routine (drink water, exercise daily, eat regular meals, shower, etc.).
3. Talk to a therapist or grief counsellor, join support groups online and/or read about others' experiences.
---
This article was originally published in Happiful Magazine (March 2021). You can order print copies online, or read the e-magazine for free on the Happiful app.
Share this article with a friend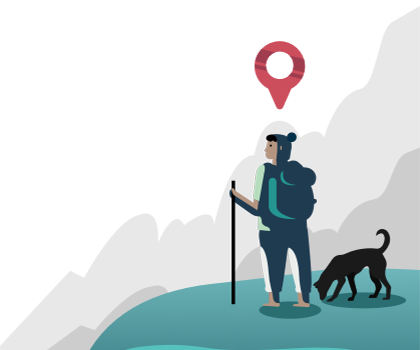 Find a therapist dealing with Bereavement