Anxiety
Understanding and Overcoming Generalised Anxiety Disorder (GAD)
ANXIETY is something most people experience from time to time and is recognised as a normal response to situations that we perceive to be threatening. Anxiety can be helpful in some situations, for example, when we need to cope with an emergency. Anxiety is not helpful when it stops people from doing what they want to do or when people begin to worry that they may have something seriously wrong with them.

ANXIETY in extreme cases can cause:

- heart starting to pound, legs turn to jelly, stomach churning; 
- thoughts such as "I have to get out", "I know I'm going to make a fool of myself", or "I'm going mad"; mind begins to race
- physical signs such as breathing gets faster, mind begins to race and 'panicky' feelings are felt, losing concentration

People do often mistake symptoms of anxiety for a physical illness or condition. It can cause people to start avoiding normal situations.

ANXIETY has different causes: 

Some people may be described as having an anxious personality and have "learned" to worry.

Others may have had a series of stressful life events to cope with, such as bereavement, redundancy, divorce, carer roles or situations in which they found themselves unable to control events.

Yet others may be under pressure at work home, from family problems, bills, relationships etc.

ANXIETY maintenance factors:
- someone who has experienced anxiety in a certain situation or as a result of ongoing stresses over a number of years may start to predict feeling anxious and becoming frightened of the symptoms themselves which in turn intensifies the very symptoms that are feared.

- Vicious Circle of Anxiety
because symptoms can be unpleasant, unusual, overwhelming or frightening, people often react by thinking that there is something physically or mentally wrong or live in dread that something truly awful is going to happen. This in itself causes more symptoms and so a vicious circle develops.

- Avoidance
once a vicious circle develops, avoidance is often used as a way of coping. Avoiding can make life very difficult and lead to a loss of confidence which can affect how good you feel about yourself, which in turn makes you feel more anxious - another vicious circle.

ANXIETY - Coping Strategies
Counselling works to help identify those situations you find stressful, understand which specific symptoms are being triggered by stressful events/situations, and take steps to tackle anxious thoughts and feelings. Your therapist will work with you to explore coping strategies and techniques that will help you to reduce anxiety symptoms, regain your self confidence and enhance a positive sense of wellbeing.
Share this article with a friend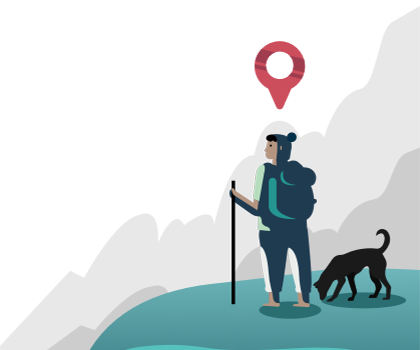 Find a therapist dealing with Anxiety