Anxiety
5 anxiety-reducing habits to help manage lockdown
When the world feels uncertain creating positive daily habits gives us a sense of control, like stepping off a runaway train onto solid ground.
When the first lockdown was announced in March last year I was living in New York City - a long way away from my friends and family in England. I felt horribly alone and fearful of getting the virus. It took just three days for the city grind to a stand still like a great machine being switched off as my sense of isolation and fear ratcheted up each day. The news was frightening of course and for about three weeks all I heard was the sound of ambulance sirens as the Big Apple became the world's latest epicentre of the pandemic.
I knew I needed to begin habits and routines to hold myself together and to give each day a sense of purpose and meaning. I split these into three: mind, body and spirit knowing that all together they would help keep me calm and sane.
I already knew working would give me a sense of purpose as well as providing a helpful distraction from the news. I had seven clients who I worked with remotely as they lived out of town. I made sure they each knew I was open for business and happy to work despite the pandemic. I also edited my website highlighting my remote working  to hopefully generate work and give myself a sense of being productive and engaged. Even on days when I had no clients I sat at my desk to post a Linkedin story say or check in with a colleague to see how they were doing. I created a routine to work several hours every week day.
Concentrated work can lead to an absorbing psychological state known as 'flow'.  I know I'm in a flow state when I become so absorbed by what I'm doing time slips by like a silent stream. It's an anxiety-busting state of mind similar to meditation but more productive. 
With little reason to go out and few chances to see friends I worried I would put on weight and comfort eat during the lockdown. Before I could slip into unhelpful snacking, I created a new habit of not eating before 12.00 each day and finishing my evening meal before 8pm. There's a fancy name for this, called 'intermittent fasting' and is effective not just to control our weight but it can have health benefits too like reducing the risk of Type 2 Diabetes and heart disease. Within a few weeks of starting this way of eating I felt more energised and pleased I wasn't gaining weight. Amazingly I didn't even feel that hungry.
I made a commitment with myself to exercise every day. It could be an hour's walk, a 20 minute cycle or 45 minutes of online yoga if the weather was against me going outside. Each day I would intentionally move my body. Near my flat was a strip of park beside a river that provided a welcome relief from the concrete and noise of the city. This was my free outdoor gym whether I was doing press-ups on a park bench or sit ups on the grass. 
The anxiety-reducing benefits of exercising are well documented. Add in a healthy dose of nature like a view of water, trees or grass and the benefits include slowing our ruminating mind from fixating on negative outcomes while giving us a greater sense of hope and optimism. Running in this park felt like therapy to me.
Literally every evening I had a bath. This is not something I would do ordinarily as I would have too many things to do in the evening. But with lockdown and not being able to see friends, wallowing in a bath perhaps with a candle flicking while I listened to brilliant podcasts like the Daily from the New York Times or In Our Time from BBC Sounds became my favourite habit of all. Plus a warm bath helped me relax before bed and improving my anxiety-reducing sleep. 
I've been paying the piano now for over 10 years. I like Chopin waltzes and Schubert impromptus. I sometimes make a stab at jazz standards like God Bless the Child or Moon River. For the first hundred days of lockdown I recorded a short piece of piano music every evening and posted it on Instagram video (davejwaters1, Music of Homebodies). I was letting my followers know that I was healthy and well and able to share a relaxing musical moment with them. 
Like absorbing work, playing a musical instrument (or any other creative activity like cooking, drawing or painting) is a flow activity giving us instant relief from our worries.
The added benefit of music is that we're creating sounds that reflect our emotions like happiness, excitement or sorrow. I sometime sit at the piano and play for three hours and barely feel time has passed at all. By posting these short videos every day, I was both connecting to my community as well as giving myself a healthy routine. Deciding what to play, and practicing it before filming became a highlight inspiring requests and comments from my friends. Only the other day a friend said how much she'd looked forward to hearing my daily recital. 
Perhaps my most important habit I cultivated during that first lockdown was to give myself space and not give myself a hard time if I didn't achieve a goal I'd set myself: to be gentle with myself. Habits and routines powerfully hold us together in times of stress providing us with map to get through each day. Mine certainly worked for me and still do so as I navigate the latest pandemic restrictions after returning to England last November.
I now have the tools which help me step off the runaway train of anxiety caused by this fearful time. What are yours? Yet it's still good just to sit still and stare out of the window and do nothing more than letting our mind wander. And this should be a habit we always allow ourselves whatever is going on in the world.
Share this article with a friend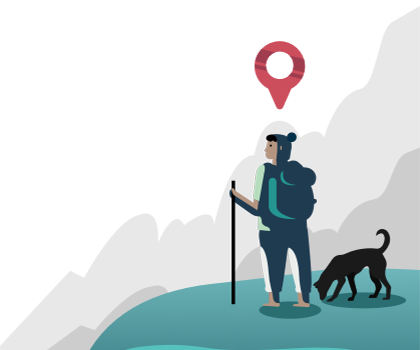 Find a therapist dealing with Anxiety