Outdoor counselling during Covid-19: Is this possible?
When lockdown happened, I thought my outdoor counselling work was going to be very restricted and would mainly take place online. However, I am now discovering new ways of delivering my outdoor sessions that are working very well for some clients and for me too.
What are the benefits of outdoor therapy?
Using the outdoor environment for a counselling session enables us to 'see', 'feel', and 'know' ourselves, our behaviours, our feelings, our thinking in a particularly unique way. As we explore the outdoor landscape, we also explore our inner psychological landscape, often using descriptions of the setting to articulate thoughts and feelings.
Being outdoors also has the potential for providing us with a more embodied, sensory, and expansive way of working with the many issues that we bring to therapy.
I tried initially to keep my outdoor sessions going but, while two metres is safe for the virus, it might not be conducive to building and maintaining a therapeutic relationship. So I, like many other counsellors, began to work online. However, I missed going outdoors with clients, as this was an important part of the work I do. And clients too began to talk about what going outdoors meant to them and made comparisons with remote sessions.
What does outdoor counselling look like during Covid-19?
Opportunities for working outdoors began to arise from discussions with clients on finding alternatives to online sessions (these are actually going very well – another surprise). Suggestions included having a telephone counselling session on a favourite walk, sitting on a bench in the park or the woods or in a car overlooking a specific landscape for a client, whilst I would be on the end of the phone in my own chosen outdoor space.
As we negotiated these various scenarios, it was clear that clients were enjoying taking charge and coming up with personal solutions. At the beginning of a session, there was an opportunity check in with each other, describing our spaces as a way of setting the scene before getting going with the therapy.

I noticed that by choosing our own spaces we had equal responsibility for ensuring our own space is safe and confidential. For some people, this is an important part of the therapy – having choices and responsibilities has definite implications for the power dynamics in their personal lives.
This is one of the unique features of outdoor work – a person has many choices throughout the session, which route to follow, when to stop, when to move, what to touch, what to look at. And it's also about not having to make eye contact – something I hear a lot when I ask what people particularly like about outdoor counselling.
For some people, eye contact is too much. So, side by side walking facilitates a much easier conversation about difficult feelings.
The silences are also OK. In a therapy room, the silences can be deafening, awkward and unbearable to tolerate. Outside, the silences are often accompanied by muted sounds, birdsong, wind in the trees, raindrops. And this can often help to ease the pain and anguish that can be difficult to manage in therapy. So I hear phrases like – "It feels so much more relaxed," "I can really be myself," "I don't feel as anxious as I did when I was in a room," "It feels so much less intimidating."
Considerations for outdoor telephone counselling
On these telephone outdoor sessions, some clients like to signify the 'start' of the therapy by us walking out together at the same time. This also helps to structure the session with a clear beginning and end. We also have to negotiate some agreements about the space and what would happen if the unexpected happens like a dog comes bounding over, or someone they know passes by or it starts to rain. I find this aids awareness and trust and is an important element of this way of working.  
It's important to be mindful of the ethical responsibilities needed to ensure this is safe for clients. This is something my many years of working outdoors has helped me to understand and I make individual assessments for each of my clients.
It is still early days in this new way of telephone working. I am unsure whether people will prefer this to the usual outdoor sessions and I am beginning to experience some significant differences between the two approaches.

When we are both present in the same outdoor space, there is an alchemy of 'energy'; between the client and the landscape, between me and the landscape, between me and the client, and between me, the client and the landscape. It can be a truly transformational and galvanising process. I am curious to find out whether this is true for phone-based outdoor sessions.
So, as we head into the easing up of some of the Covid-19 restrictions I am excited by the possibilities of more flexible ways of working with clients. It's often a normal reaction to let restrictions limit us, but limitations can also be opportunities to be creative - and I know some people want a different kind of therapy session. One that is less formal, less clinical and more in tune with our natural selves.
Share this article with a friend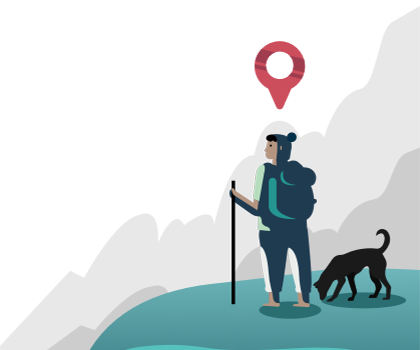 Find the right counsellor or therapist for you