Finding your room to manoeuvre
Feeling 'stuck' in life can be frustrating, depressing and boring - not knowing how to move forward or how to change things for the better.

Whilst it would be nice to think that we could 'be whoever we want to be' or 'do whatever we want to do' if we just try hard enough, that isn't actually very realistic. I may decide that I'm going to be the first woman to walk on Mars, but given my age, my levels of physical fitness and my lack of advanced qualifications in science and engineering, it's highly unlikely that it will ever happen.

So whilst it's important to 'think big' and 'aim high', it's also important to weigh up carefully what our strengths and vulnerabilities are, what stands in our way and what opportunities there may be for us to achieve our goals.

There are certain things that may well turn out to be immovable obstacles - for example, the law of the land or the laws of nature (I'm just as surely not going to fly in a balloon to Mars as I am going to be part of a Nasa mission team). There may be other things that are against us from the start - at 40, aren't you realistically too old to start a career as a ballet dancer? 

But equally there are aspects to our life that we can change in order to reach our goals, or simply to live in a more fulfilling way.
It is possible to up sticks and move to a different part of the world, if that's what you really want to do - it'll take some planning and preparation, but it is achievable.
It is possible to go back to college or university and get the education you felt you missed out on when you were younger - you are never too old to learn, but it might take awhile to get back into the swing of studying.
It is possible to find a job, or change jobs, even in the current financial climate - you might need to do further training or be prepared to move location, but by breaking your goal down into a series of smaller, easier-to-achieve steps, you can work towards making it a reality.
It is possible to feel better about yourself - but it will take time to unpick the negative self-image and take a realistic look at the person you really are as a first step towards liking yourself.
When we feel stuck and unable to move forward, we may also be being hindered by self-limiting beliefs that are often deeply-buried in our subconscious:
I always fail in things that are important to me
I'm not clever enough
I'm too old
I'm too inexperienced
I don't have the skills
I don't have the money
I'm afraid of failure
I'm afraid of success
Recognising that you have these self-limiting beliefs is a great start to overcoming them! You can learn to be more tuned in to the sneaky little voice in your head that sows doubt and fear in you before you even start trying to make changes to your life.

We all have skills, talents and past experiences that we can draw upon to help us in the present to work towards a better future or a specific goal. 

It's important to recognise what you've already achieved, and what you're already good at: that helps to build self-esteem and self-belief. Then you can look at what might be holding you back - those self-limiting beliefs, immovable facts of life and the laws of nature.

Think of it as like tackling an obstacle course; in your hand you have a bag full of your skills, talents, experiences, hopes and dreams - empowering you and motivating you to keep going. Ahead of you are some rocks, some bigger than others; these are the obstacles in your path - limiting self-beliefs and the rest.

Looking ahead, you see that there are gaps between the rocks, places where you won't have to struggle to move forward; smaller obstacles that you can climb over rather than be stumped by, and all the time you are using the bag of tricks that you carry with you to find what I call your 'room to manoeuvre' - the spaces between the obstacles and the ones you can demolish.

We all have something that we can draw upon to help us negotiate our way through the obstacle course; you may not feel like it right now; you may feel you have very few resources to call on, internal or external. But there will be something, and counselling can help you rediscover those inner strengths that you need.
Share this article with a friend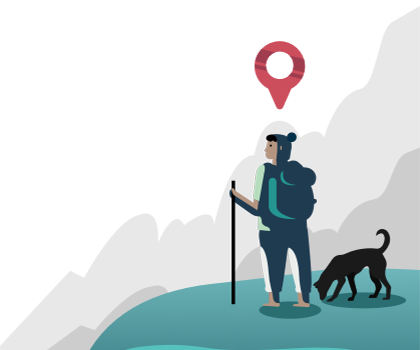 Find the right counsellor or therapist for you