Be a warrior!
Seeking counselling and reaching out to a therapist (a person who is ultimately a stranger) can be a daunting experience, and sitting in front of a counsellor can give you a sense of walking into the unknown. Therefore, as a therapist, the aim is to ease your worries and enable you to feel comfortable and safe, so you can begin to feel less concerned about the therapist and more about the issues which brought you to therapy. 
The initial consultation session is a good indication of building up a strong relationship, underpinning the foundation of the sessions and the trust required to work through the difficult process of healing.
Therapists are competent in working with a range of problems and take pride in walking alongside your journey, and supporting you to find your answers. Clients may seek answers from their therapist but the answers are within themselves, it's just a matter of allowing yourself to be totally open and honest to reveal what you are really looking for. 
The process can be like climbing a mountain with never-ending obstacles to battle through, but you will be a warrior of your own choices and learn to take control back and grow as you climb. Therapists follow where you want to go, without judgement or shame, providing that safe space to be yourself and reflect on the jigsaw of your life. 
Trusting is pivotal to the foundation of the relationship and the stranger who once was will be the rock for you to lean on. Nothing shocks, nothing scares and nothing is impossible and when clients feel that alliance-building, a deeper awareness will be found. The cushion of safety and knowing the therapist is working in your best interests impacts clients to work through their negative thoughts and work towards a positive mindset with skills to use when therapy is over. 
There is a sense of belonging and a motivation to engage more and enriches the quality and joy of living, empowering clients with a healthier mindset and be proud of who they are and the battle they have gone through.
Clients see themselves flourish and blossom when they understand how their feelings work and the mountain top slowly begins to drop and the next steps downhill finally give you time to adjust and begin to live in the present. It's an environment of being heard and being validated, allowing your self-esteem to strengthen and manage your triggers and actions with positive results. 
Building that relationship between therapist and client is one of the most important elements in counselling, as, without it, there can be no way forward for healing to begin.
It's good to talk to a counsellor and it's good to unwrap your issues. The therapist might be a stranger in the beginning but the relationship offers so much more and it will inspire you to be the warrior you want to be and fight back with a knowledge of clarity, awareness and becoming the person you want to be. 
Share this article with a friend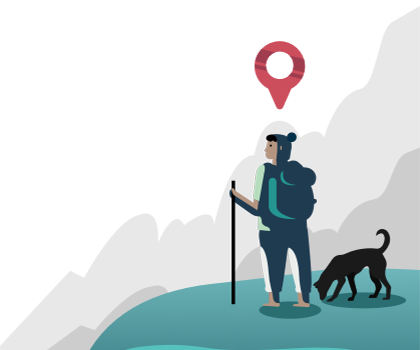 Find the right counsellor or therapist for you