When choosing a therapist, ignore TV dramas
When I first considered getting professional help for thoughts and feelings that were troubling me, I didn't even care what the professional was called. Counsellor. Psychotherapist. Mental healthcare practitioner. Therapist. I just wanted to stop feeling so low, the sooner the better. So, I simply got a word-of-mouth referral from a friend. That's not something I would take on trust ever again. Maybe you're giving it more careful thought than I did. If so, this article is for you.
Perhaps my approach wasn't so unusual. After all, while often amusing, the way psychotherapists are portrayed in TV dramas is annoying and even alarming. I'm thinking of actor Sophie Okonedo playing Angela Bowden having sex in her counselling room in Wanderlust, or Stephen Mangan playing chaotic online therapist, Stephen Pitt, in Hang Ups.
Far from normalising therapy, such depictions can both trivialise and demonise the activity, obscuring what it is really like and deterring people from experiencing it themselves. From here, it sounds like your choice is simply 'who to trust at all.' I'm telling you that your choice does not have to be between voracious sex fiends or incompetent fools. At this stage, it's simply between 'counsellor' and 'psychotherapist.'
---
Counsellor or psychotherapist? Does it matter?
As early as 1942, Carl Rogers, the founder of the person-centred approach to therapy that I use with my clients, said he thought there was very little difference between the terms 'counselling' and 'psychotherapy'. 80 years on, many of us providing services to clients are still arguing about it. My purpose here is not to continue the discussion with more evidence. It's to help those interested in seeking help through therapy to get past any language or terms that may be confusing, intimidating or off putting. 
'The most intensive and successful counselling is indistinguishable from intensive and successful psychotherapy,' said Rogers. As such, in a book he ironically titled 'Counseling and Psychotherapy', he said he used the terms 'interchangeably.' 
Rogers made it clear that it didn't matter what name people gave to a face-to-face interviewing process with an individual who is 'maladjusted or perplexed, or failing.' For him, 'all refer to the same basic method – a series of direct contacts with the individual, which aims to offer him assistance in changing his attitudes and behaviour.' It's not what we're called, it's what we do. And we all do something similar. 
---
It ain't just what we do, it's the way that we do it
If the individual leaves such an interview 'somewhat better adjusted to their problems, facing the realities of life more constructively', then it's what the interviewer does, what techniques and processes they use, that really matter. So, it turns out that it isn't so much what we do as how we do it – the techniques and processes we use. 
Rogers claimed to have written that book in 1942 to show that 'Effective counselling consists of a definitively structured, permissive relationship which allows the client to gain an understanding of himself to a degree which enables him to take positive steps in the light of his new orientation… All the techniques used should aim toward developing this free and permissive relationship, this understanding of self in the counselling and other relationships, and this tendency towards positive, self-interested action.'
---
Look them in the eye, listen to their voice
If you decide to go for counselling, you're actually choosing to invest in a relationship that needs to be there for you and your concerns alone. Forget what you've seen on TV dramas. If you can, take that first free appointment on Zoom. It's your opportunity to get a good look at this total stranger who claims to be a counsellor or psychotherapist and follows a process called the person-centred approach, CBT, psychodynamic, or whatever. If you're doing this by phone, listen to the tone of voice. What's it telling you?
When choosing your therapist, ask yourself this question: 'Can I see myself developing a good, working relationship with this person, that puts me and my concerns first?' Then, go with your gut feeling, switch off the TV and commit to the journey.
Share this article with a friend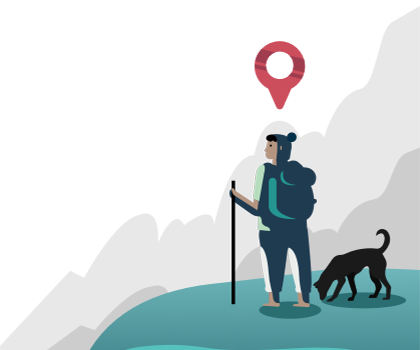 Find the right counsellor or therapist for you