Other therapies
Taking counselling for a walk
Imagine coming to your first counselling session. Now, what do you see – a small room, two seats, a side table with water and a box of tissues? What if it looked more like a path by the river, a walk through the meadows or a green field? I am in fact describing your 'walk and talk' counselling room.
In this article, I will introduce you to what is referred to as walk and talk therapy (W&T). I will do this by highlighting the role of your therapist and walking you through the process as the client. In doing so it would be great if you could go along with the following premise. You have chosen W&T as opposed to face-to-face normal therapy with your first session tomorrow. 
The focus of this article is to introduce you to the approach and (observing the premise above) prepare you for your first outdoor session. 
What is walk and talk therapy? 
Walk and talk therapy can sometimes be referred to as eco-therapy, outdoor therapy, or walking therapy. It's not uncommon to have reservations about something like this as it doesn't fit the idea of 'normal' therapy; it takes place outside, instead of where 'real counsellors' work in a 'normal' counselling room. 
I felt this way when I first discovered the idea of W&T but over time, with further research, I began to embrace the therapeutic opportunities residing in the obvious differences. So, with your first session in mind it is time to briefly describe the main aspects of W&T:
It is an approach to counselling where your sessions take place outside in a natural environment, walking together either side by side or where needed, in single file. 
The speed of the walk is set by you and the therapist will match your pace where possible. For example, you may prefer a gentle stroll or a more strenuous pace. If you wish to pause or sit and gather your thoughts, you are free to do so.
The primary objective of W&T is to have a therapy session. However, as your session takes place in the fresh air, the walk itself provides an additional therapeutic context.
Your W&T therapy is informed by the same ethical framework and rules of confidentiality as in traditional room-based counselling.
The cooperative aspects of W&T:
So what about the negotiation of boundaries and your safety while having walk and talk therapy? Well, they are informed by a shared co-constructed agreement between you and your therapist. The content of your confidentiality agreement should be similarly co-constructed. You will be encouraged to share your own feelings and thoughts in relation to shielding confidential material when you are walking outside.
This cooperative process is an ongoing aspect of your counselling as a response to the changing natural environment, and occasional members of the public you may encounter whilst walking. The autonomy you have in relation to your own self-care is also evident in relation to your views on the suitability of the weather conditions.  
Some differences to a traditional counselling setting:
You may have chosen W&T because you found face-to-face counselling daunting. However, you and your therapist walking side by side may feel less intense and inhibiting, as you are focusing on the way forward, literally and metaphorically. 
Any silences that occur between you may feel less intense and anxiety-provoking without the awkwardness of a face-to-face setting. Clients often comment on the benefits of not being observed by the counsellor during their silences.
In W&T the therapist does not control the therapeutic space. You will both share ownership of the natural environment and how it impacts on the counselling process.
If you enjoy exercise and being immersed in nature, W&T transports your counselling into an environment that is pleasurable and relaxing - in contrast to a chair-based situation which may be less appealing to you.
In my own W&T practice I often seek the client's feedback in relation to their ongoing experience of this approach to therapy. Those who previously undertook normal counselling describe W&T as more comfortable in relation to articulating and engaging with feelings and thoughts. In addition, they often comment on feeling more relaxed, more in control of the therapeutic process and the way they self-manage their presenting concerns.
Some other benefits of walk and talk therapy
Natural light and walking in the fresh air has been shown to lower levels of anxiety and stress, in addition to improving mood and enhancing a sense of well being and calmness.
Bereaved clients find being outside in the changing seasons helpful while working through the different stages of grief following the loss of a loved one.
Walking relieves tension and re-stimulates how we think about things due to increased blood flow to certain areas of the brain. This leads to the emergence of new ideas and an improved ability to solve problems. 
Natural objects and the weather encountered on the walk can be used symbolically and metaphorically to enhance aspects of the therapy. 
The gifts nature bestows upon a W&T session are many: the sound of birdsong, the smell of freshly cut grass, leaves crunching underfoot, the wind in the trees, and the smell of rain on dry earth provide a unique backdrop to this approach.
Whilst walking outside and immersed in the natural environment there is a reduction in feelings of loneliness and isolation as we co-exist as part of the overall ecosystem. 
From an evolutionary perspective, none of these benefits should be surprising to you.  Walking and talking with nature as a constant backdrop is what modern humans have done for the 200,000 years we have existed on this planet. It played a major part in how we moved around the world and cemented ourselves in the global ecosystem. Our natural world and our psychological and physical adaptation to it have influenced our cognitive development and systems for regulating anxiety, mood, and stress.
Summary
Throughout this article you may have noticed I have playfully used the term 'normal' counselling in italics, mainly to generate a point of comparison. In reality, there is no such thing as normal counselling. Rather it is what's deemed appropriate in terms of theory and practice to the needs of each therapist in relation to their client group.
I have offered some initial feelings about the practice of W&T, highlighted some differences you will notice compared to normal counselling, described some of the benefits you may experience and the cooperative approach taken towards boundary setting and confidentiality.
To fully embrace the concept and enhance your experience of taking counselling for a walk, it may benefit you (extending canine associations here) to let your view of normal counselling off the lead. This will allow you to experience W&T as a unique way of combining the psychological benefits of talking to a trained therapist with the health benefits of walking in a natural environment.
Share this article with a friend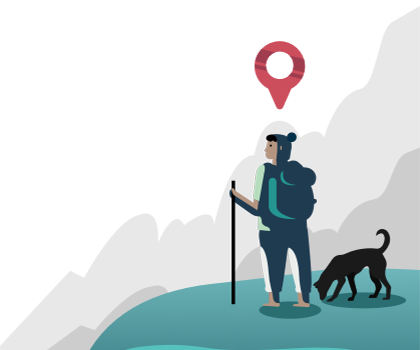 Find a therapist dealing with Other therapies