Opening to possibility in counselling
Often people ask me what it's like in the therapy room. They say they can't imagine what they'd say; indeed it's quite normal for someone who is new to counselling or psychotherapy to feel, after the initial sessions, that they have to come armed with a particular issue of the week, or 'do the work' with a mental grip on a consistent theme. And that is fine. However new possibilities open up when the relationship reaches a point of relaxation in the process, not needing to control the agenda and not knowing consciously 'what next'. Here is a fictional example.
'Tom throws his coat on the sofa and relaxes into his chair. The room is warm, quiet and I'm also relaxed, waiting. We have been seeing each other for 18 months or so, and our relationship is well established, familiar. He's talked about his difficulty with self-esteem, challenges at work, divorce and relationship issues and problems in his relationship with his young son. Often he comes with an agenda of what he wants to discuss.
"I don't have anything to say today. I haven't thought about it, and I don't know what to say."
I smile gently and wait. I know that something will bubble to the surface, and it will always find its way to the heart of things one way or another. A session that begins this way can open the door to new ground, fresh possibility. Sometimes I'll help along with: "That's okay."
"I was fixing the shed roof this morning. It's been needing doing for ages. I got time off so..."
He pauses, silent, and there's a sense of deepening in the space between us.
"The garden's a mess. I'm no good at all that..." He coughs, clears his throat.
"Did I tell you about what happened when I was five or six?"
I look questioning.
"In the shed with - with the handyman when I was small."
A two beat pause. "No"
Cough. "He had black hair and hair on his belly... big hands."
The silence is full. I wait.
"I didn't know what... was... My parents didn't know. I didn't... he..."
"You didn't know. No one knew". Calm, listening.
There is a silence of two or three minutes as Tom's breath stabilises. His eyes, angled left, are fixed on somewhere far away. Eventually he meets my eyes.
"I don't know what I'm going to do for Christmas. My ex is having our son."
"mm hm"
"I hate Christmas. Maybe I'll go to my sister's. But her kids, the family stuff will make me feel... Maybe I'll go away."
Nod.
"I've never told anyone. Until now."
Nod.
"It made me feel bad. I didn't like it... I didn't know... I couldn't... He used to give me sweets. Mum and Dad never did anything. They didn't notice. I used to hide when he came."
"mm hm"
"When I told them he stopped coming round. But they didn't do anything... I was scared he would come back."
"They didn't do anything."
"No. Nothing. Nothing. It was never spoken about. I just... it just..." He trails off into silence.
Gently, "It was never acknowledged or spoken about. You didn't know when you were safe."
Say something... What can I say? Such enormity, so much confusion and pain and sadness. How did you cope? Poor lonely boy. My mind is full. In my chair, in the quiet room I hold the space, gentle, calm, acknowledging. Silent together, full of feelings and thoughts. There are no more words for now.'
Such an example is very specific in its immediate outcome. More often what comes to the surface may be less dramatic, softer, less defined or reassuringly pleasant in its quality. Yet whatever emerges, the individual is reclaiming lost or subconscious aspects of themselves. That process supports the subtle development of self, contributing to confidence, release from hidden tensions and a greater sense of autonomy and creativity.
Share this article with a friend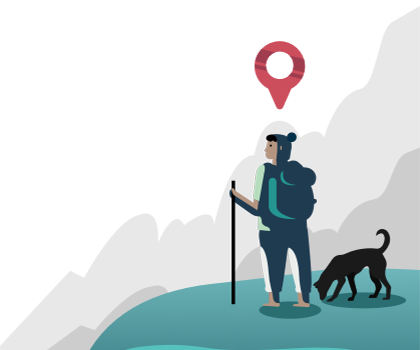 Find the right counsellor or therapist for you