Is online counselling for you?
Visiting a therapist in person is not always possible at the time you need help, or it may not be convenient. If you are looking for alternative support, then you need to consider other options such as online counselling. But how do you know whether it is for you, or not? 
Deciding to contact a counsellor or therapist is not easy. It can take courage, and there is a lot of uncertainty:
Will it feel uncomfortable?
Will I get on and develop trust in this stranger?
Will the counselling/therapy work and how long will it take?
Will it be worth the money?
Gut feeling and personal chemistry matter a lot when we decide on a therapist.
1. Worries about online counselling
The same questions apply when you consider online therapy. And depending on how comfortable and knowledgeable you are around using online technology, then there can be more questions:
Is it safe and confidential?
Is it intrusive?
Do I need to have specialist technical knowledge?
Will the software they use mess up my computer or phone settings?
How will it feel not being in the same room as the therapist?
How do I pay?
2. Reasons to consider online counselling
Apart from the lack of face-to-face counselling available during the current lockdown, there are other reasons why you may consider online counselling:
Lack of therapists in your area.
Lack of therapist who offer the support you need (including languages).
Being housebound due to ill health, mobility issues or social anxiety.
3. Are there topics for which online counselling is not suitable?
Generally speaking, it depends on what the nature of your difficulties are and whether you and your life are at risk. If you are experiencing severe mental health difficulties including psychotic episodes then consulting your GP will be the best first route to help ensure you are safe. Some therapists may have topics they do not work with at all or do not offer online support for. This is something you should clarify with them.
4. Some practical points to consider for online counselling
When you go and see a therapist, you will meet them on premises outside your home; sometimes away from where you live. With online (and telephone) counselling you will remain in your own setting. 
Therefore it is important that you think about where in your home it is best to have your session/s. You need to feel comfortable, safe and undisturbed.
This can be challenging, with other family members being at home and perhaps there being limited space. In that case, you may have to negotiate time when you can be left free to have your call, as well as time before and after to help you 'get in the zone' and have some time to switch mentally back out of therapy. Often people use the time they travel to and from therapy to do this.
You can do this at home, by opening the window before and after, changing your clothes after, doing some relaxing stretching, or anything that helps you relax before and after.
5. Should you delay counselling until you are able to arrange a face-to-face appointment?
If you need help, then I would suggest to not delay reaching out without having explored alternatives first. Choose which counsellor/therapist you would contact just the way you would if you were looking for a face-to-face session. Then discuss your concerns with the therapist you choose to contact and explore how working together may be possible.
What software do they use for online counselling and why?
Can they help you, if necessary, to install and use this software?
What is their code of conduct and ethical guidelines for online counselling?
Do they feel online counselling is suitable for you and the difficulties you need assistance with?
See what they say and how you feel about it all. Consider opting for a first consultation and then decide what to do next.
6. Making up your mind
Based on all of the above, if you have concerns then I suggest do not dismiss the idea of online counselling outright. There is a lot to explore.
In my experience, everybody has their own way of easing themselves into this medium. Sometimes this can be seamless, at other times it might take a bit longer. There is no right or wrong about it. It is a personal experience and collaborating with your therapist on making it work can also enhance the overall therapy, because it can make you feel more comfortable about working with them.
Feel free to ask the therapist or counsellor questions you have and try not to force yourself into something you are not comfortable with. And you can always change your mind.
I hope this short piece has been of some assistance and I wish you well in your search for suitable support.
Share this article with a friend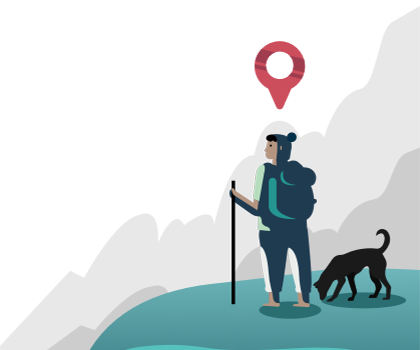 Find the right counsellor or therapist for you