12 tips to choose a counsellor and make the most of your sessions
Choosing a counsellor can be a daunting process, especially if you're new to counselling. Here are a few things to hold in mind as you start your counselling journey.
---
Choosing the right counsellor
1. Keep yourself safe
Make sure your counsellor is a member of a professional body which is overseen by the Professional Standards Authority (PSA), such as the British Association for Counselling and Psychotherapy (BACP), the National Counselling Society (NCS) or the UK Council for Psychotherapy (UKCP).
Currently, the titles of 'Counsellor' and 'Psychotherapist' are not legally protected in the UK, meaning anyone can use these titles. Choosing a counsellor who is a member of a professional body which is regulated by the PSA, ensures that their training has met minimum standards, and that they adhere to a code of ethical practice (practitioners listed on the Counselling Directory meet this standard).
2. Tune in to how you feel when you read their profile
Do you feel like this is someone you could talk to? Does anything they have written resonate with you? Do you feel as though there is potential compatibility there? Studies have indicated that although there are many variables feeding into therapeutic success, that the relationship between counsellor and client is the most significant factor in determining a successful outcome – compatibility is essential.
3. Request a phone call in advance of booking a first session
Most counsellors will offer a free 15-minute phone call or zoom meeting ahead of a first session – if they don't offer this, request it. The purpose of this phone call is to work out in the first instance if you are a good fit for each other. You can ask questions about specifics – frequency of sessions, fees, type of session offered (face to face, zoom etc), as well as any questions you might have about your counsellor's experience or subject areas of interest.
The counsellor can give you a little information about the way they work, and you can provide an overview of what brings you to counselling. Most importantly, this phone call gives you the opportunity to hear the counsellor's voice – again, a chance to tune in to how it feels to speak with this person.
4. Briefly disclose any sensitive issues sooner rather than later
Especially if the subject you are bringing to counselling is niche or nuanced. Disclosure can make us feel vulnerable, but the reality is, counsellors will usually have their own specialist areas – and there are some issues which might require, or benefit from, specific training or a tailored approach. BACP recognises more than 30 different approaches to counselling and psychotherapy!
If the counsellor you contact is unable to help with your presenting issue, they will either be able to refer you on to a colleague who can, or will signpost you to a directory or further resources. Saving disclosure for a first session can feel like a 'safer' option emotionally – but you risk paying for a first session, only to find that the counsellor you've chosen is unable to help.
5. How does the first session feel for you?
We can feel vulnerable starting therapy – do you feel at ease with the counsellor you are in the room with? Did you feel heard? Do you feel safe? It takes a few sessions to build up a relationship with your counsellor, but giving yourself the space to reflect on how it feels initially to be in the room with the counsellor can give you a really helpful insight into whether they are the right 'fit' for you.
There is no obligation to commit to ongoing sessions, and if you are unsure what you need, it might even be helpful to meet a few counsellors before deciding which one to work with.
6. Remember that there is no long-term commitment
As the client, you are able to decide how long to stay in therapy, and whether to stay with your current counsellor, or leave. Your counsellor should respect your decision to leave (or not continue beyond a first session), if that is what feels right for you.
7. Set goals
When I start with a new client, one of the questions we discuss is, "How will we know when the work is done?" Goals can be fluid – and may change over time, you may achieve one goal and then replace it with another, but having a focus on what you want to achieve in therapy, and an idea of how you'll know when you're there, can not only help to keep your sessions focussed, it means you'll know when you're ready to finish. Not setting goals can leave the process ambiguous, and can mean that you stay in therapy for the sake of it, rather than having a clear purpose.
8. Reflect on how you feel after your sessions
What is your mood like? How do you feel over the next few days? What are your thoughts and behaviours like? It's not unusual to experience some low mood when you first start therapy – starting to process can mean speaking about issues you've never touched on before.
It can be useful to bring your observations about how you're feeling after your sessions to your counsellor – this gives you the opportunity to process the experience, and also to explore with your counsellor how to pace future sessions. It might be, that you need to balance the heavy content or ease into the depth of exploration to make the process more manageable, and less overwhelming.
9. Build in some buffer time
Make sure you have a little time after your sessions to ground yourself and re-acclimatise to everyday life before you need to get on with your day. It can be tempting to pop onto zoom for a counselling session at lunchtime and then dive straight back into work – this is easier said than done if you haven't given yourself time to get back into the right head space. Sometimes even just a short walk, grabbing a coffee, or doing a transitional activity (not related to the session, or to your next responsibility) can be enough.
10. Bring your observations, thoughts and feelings about the therapy itself/the therapeutic relationship into your sessions
Very often, the thoughts, feelings and behaviours you experience in "the room" with your counsellor, can be a reflection of what's going on for you outside of this space. Exploring this, within the safety of your counselling session can help you to learn more about yourself.
The relationship you form with your counsellor can also be one in which you develop yourself relationally. For example, if you have difficulty expressing your needs or preferences – or giving honest feedback to those around you, your counselling session can be a space in which you practice doing this.
This could take the form of telling your counsellor you disagree with something they've said, or that something they suggested wasn't helpful for you; you can then take the opportunity to explore how it felt to give that feedback – were you worried about what their reaction might be? Did it feel liberating? Did you feel as though you were taking a risk? How did you feel afterwards?
11. Self-care, self-care, self-care!
Investing yourself in the therapeutic process is hard work – it can, at times, be painful. It can mean bringing into your awareness issues that are uncomfortable, challenging – or life-changing. You spend 50 minutes talking in your session, but it is often the processing time (conscious and unconscious) between sessions when the real work takes place.
Being kind to yourself, and understanding the need to integrate self-care into your week can help to make the challenging parts of this process more manageable. Self-care is broad – it can include exercise, eating well, getting enough sleep, mindfulness practice, respecting your needs, setting boundaries or taking time to do the things you enjoy.
12. Understand that healing is not a linear process
It's not unusual to feel satisfied that you're making progress, only to encounter a setback, knock, or regression. This doesn't invalidate the healing you've already done – it makes you human.
Share this article with a friend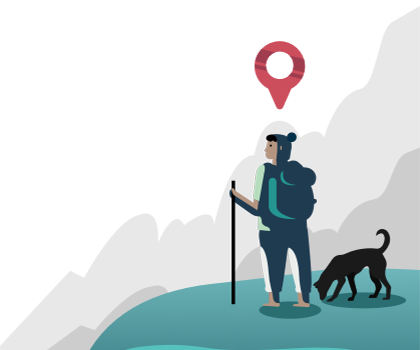 Find the right counsellor or therapist for you