Anxiety
Facing my triggers on my wedding day, on national television
I walked through life quite happy and confident, with only a few scenarios jogging my path questioning my mental ability to handle this world until I turned 14 years old.
I had been around mental ill health since a young age. My auntie was my first introduction. A loving and gentle soul, all I knew was that she had to live in a large building surrounded by lots of people who were there to help her. I also had to stand by and watch as one of my sisters hit her breaking point.
Then I was to face two people who thought the only damage they were about to inflict on my life was physical. As my head was being hit against a brick wall by one, and the other was kneeing me in the stomach, I felt my mind become silent.
Little did they know, their actions would trigger years of internal and mental self-torture. From that point on, I had been triggered. It started with frequent panic attacks, leading to anxiety and depression, constant nightmares, developing many signs of PTSD and, eventually, a condition called dermatillomania.
I tried my best to hide it from the world, I would always have a full face of makeup and my hair done. I tried to stay social with my friends but then would shut myself away in my room at home.
I tried my best to convince all the counsellors I was sent to that I was absolutely fine. I just wanted it to go away! I pushed myself to audition for The BRIT School for Performing Arts, trying to continue on a path I had trained for since I was five years old. I wanted to show the world that I was fine - nothing could affect me.
I was one of the few selected and luckily I got in but, eventually, after coming out with distinctions, I couldn't pretend anymore. It finally caught up with me, I just didn't have it in me to continue my performing path anymore.
That was until I was 22 years old. I was lucky enough to feature on an ITV programme with celebrity life change therapists, The Speakmans. They got to the route of my pain and treated me. One of the things they did that shocked me, was to get me to describe how I felt I looked.
They revealed a picture of the day I was attacked, then removed the picture, revealing a mirror. It made me see that the face I was describing was from the day I was attacked - not what I actually look like now. I wasn't seeing what everyone else was when I looked in the mirror at myself.
They then focused on treating my post-traumatic stress disorder symptoms, which helped my other issues like dermatillomania become easier to handle. The first thing they had me do after receiving my treatment was present the weather on their programme.
At that point, something clicked. For the first time in many years, I felt like I could start again.
I went on to volunteer in Africa, meet the love of my life, have my beautiful baby boy and get engaged. I started my YouTube channel to share my struggles, in the hope of helping others and being someone to relate to. I won Miss Greater London 2016 and then went on to compete in the national finals.
I also found the confidence to apply to win our dream wedding - at the consequence of giving up all control and allowing my partner to plan the whole day. Not only that, but signing up to the possibility of being followed by cameras and getting married publicly, on national television.
I couldn't believe I was writing this email... "Myself and my fiancé would love to take part in Don't Tell The Bride". But, I was even more shocked when, just a few weeks later, my fiancé's phone started to ring.
"Hi, this is the assistant producer of Don't Tell The Bride."
My face dropped - it was actually real! It was all fun and games until I realised it was an actual possibility of getting on the show and getting married in three weeks! Before I knew it, my house was full of camera equipment, producers and cameramen. My partner had left to stay at his mum's and our mobiles were replaced with old school Nokias so that we couldn't communicate.
It was the first time my partner and I had been away from each other. For me, losing my support network and the security he provides me with for a few weeks was really difficult.
My anxiety and worries suddenly went through the roof as I had no idea what he was going to plan for our big day. I panicked about what I would be wearing, as I've become very bodily conscious after the weight I gained since having our son Alijah. I started to worry that if he didn't get a makeup artist, how would I cover my self-harm scars enough? Would I look silly? Would he make me perform? Would I fit into the dress he'd chosen?
I watched as my closest friends and family started to panic for me, but tried to remain calm to my face. Finally, it was the night before. I laid in bed with my son and my maid of honour. I didn't sleep a wink! Then was up at the crack of dawn getting myself and Alijah ready. A wonderful makeup artist helped me cover the scars on my face.
My dad arrived along with some beautiful cars to drive me to the venue and, before we left, I was blindfolded. The next time I opened my eyes, I saw flashing lights, family and friends. There was my amazing husband-to-be, dancing his little heart out with tears in his eyes to my favourite song from my favourite band. Our little boy was wearing the cutest suit, carrying our rings. My ex-military dad (who I've never seen cry) had a tear in his eye.
My heart was full! Tears streamed down my face. I walked towards him feeling grateful and blessed. My issues had allowed me to doubt and worry about a man that knew me more than I even knew myself! I promised myself that, from that day forward, I would silence my past, love him fully, accept his love, accept I deserved to be loved, and love myself.
I still struggle from time to time to keep it all at bay, especially as I purposely put myself in trigger situations to show others you don't have to be trapped by your own mind. And I'm not saying it's going to be easy, but it's so worth it to keep on going and develop the strength to silence your demons.
I finally reached my happily ever after and I'm just getting started. So if I can get there, you can too!
Share this story with a friend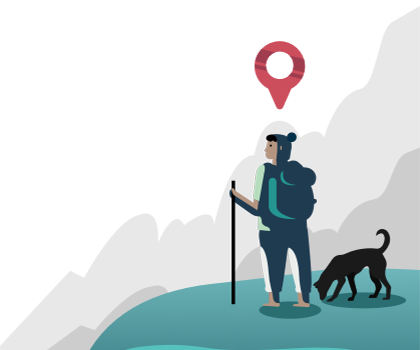 Find a therapist dealing with Anxiety