>

Gestalt personal development group
Gestalt personal development group
£725 for four residential weekends
East Down Centre, East Down, Dunsford, EX6 7AL
CHPC training
Professional training in Gestalt therapy and group work in the South west Gestalt therapy/personal development group at East Down Centre, ne Exeter, Devon.
Four residential weekends - Sept 2016-Mar 2017 with Jenny Dawson and David Kalisch.
This new group will meet over a six month period and will consist of eight to 10 participants all of whom will have had some experience of personal therapy/personal development work. There will be an option for the group to continue beyond the year. CPD certificates will be available.
Our approach is founded in Gestalt therapy and other humanistic perspectives with an emphasis on direct experiencing and relating in the here and now. This focuses on the lived experience of the moment - it includes the felt experience of the body, the senses and the emotions as well as dreams, imaginings, and projections.
Within the safety that group therapy offers, participants will have opportunities to:
Experiment with new ways of relating to themselves and others.
Explore their need to retain habitual protectiveness.
Express their creativity, spontaneity and passion.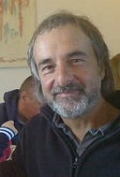 About us David: Psychotherapist, supervisor, trainer with over 25 years experience and Director of CHPC Training, has been involved as a facilitator/co-facilitator since the mid 80s. Jenny: Gestalt psychotherapist, supervisor, trainer has over 30 years experience of facilitating personal development with individuals and in groups.