>

Women survivors - online psycho-educational group course
Women survivors - online psycho-educational group course
8th March - 24th May 2021, 7pm - 8.30pm
This is a 10-week psycho-educational group course for women survivors of sexual abuse. This is a topic-based course but with plenty of time for sharing feelings and experiences.
Benefits of attending the course:
Meet other survivors in a safe caring environment.
Gain information and empowerment from relevant topics for survivors.
Receive support from trained counsellors/facilitators.
Opportunity of forming deep lasting friendships.
We look at a different topic each week and there is time for discussion and sharing our experiences and feelings.
Topic Outline
Session one: Introduction and facing fantasy
Session two: Memories, flashbacks, grounding
Session three: Letting go of shame and roles in families
Session four: Anger, contempt and assertiveness
Session five: Powerlessness and betrayal and relationships
Session six: Ambivalence and reclaiming sexuality
Session seven: Co-dependency and healthy relationships
Session eight: Eating difficulties and processing pain
Session nine: Confrontation and question of forgiveness   
Session ten: Moving forwards
Places are limited to six to eight women. We have funding for this course so we can offer low-fee places. For more information, please email us at info@intothelight.org.uk. To see our services, have a look at our website intothelight.org.uk.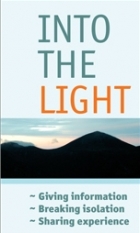 Into The Light is a not for profit project CIC that was founded in 1993 and offers counselling, support and resources to Survivors of sexual abuse and those that support them. We have been running Women's Survivors groups and workshops for over 25 years.