>

The stories we tell - personal insight workshop
The stories we tell - personal insight workshop
16th - 17th May 2020, 9.15am - 4.30pm
Birnam Arts, Station Road, Birnam, Dunkeld, Perthshire, PH8 0DS
This weekend is about taking a fresh look at some of the stories we tell about our lives so that we can live them more fully. We call the workshop 'Appreciating Who I Am'. These are some of the things you will experience:
Sharing life stories.
Writing, reflecting and talking.
Making new connections.
Seeing things differently.
Learning to be kinder to yourself.
Feeling nourished and inspired.
Neither a creative writing workshop, nor a therapy group, but something unique and wonderful in between, this CPD weekend offers new and rewarding ways of seeing and being!  
"One of the most insightful weekends I have ever had."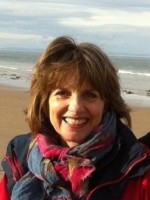 The Stories We Tell weekends are run by Sarah and Jamie Jauncey. Sarah is a counsellor and yoga teacher, Jamie a writer and musician. All their weekends are based around the way we interpret our life experiences - in other words the stories we habitually tell about ourselves and those around us.