Workplace well-being
Look around your office, do you know if anyone is struggling?
You may think those around you - whether fellow colleagues or your staff - are completely fine. They may appear confident and happy, even if they're more of a quiet type, they still appear fine. But the thing is, mental health affects us all and problems in the workplace are actually very common.
According to mental health charity Mind, at least one in six workers are experiencing common mental health problems, including anxiety and depression.
Over the past few years, we've seen a dramatic change in how we approach the conversation of mental health. Finally, we are talking more. Public awareness of the importance of mental health, and how vital the right support is, is finally becoming known. Slowly but surely, things are starting to change.
In the workplace however, mental health is still a taboo subject. If you're struggling at work, you may feel scared, ashamed or confused about confronting the issue with your manager. You may not know who to turn to, or if there's even any way your company can help. If you're an employer, do your staff know the policy for reporting such an issue? Do you even have a policy in place?
There is a culture of fear and silence about mental health in the workplace, and this silence is costing UK employers between £33 billion and £42 billion a year. Things need to change - both for the economy, and the mental well-being of the UK public.
Why it's important
Every single one of us has mental health, and it is just as important as physical health, so why are we so afraid to talk about it? Nobody should feel ashamed about asking for help, and yet, many of us keep quiet.
In 2016/17, more than 500,000 UK workers reported suffering from work-related stress, depression or anxiety. As a result, 12.5 million working days were lost.

One in five agreed they had called in sick to avoid work.
Looking after yourself and ensuring you have good mental health has many benefits - not just for you as an individual, but for the business too. Employees are generally more productive, passionate and motivated when in good health. Even if they're experiencing mental health problems, knowing they are supported by their employer can help in the recovery process.
People stay quiet for many reasons. They may feel scared of judgement, or be worried about the financial issues that come with taking time off. But employers need to take responsibility - conversations must be had and the stigma needs to be broken. There is no shame in mental health, people should feel comfortable talking about it and asking for help.
Starting a conversation about mental health in the workplace doesn't have to be difficult. You can meet someone for a coffee and a catch-up, asking them how they're doing, or you can arrange a team event, promoting talking about mental health, offering support and raising awareness. Starting from scratch isn't easy, we know, but starting the conversation is the first step to a happier, healthier workforce.
"56% of employers said they would like to do more to improve staff well-being, but don't feel they have the right training or guidance" - Mind
What can you do to support employees
The BiTC (Business in The Community) Mental Health at Work Report 2017, emphasised a need for more to be done to support mental health in the workplace. It highlights increasing levels of discrimination for those experiencing mental ill health and a lack of services, facilities and training to support the mental health and well-being of staff. In response to this, my organisation MHFA England, published a free workplace well-being toolkit, with resources and practical tips to support improved approaches to workplace well-being.
Below I share my top 10 tips for creating a mentally healthy workplace.
1. Engage your senior leaders
Getting the buy-in of those at board level is key to the development of an impactful well-being strategy. To support HR professionals, or indeed any employee in making this case, we've developed an adaptable presentation, 'making the business case'. If senior leaders have a clear understanding of the positive impact supporting well-being has on productivity, and the sustainability of their business, it puts you in a much stronger position to start developing your strategy.
2. Sign the Time to Change 'employer pledge'
This is a good way to send out a message, internally and externally, that your organisation wants to take mental health in the workplace seriously and ensure employees are properly supported. It's a great first step in signalling your intention, to then develop an action plan around awareness raising and implementing well-being policies.
3. Involve line managers from the outset
It's important to make sure line managers are the first to be aware of your well-being strategy. Make sure to hold a meeting with them and get their input before you begin. Line managers can then support in communicating plans to their teams and explaining their significance.
4. Sensitise your organisation
Effective awareness raising means sensitising your workplace to talking about mental health and mental illness, and instilling a more open culture. Our 'take 10 together toolkit' provides some great resources to help get your organisation talking about mental health, and to ensure everyone understands the importance of supporting well-being from a both a business and human perspective. These can be shared on your social media or through your company newsletter, as well as hosted on your intranet and displayed in public spaces around your workplace.
The toolkit offers tips and guidance on how you can take 10 minutes to start a supportive and meaningful conversation with someone about their mental health, as well as alerting you to triggers and signs of poor mental health that you can look out for.
5. Give managers the skills
Give your line managers the skills to support their team's well-being. BiTC's report shows that only a quarter of line managers have received training on mental health, despite the fact that nearly all believe that what they do affects the well-being of their staff. The 2016 report also showed that 75% of managers believe well-being is a responsibility of their role.
Training line managers in mental health first aid for example, supports them in ensuring employees are mentally healthy and able to perform at their best. Line managers are the people best placed to spot changes in team performance, and behaviour that may indicate an underlying mental health issue. They are also well placed to instigate a culture change around mental health and well-being.
6. Make it part of line management
If line managers believe it's part of their responsibility and what they do impacts their team's well-being, it makes sense to include well-being assessments as part of management catch-ups. An open dialogue on well-being can only lead to better working relationships and improved outcomes in terms of job satisfaction and productivity. Introducing this will of course be helped by first sensitising your organisation to talking about well-being and training up your line managers.
7. Communicate your policies
Awareness raising initiatives and well-being policies are of course more powerful when employees are proactively made aware of them. As well as line managers, take advantage of any other channels of internal communication to let people know about your workplace's engagement with the 'take 10' campaign, for example, or clearly advertise the fact that staff in your organisation have undertaken mental health training.
8. Work towards sustainability
Don't let the impact of initial awareness campaigns and training fizzle out. Keep up momentum around mental health awareness by organising events around national campaigns like Mental Health Awareness Week in May and World Mental Health Day in October. Many organisations also ensure the impact of any training is perpetuated through lunch and learn sessions, where employees share their skills and knowledge. Creating support networks of those trained or organising health and wellness seminars are also great ways of doing this.
9. Make reasonable adjustments
Be open to supporting staff with mental health issues to work, or to return to work, by making reasonable adjustments to their working patterns on a permanent or temporary basis. This could mean introducing flexible working hours or changing their contracted hours month by month to facilitate a phased return. Be sensitive also to factors such as noise levels, ways of working, managing workload and making adjustments as appropriate, to ensure an individual's well-being and productivity is supported along the way.
10. Measure the impact
Measuring the impact training and awareness campaigns have is essential to informing your approach and sustaining momentum for a mentally healthy workplace. As part of our workplace well-being toolkit, we have created an informative infographic, full of tips and ideas on how to assess your well-being strategy, and the questions to ask when running staff surveys. Only with thorough evaluation can you then look to refine and enhance your well-being strategy.
Further help
If you want to make a change in how your company talks about mental health, we understand it can be quite daunting. Thankfully, there are many useful resources available, like MHFA England and BiTC, which can help you learn what may be needed, and how to take the first steps.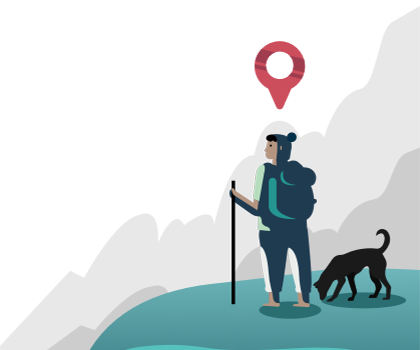 Find the right counsellor or therapist for you