The healing power of nature therapy
A connection with nature has long been recognised as beneficial for psychological well-being. The excessive intrusion of technology and our lives becoming increasingly digitalised on every level has resulted in a widespread disconnect from nature, sometimes referred to as Nature Deficit Disorder, and there are obvious costs that we pay for this.
A dulling of the senses, attention difficulties (including ADD) and an increase in physical and emotional distress are just some of them.  And of course, it follows that without a deep embodied connection to nature, people lose interest in protecting it, as it has already been devalued in our inner consciousness and doesn't have any meaningful place in our lives.
---
Nature-based therapy helps our overall sense of well-being
Over recent years there has been a surge of interest in ways of reconnecting. Forest bathing, ecotherapy, deep ecology etc are all responses to the calling within us to break out from the insulated concrete-encased life and reconnect, even if briefly with the natural environment. But this is much more than simply going for a walk, it is about finding a way to consciously be more whole and at one with ourselves and our environment in a way that changes how we relate to and inhabit our lives.
The benefits of this are many: It has been shown that spending time in nature increases our focus, enabling sharpened cognition and is generally good for our brain. It improves performance on our working memory and cognitive flexibility. Studies have also shown an increase in happiness, subjective well-being, positive social interactions, and a sense of meaning and purpose in life, as well as a decrease in mental distress.
From Zoom to woodlands
I work as a therapist and coach, and for the last two years, and until relatively recently, all of my client work has been online due to the pandemic. This was very freeing for me as it liberated me to be almost anywhere and still continue my work. This took me on an adventure through the second half of 2001 and earlier this year in which I based myself in Croatia, Portugal, France, Morocco and Italy, whilst continuing to see clients via Zoom.
Like so many people during that time the Zoom experience was seen either as a saviour or a curse. A glass half full or half empty, depending on how you looked. Of course, for a lot of people, talking to a family member or loved one via a screen is a poor substitute for the real thing, but on the other hand it can be seen as beyond invaluable compared to no contact at all.  
I was very grateful to be able to travel and be on different lands after the restrictions of the lockdowns and was appreciative of the possibilities and potential that online working opened up for me.  However, there was a growing feeling in me to address the balance and respond to my own calling/yearning for a deeper and more tangible embodied way of working and being.
Nature-based therapy meets the need that a lot of us now have now, which is to come off the screens, come out of our houses and out of our urban centres and connect with the land, and at the same time be truly heard and met on a basic emotional and human level within a therapeutic supportive context.
---
Letting nature be the guide
Nature-based therapy incorporates elements of forest bathing such as sitting in stillness, opening more deeply to our senses and tuning in to our surroundings, combined with integrative coaching and psychotherapy (therapeutic coaching), in which there is the opportunity to open up our inner world and share with the facilitator the key issues that are prevalent in your life.
Sometimes it can simply be like having a therapy session out in nature, but often it is much more, as the environment is an active ingredient and has a way of guiding the session. The weather, the wind, sun and rain as well as squirrels and insects can interact with and actually influence the direction of a session if the client is willing to remain open to this.  
I am particularly influenced and inspired by the work of Beth Collier and the Nature Therapy School. Their website states, "Human health is dependent on a healthy relationship with nature. When disconnection occurs our sense of well-being will suffer. Many people today have lost a sense of belonging to the natural world, therapeutic work in allegiance with nature helps to address the traumas of disconnection, processing loss, and repairing dissociative relationships with nature."
Nature-based therapy can be walking or sitting
A nature-based therapy session may take the form of a walk, in which there is encouragement to tune into the environment and to breathe in all that is being offered to you by your surroundings. As the walk progresses you naturally start to speak of the things that are on your mind or in your heart. Just like in traditional therapy the facilitator will listen deeply, and where appropriate reflect back on what you have shared or offer interventions that enable you to go deeper with the enquiry. At other times a session may be based in one spot, perhaps sitting by a tree in the woods or by the sea or a river or around a fire.
Many people say that their experience of Nature-based Therapy is enjoyable, revitalising, nourishing and replenishing. It can be beneficial for depression, anxiety, stress, bereavement, and burnout, as well as relationship issues, conflict resolution and navigating major life changes. It is also hugely valuable for our overall well-being, growth, personal development and self-care.
My nature-based therapy sessions take place in Stanmer Woodlands within Stanmer Park, about 10 minute drive from Brighton, and also in other parts of the South Downs and Sussex.
Share this article with a friend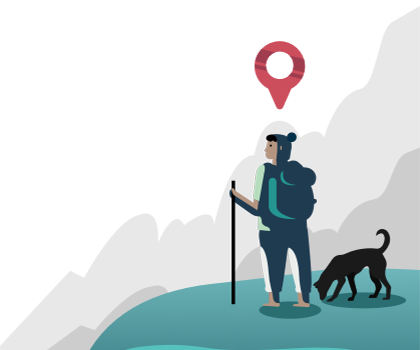 Find the right counsellor or therapist for you