Depression
Dodie and depersonalisation
Dodie Clark or dodie, as she prefers, is a British singer-songwriter and YouTuber. She's known for her sweet, understated vocals and infatuating personality, but there's more to her than that. With nearly two million subscribers across her two YouTube channels, her audience have become a sort of support group. They adore her. They adore her not only for her music and videos, but for her openness and honesty about mental health.
Age 22, dodie knows all too well the struggles mental illness can bring. Speaking with Happiful, dodie talks of her own experiences of mental illness, including depression and depersonalisation, her audience-turned-support group and how she's learned to cope.
Below is just a sample of dodie's experience and her discussions with Happiful.
Mental health can be a very difficult thing to talk about, and a lot of people still struggle with speaking up. That's not the case with you. Why do you think that is?
I've always been a very open person, I always let people know how I'm doing and what I'm feeling anyway. But that can also be a problem in itself, because I don't always know when to stop, or who to take my problems to.
Do you have any advice for parents who suspect their child may be struggling with mental health issues?
Sit down, be kind and listen. With the thing that I've got, depersonalisation or derealisation, it's not really known about, and because it's something that you may not quite understand yourself, it can be very easy to think that they're just making it up. But believe them, and support them in trying to find help.
You're right about depersonalisation being a lesser-known mental illness. When exactly did you first start experiencing it?
I described it liked taking out my phone camera and not pressing record, just looking at the world through the screen. A lot of people said that is might be 'disassociation'. So I started googling it and found terms like, 'derealisation' and 'depersonalisation'. I just sat and cried over the Wikipedia page because it explained exactly how I was feeling.
I couldn't believe it was a thing that other people dealt with too.
After receiving a diagnosis for derealisation, dodie noticed she wasn't enjoying events or going out as much as she used to. She describes everything feeling grey, like she couldn't connect with anything anymore. Depression started to rear its ugly head.
Turning to talk therapy for treatment, dodie has only good things to say about therapy and how much it's helped her. She tells Happiful how it took a while to find the right therapist though, she had been to six sessions with two counsellors before finding 'the one'.
What is it about the therapist that you're with now that makes them right for you?
There are all different types of therapists. My therapist is more personal and humanistic, and will shared her opinions as well, and talk to me, and I really like that. I had a therapist before who would laugh at the things I said, and I know that sounds patronising, but it was actually really nice because I liked getting out my problems then making them appear lighter.
What is depersonalisation?
Depersonalisation and derealisation is a difficult condition to understand. Generally, it is described as a change in self-awareness. People with depersonalisation may feel like their own thoughts or actions aren't theirs, as though they are watching themselves from the outside.
I described it liked taking out my phone camera and not pressing record, just looking at the world through the screen.
Depersonalisation is the lack of any sense of self. Wikipedia defines it as "unreality in one's sense of self", it's as though you exist, but you don't. People with the condition say speaking is particularly odd. They know they are speaking and what they are talking about, but they don't feel connected to their own voice.
Derealisation often occurs with depersonalisation, though they can occur separately. While depersonalisation is about the person's self of self, or lack of, derealisation is how they perceive the outside world. The world often seems unreal or dream-like. Depth-perception can change, so that everyday, three-dimensional objects seem flat. Depersonalisation and derealisation are very difficult to explain, and so, those experiencing the conditions can feel very alone. Like they're going mad.
If someone comes to you explaining how they feel, regardless of what you think, listen to them. You might be the only one who does and they need your help.
Read the full interview, dodie: The support group with a million members.
Share this story with a friend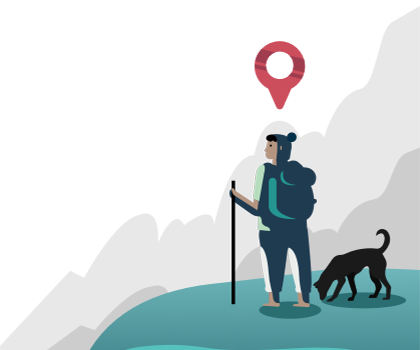 Find a therapist dealing with Depression