Long or short-term therapy: what's best for me?
Different kinds of talking therapies can help all kinds of people through their unique situations. Whether you're going through a bad time or need help and support with a specific problem or issue, according to the NHS, talking therapies can be just as or more effective than medication.
Speaking with a professional, qualified therapist can in many ways feel easier than talking to loved ones. You may feel you are more able to open out without fear of being judged, to speak freely, as well as to cry, get angry, or look at problems from new angles with the help of a counsellor.
While talking therapies don't necessarily make a problem or issue go away, they can help you find a way to cope better with your situation or to feel happier. Counselling can help you cope with a wide variety of mental health problems, big life events, and upsetting situations. It can be helpful at any age for children through to elderly people.
What's the difference between long and short-term counselling?
Other than their length, how do long and short-term therapies differ? Short-term counselling – also known as brief therapy or time-limited therapy – typically refers to solution-based therapy with a distinct goal in mind (for example, looking at patterns of negative thinking). Often having a tighter focus than long-term therapy, short-term sessions typically span six to twelve sessions.
Short-term sessions may involve tasks or assignments you need to complete each week outside of your sessions, while long-term therapy usually doesn't. Time-limited therapy may have a more structured approach (both within the sessions themselves and overall), whereas long-term sessions can be more led by where you decide to take each session, exploring your past, thoughts, memories or experiences.
Where short-term therapies often focus on how you can improve your life now, focusing on issues you are experiencing in your day-to-day life, long-term therapies tend to look more at the past, helping you understand both yourself and how your past may affect things you do today.
What different types of therapy are available, and what can they help with?
Different types of short and long-term therapies can be effective for different issues. Some of the types offered can include:
Cognitive behavioural therapy (CBT) – a popular short-term therapy, CBT can help you recognise how your thoughts can affect your feelings and behaviour. Examining your thoughts and behaviours, CBT tries to break overwhelming problems down into smaller, more manageable parts that you can work towards changing in the present.
Dynamic interpersonal therapy (DIT) – a short-term therapy that looks at the way you relate to others, and how this affects the way you see yourself. Helping you to create new ways to relate with others and new patterns that can lead to seeing yourself in a more positive light, DIT offers the space to talk openly about what is affecting you now whilst uncovering past hurts that may also be affecting you.
Cognitive analytic therapy (CAT) – looking at past events and experiences and how they are affecting your present, CAT aims to help you understand why you feel, think and behave how you do. A type of short-term therapy, it also helps you to problem solve and develop new ways of coping, as well as helping you recognise how the way you're behaving with and around others can affect your life as a whole.
Solution-focused therapy – also known as solution-focused brief therapy or just brief therapy, is based around solution-building rather than problem-solving. Looking at your future hopes and current resources, it helps you to use your own strengths, look forward, and achieve your goals.
Psychodynamic therapy – a form of long-term therapy, psychodynamic therapy also known as psychodynamic counselling aims to bring the unconscious mind to the surface. Helping you to understand your deep-rooted feelings in order to resolve them, it looks to uncover painful feelings or memories. Generally thought to be more effective treating specific issues such as depression, anxiety or addiction, it can be particularly beneficial if you feel like your life may have lost meaning, or you have trouble maintaining or forming personal relationships.
Psychoanalytic therapy – typically looking at your early childhood experiences to see if they have had a particular impact on your life or current worries, long-term psychoanalytic therapy can last from months to years. Aiming to help you start changing through the understanding of your past and how early life events may be affecting you, sessions vary depending on why you are seeking therapy, but often involve time you can speak freely with your therapist in a non-judgemental, safe space.
While short-term therapies often tend to be solution-focused, some people feel they often do not look at the underlying reasons why you may be experiencing emotional difficulties or issues. If you are looking for more of a quick solution for a specific problem, short-term therapies can be beneficial, whereas if you would rather have space and time to explore multiple problems or an issue and its potential roots in-depth, long-term therapy may be the right choice for you.
What type of therapy is right for me?
It's hard to know what type of therapy will work best for you; it can really vary between individuals – there's no single 'best' type of counselling for a specific issue of life event. Just because a type of therapy may be popular or have worked for someone else you know, doesn't mean it will have the same benefits for you. Exploring your reasons for talking to someone, reading more about the different types of therapy on offer, and trying sessions with different therapists until you find someone you click with can all help you to find what works for you.
Some counsellors may offer alternative kinds of sessions from traditional face-to-face counselling, including online counselling. These can range from video or phone calls, to emails or instant messaging. Whatever your unique needs are, qualified, professional therapists can offer help and support to suit you.
If you're finding it difficult to find a method or therapist you connect with, try to remember: therapy is an ongoing process that requires commitment and being present. It can take more than one session before you start feeling or seeing the benefit.
No matter which kind of therapy you decide to try, recognising you may need help and support is the first step towards making positive changes.
Share this article with a friend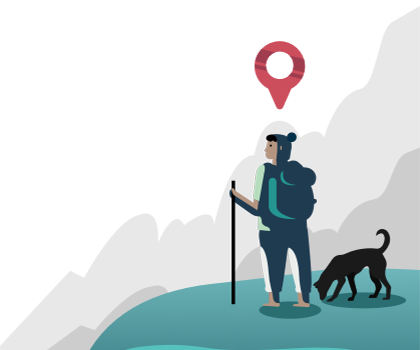 Find the right counsellor or therapist for you