Eleanor Bigden

Verified Professional

Every professional displayed on Counselling Directory has been independently verified by our team to ensure they have suitable credentials to practise.
CBT, EMDR, ACT, CFT & Coaching online & phone sessions
Available for new clients
Available for new clients
This professional is available for new clients.
Central London SE1 & WC1X
Available for new clients
Available for new clients
This professional is available for new clients.
Supervision details
One of my specialisms is to help therapists look at how we can work with clients in a way that's more authentic, playful, nourishing and dare I say it even very enjoyable for both client and therapist!
As therapists we can frequently get weighed down by responsibilities, and for our work to be more draining than it needs to be. 
In the 18 years I've been providing supervision, it's a joy to hear so many practitioners say they've significantly enhanced their therapeutic effectiveness, at the same time as a more authentic and sustainable approach.
  "Eleanor is very committed to professional and professional development, at the same time as being very approachable and transparent about the realities of being both therapist and human, and how we can mindfully, compassionately and authentically draw on the many different facets of our human existence that we humbly share with our clients, to creatively enhance our therapeutic effectiveness.  D.W. Integrative Therapist, Social worker and CBT therapist in training.  
Specialist experience
Out of my 24 years of qualified clinical experience, I've run a  successful private practice since 2008, and before that, I worked in the NHS for 10 years, in various settings for people struggling with a wide range of complex and challenging mental health issues.
I've done a lot of volunteering- working in prisons, with refugees and with survivors of trauma and abuse of various kinds,
My wide range of experience from executive coaching through to trauma therapy means I can enhance your ability to work resourcefully and calmly, without overwhelm or impostor syndrome, whether your clients are more successful or savvy than you in some areas (yup that's a good thing!) or when major challenges arise, and you need to take a grounded approach to risk management and harm reduction.
I really enjoy helping the folk who I mentor and supervise make their work really work for them in a business sense too! The financially struggling therapist…mm..can I please help you with that ?!
 "Eleanor is a highly skilled therapist with considerable experience working with a wide range of emotional and psychological issues. She's very professional and has a wonderful warmth, clarity of mind, and attentive presence. She is passionate about her work and the capacity for people to growth and flourish." Jennifer Horsfall. Gestalt Psychotherapist and Coach
Specialist training
I hold Post Graduate Diplomas in Cognitive Behavioural Therapy, Addictions Counselling and Teaching Adults in the Lifelong Learning Sector. I'm accredited with the EMDR Association and BABCP.
Prior to my last 18 years' training and CPD in a wide variety of therapy and coaching modes including CBT, ACT, CFT, Schema Therapy, FAP, AEDP,  Focussing, NVC, Appreciative Coaching, EMDR, and AF-EMDR, I originally trained as an Occupational Therapist. I love my early therapy roots in a genuinely holistic bio-psycho-social model that truly considers the impact of issues such as human biology, intersectionality as well as physical,  social and political environmental factors.
I continue to focus on relational, behavioural and neuroscience based approaches to therapy with a very wide lens and a keen interest in research into what seems to work best for whom and why? And What are the actual mechanisms of action that help good therapy become truly great therapy leading to rapid and lasting change for clients. 
So! I'd love to support you in deepening practical and creative methods of helping your clients that are grounded in a strong evidence base.
In particular, I can help you effectively draw on, interweave or deepen the following "third wave" CBT models within your existing practice:
Acceptance and Commitment Therapy, Compassion Focused Therapy, Behavioural Activation,  Schema Therapy,  Functional Analytic Psychotherapy and CBT for specific issues including: depression, self esteem, relationship issues, insomnia, GAD, health anxiety, OCD, social anxiety, perfectionism, anger issues, disordered eating, trauma, pain, bereavement, physical conditions, complex life circumstances. 
 "Eleanor Bigden has been my supervisor for two years and I feel that I have benefited greatly from our work together.  I have a different training background to Eleanor and therefore our approaches can naturally differ, but due to Eleanor's openness and flexibility we have always been able to work together comfortably, and the differences in our training have expanded the scope of my practice considerably. I have valued her warmth, enthusiasm, creativity and frankness. She has given me a greater depth of insight and confidence in working with clients." B.A. Integrative Psychotherapist, Psychosexual and Relationship Therapist
Learning from success
It's all too easy for both client and therapist to get so caught up in trying to find solutions to outstanding problems that we can miss opportunities for looking at where our clients have already demonstrated strengths, courage, and growth. I can assist you in paying more attention to even the smallest of fruitful shifts, and to help your clients develop this valuable ability themselves. This is key to optimal learning building confidence and resilience– the transfer of awareness and skills, on the basis of asking the question "so what worked well, what would I do again, what would I do more of, and how can I potentially adapt that to suit different people when the moment arises".
An important supervision focus is: how can we optimise our practice to do what makes the very biggest difference to each individual's life?
What can we learn from research, professional experience, our client's growth and feedback - to go from good therapy to really great therapy provision?!
Learning from our less helpful interventions!
I also provide a truly non-judgemental opportunity to address the ways in which our assumptions and behaviour can, at times, impact less helpfully on clients!  My personal philosophy is to look for the constructive insights that can come from all challenging situations and so called 'mistakes', and empathic, humorous reminders of our shared humanity.  
"A versatile, creative therapist and coach Eleanor Bigden slips seamlessly between compassionately holding people's humanity close to her heart, and offering considered, pertinent challenges to help you develop. Eleanor isn't merely highly knowledgeable and in possession of an impressively well stocked tool box of skills. Knowledge and techniques are available at the price of the nearest workshop or book. What I witnessed in Eleanor was a determination to engage and mindfully offer herself to our teamwork, as much as she encouraged me to do the same. Here was someone who was willing to draw on a life time of experience in service to helping me and my clients develop holistically, empathically and deeply" Ed – Mindfulness Trainer and Thought Coach
Cultivate your confidence and unique style
We've all had fears about what others might think of our style of working. Guidance from training courses sometimes gets turned into "rules" that don't always match up to what our clients and our intuition tells us. I can help you develop greater psychological flexibility and "mindfulness with a lighter touch" to navigate these tensions, cultivate your unique therapy style and enhance your confidence in finding helpful uniting themes, or "top level perspective" amidst seeming contradiction.  
As well as taking a step back, we can also look with a wide angle, and deepen your awareness for what your broader life experience can offer to a truly empathic and grounded therapeutic process. We can bring much more authentic presence when we learn to bring a kind and curious openness to the inevitable parallels between our inner doubts, fears, habits and longings - and those of our clients.
Apply CBT to your own response patterns  
I can help you apply CBT to your own patterns of thinking and responding to clients, colleagues and work stress, thus deepening your own embodiment and ability to practice what you teach, for your own wellbeing and enhanced professional effectiveness.
"Eleanor has taught me that I don't need to hide behind a façade of expertise while secretly hoping that the cracks won't show on my exhaustion and vulnerability, but that I can be an invaluable role model to my clients of how to be empathic towards our human frailties, not just by teaching techniques but by actively showing that I'm embodying that stance towards myself.  It's easy to fall into the trap of not practicing what we preach, or trying, on the other hand to be the perfect therapist. Eleanor has helped me develop the courage to bring all of this into the therapeutic melting pot and my clinical practice has flourished as a consequence. I'm getting much greater client satisfaction and many more word of mouth referrals these days." T.W Addictions Counsellor and Cognitive Behavioural Therapist
No one right way
…so how do we handle uncertainty? There are so many therapy models, strategies, techniques and approaches that we could potentially draw on!
As therapists, we may sit with confusion "not knowing what option to follow", anxiety about "not knowing enough" and fear about "not being good enough" as therapists.
I'm grateful to supervisors who've been honest about these struggles. It's enabled me to offer much more genuineness with my clients and supervisees.
If you would like supervision that moves flexibly between skills training and competency development on the one hand...and an open minded space to look at how we can embrace the challenges of our role with creativity, compassion and the wisdom of not knowing...then get in touch!   
Appointments and fees
You're welcome to book ad hoc, or have supervision at whatever regularity works best for you.
If you'd like to book occasional supervision sessions for specific issues as a supplement to other modes of supervision, fine with me.
My fees are £150 per 70 minute telephone supervision, coaching or mentoring consultation.

I don't offer concessions by the way,  as my fee is set to realistically enable me to make a much higher weekly investment into various CPD trainings etc, which I trust will play back into benefitting you and your clients. 
Free 30 minute consultation
If you're looking for monthly supervision, you're welcome to a free 30 minute phone consultation, so we can discuss how to tailor supervision to meet your specific needs. 
If you'd prefer to rapidly schedule an ad hoc supervision or mentoring appointment a.s.a.p, dropping me a voice note on WhatsApp with some background details is the quickest way for us to get teamwork lift off! Feel free to prep me with as much  information as you wish, to enable us to work together with optimal time and cost effectiveness for you. 

British Association for Behavioural and Cognitive Psychotherapies (BABCP)
The BABCP is the lead organisation for Cognitive Behavioural Therapy in the UK. Membership is open to anyone with an interest in the practice, theory or development of CBT. BABCP also provides accreditation for CBT therapists. BABCP accredited members adhere to the Standards of Conduct, Performance and Ethics in the Practice of Behavioural and Cognitive Psychotherapies, and are willing to be scrutinised in this adherence as required.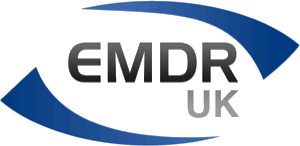 EMDR Association UK (EMDR UK)
Accredited register membership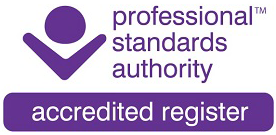 Accredited Register Scheme
The Accredited Register Scheme was set up in 2013 by the Department of Health (DoH) as a way to recognise organisations that hold voluntary registers which meet certain standards. These standards are set by the Professional Standards Authority (PSA).
This therapist has indicated that they belong to an Accredited Register.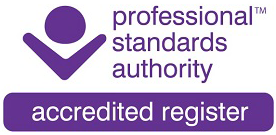 View full profile