Art therapy/Art psychotherapy
How do I choose a therapist?
In this article, we'll look at how to choose a therapist. I know this can be an intimidating process and we can feel out of our depth before even starting the search. But, fear not – the more you know, the more at ease you will feel embarking on this quest. We will cover where to look, credentials, gut feeling, parents and kids, and finally, a decision aid cheat sheet.
Where to start?
Make a start by asking around. These are three places to start looking:
family and or friends
GP and advisory services
online, search engines and directories
Lets' take a closer look at each one, weighing up the pros and cons.
Family and/or friends
Pros:
unbiased and impartial opinion
first-hand experience – they can give you an idea of how the therapist works, how they helped, and practicalities like fees
a good place to start and open up the conversation of looking for help
Cons:
not relevant suggestions for your needs
different preferences – suggestions given may not feel like a good fit for you
limited to what family/friends suggest
GP and advisory services
Pros:
free advice and service
referral to appropriate service for your needs
Cons:
less control over choosing your therapist or type of therapy
limited to free services in your area
long waiting lists
Search engines and therapy directories
Pros:
information about the therapist (how they work, who they are, qualifications etc.)
is available for you to consider before making contact
Psychology Today and Counselling Directorycheck therapists' qualifications and memberships
choose the therapist that you want to work with
complete control over the process
Cons:
choice can be overwhelming
private therapy can be costly
need to be wary of unqualified therapists selling mental health 'cures' online
posts on social media can be misleading and targeting people in a crisis looking for relief from their mental health issues
---
Therapist credentials

A recent BBC documentary highlighted issues surrounding the regulation of therapists in the UK. Presently there are no regulations around an individual using the terms 'counsellor' or 'psychotherapist'. 
Registration with a regulatory body is voluntary for each of these practices. A regulatory body will have a minimum standard of qualifications, ethics to adhere to and a complaints policy.
Currently in the UK, art psychotherapists and practitioner psychologists (including clinical psychology, sports psychology, etc.) are the only two mental health therapies with protected titles. Their professions are regulated by theHealth and Care Professions Council (HCPC).
What does this mean?
Registration is not optional.
Art psychotherapists and practitioner psychologists are required to train in accredited courses.
Required to adhere to ethical guidelines set by theHCPC.
Private practitioners are committed to external supervision and continued professional development.
---
Gut feeling

As my brother would say, make the big decisions with your brain and then choose with your heart – except I am saying, go with your gut! As long as you have done your research and considered all the factors above, it's OK to trust your gut reaction.
Once you meet your therapist for an initial consultation or first session, check-in with how they make you feel.
Good signs:
you feel comfortable or at ease, even if it's just a little compared to how nervous you were
you get a good feeling
you feel listened to
you feel safe
you feel in control of the process
Warning signs:
you feel uncomfortable and uneasy
you feel pressured to talk about difficult things at a rushed pace
you feel judged
you do not feel safe
you feel more like a case than a person
If you encounter any of the warning signs, you can either bring this up with your therapist to discuss or terminate therapy. Every client has the right to terminate therapy when they wish to.
---
Parents looking for their child or teen
There are some extra factors that a parent or teen may want to consider when looking for a therapist.
Choosing a modality of therapy that suits younger clients or families – for example, art psychotherapy or family therapy.
A therapist who can work with your family's needs – for example, offering parental or sibling involvement in sessions.
Therapists that provide a follow-up service for parents to be aware of therapy progress and child's needs.
---
Cheat sheet
No judgement if you have just scrolled to this bit! To summarise, I believe that looking for a therapist is like looking for a dentist or a mechanic.
First, you look at what's available to you, who is recommended, etc. Then you check that they have credentials and good reviews. After that, if you are coming back to them, it is because you trust them to do a good job.
Here are some questions to ask yourself when choosing a therapist:
Are they qualified?
Can I see their credentials?
Can a trustworthy person or organisation vouch for them?
Do I feel comfortable?
Do I trust them?
Are they promising the impossible?
Are they making me feel uncomfortable?
Where are they operating from? Even if it is online, does it look like a professional set-up?
Would I recommend them to a friend?
Final thoughts
This concludes my tips to help you find the best therapist for you or your kids. If you have any questions you would like me to answer, please get in touch.
Over the coming weeks, I'll be sharing more articles that take you through the process of therapy – from knowing what to expect at various stages, all the way through to looking at aspects of art psychotherapy. Next up in this series, I'll be giving you an overview of what to expect in an initial consultation. Stay tuned for more!
Ciao, Juliette
Share this article with a friend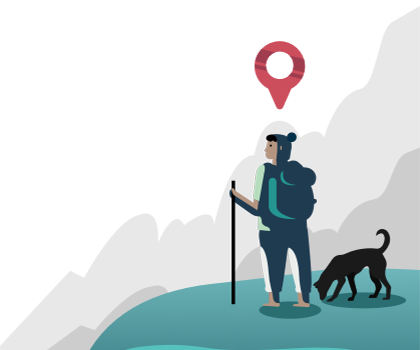 Find a therapist dealing with Art therapy/Art psychotherapy