Alexandra Bacon

Verified Professional

Every professional displayed on Counselling Directory has been independently verified by our team to ensure they have suitable credentials to practise.
MBACP Anxiety & Relationship Specialist
Ashby-de-la-zouch, Leicestershire, LE65
About me
I specialise in working with clients with Anxiety and Relationship based issues and young people though I am experienced in working with a wide range of clients, with a proven track record of success (see my client testimonials below).

I am a fully qualified and insured, BACP registered counsellor, offering brief and long term therapy if required. I follow an integrative, Humanistic approach to working with clients based on their individual needs. A number of people experience long term counselling without getting the desired results; however, I have a reputation for getting results with my clients in a relatively short time frame.
I am also trained as a NLP (Neuro-Linguistic Programming) Coach Practitioner, Bach Therapy Practitioner and am an Advanced Emotional Freedom Technique (EFT) Practitioner and am a qualified EMDR Therapist. I offer a confidential service to adults, young people and children in Ashby de la Zouch, Leicestershire, following the ethical guidelines of the BACP, and am fully CRB checked.

I am also a member of The Complementary Therapy Association (CThA) and Embody Professionals as well as the BACP. My business was nominated in 2010 for the Barclays Trading Places award for excellence as a top 100 business in the UK and I am featured regularly in the media in national publications such as Woman, Easy Living, Natural Health and The International Therapist magazine. I also speak as an expert on BBC Radio Derby.

With every client, I work with them to identify the number and frequency of sessions they need in order to resolve their individual challenge. The aim of counselling is to give you the space to explore your feelings and concerns in a safe environment; discover what your core issues might be and clarify ways of resolving these and moving towards a greater sense of well-being.

Counselling can offer the chance to explore your present and past experiences and how they may be affecting your life now. Although you can't change what has past, reflecting on your issues and feelings can enable you to discover recurring life patterns and what is behind them.

I have my practice in Ashby de la zouch, Leicestershire. I provide one-to-one, confidential consultations that last between 60-90 minutes. In most circumstances these take place face to face or on telephone or Skype.  In every case, I offer a free 20 minute phone consultation to give you the opportunity to explore the best way forward for you.
What clients say about me:

"I went to see Alex for 8 sessions due to suffering from anxiety/depression due to my long term relationship ending & still dealing with the loss of my brother & Nan. We tried CBT & EDMR therapy I was amazed by how quickly the issues I was facing started to be replaced with more positive thoughts. I have a lack of self confidence & self esteem which Alex helped me with & I have now joined a meet up group we're I am meeting new people. I would definitely recommend Alex if you are struggling or looking for change." Hayley, Leicestershire
"I came for counselling with you between Jan15 and Aug15 after a bad end to my marriage. I was struggling with self confidence and very low generally. I often think about my sessions with you and how valuable they were to me at a critical point in my life, being able to move on and have the confidence to raise my daughter on my own. I wanted to let you know I have recently been promoted at work and I am just in the process of selling my house to move in with a new partner. This is a huge step for me and after 4years of looking after myself it has paid off and I'm ready to trust someone again - Something I couldn't imagine when I first came to you. Thank you for your support. I wanted to let you know the impact it still has on my life and how it has helped me get where I am today." Amy, Derby

"I visited Alex after being diagnosed with Post Traumatic Stress syndrome following a road traffic accident. Alex decided that Cognitive Behavioural Therapy was the best treatment for me. I can honestly say that thanks to Alex and the CBT I got my life back.
My post traumatic stress was really affecting my day to day life and subsequently having a big impact on my loved ones too. Visiting Alex was one of the best things I've ever done, I am amazed at how CBT works and so unbelievably happy to be able to carry on with my life. Thank you Alex"   Leanne Clifton

"I first came to see Alex in June after suffering from a breakdown, based around suicidal thoughts - I'd been depressed for years. Together we talked about what had brought on the depression, what had happened in my life, and a first for any of the counsellors I'd seen, she gave me the tools to deal with my problems. We used a variety of talking, CBT and EMDR techniques to change my perspective on life - so much so that I had the confidence to completely start a new life, changing university and moving somewhere completely new with my boyfriend. I only saw her for half a dozen sessions, but it was enough to bring me back to the person I used to be.
To anyone hesitating to see her, I would completely recommend it, the price is very reasonable (hey, I'm a student and I could afford it with the last of my loan!), and she is VERY good - definitely worth paying for." Fiona S, Loughborough


"I went through 6 sessions with Alex and since the first day I could clearly feel that she could offer the help I was looking for.  Her professional, gentle and goal-oriented approach with the use of different techniques made me immediately feel better. She used EMDR to help me dealing with core issues and the outcome was great. I have struggled for long time with anxiety and lack of self-confidence and it has been amazing to see how quickly this issues could be faced, solved and archived. I couldn't be more happy with the results I have achieved. I would strongly recommend Alex to anyone looking for a change but struggling to find the way to make it." 
Dr G C, Derbyshire

"Alex is an excellent therapist, who has helped me breakdown the barriers preventing me from living life the way I wanted to live it. Like many people, my life has had its ups and downs but being a typical bloke I find it hard to talk to even the most important people in my life. In Alex I found a calming professionalism that built a confidence that she was here to help not judge; a great reflection of the professionalism and personality of Alex.
Together we broke down the issues one by one, using a variety of techniques to conquer each issue.
I have no hesitation in saying I'm a different man to that of the man who walked in for the first session, and have no doubt that this is all down to Alex and her calming and friendly approach to therapy."  Simon 27 from Derby


"I am a different person, I hardly recognise the person I was (full of sadness, self hatred and zero self esteem). My problems were from early childhood and I thought I was beyond help.
Week by week working with Alex I realised the opposite was true. Alex has such a gift and understanding, she really cares and is very talented.
It's not just my life that's improved but my family's too, especially my two children and the relationship with my husband.  With Alex's help I have broken the cycle-thankyou." Sharon, Derbyshire


"My teenage daughter had been suffering from low mood and low self esteem for 2 years which she had kept to herself. She gradually spent more and more time on her own in her room,was very tearful and withdrew herself from friends and made up excuses to avoid meeting up with them. Even after only one session I could see an improvement in my daughter's mood and with only half a dozen sessions my daughter was back to her old self and socialising with her friends again. The transformation has been amazing and so rapid. My daughter has more inner confidence now than she has ever had before. Alexandra has a lovely personality - calming and caring which made it easy for my daughter to open up to her. I cannot thank her enough and would highly recommend her." AF Loughborough

"Thank you so much for helping me the past couple of months. I remember coming to you for the first time and you were so nice. Now I feel more confident within myself and will try my hardest to carry that on at school. Thank you for everything." Katie, Leicestershire
"I've only being seeing Alex for a relatively short period of time but in this time she has helped me transform my life beyond anything I could have imagined. Alex has helped me recognise the rather toxic relationships in my life and the unhealthy tendencies I have. She has truly helped me, and continues to help me overcome these by providing me with the techniques to cope now and in the future. She has improved my self-esteem beyond measure and made me feel like a new person. She has helped me realise why I was feeling so low and has given me the tools to take control of my life so I can move forward in the direction I want to go in.

I have learned to value my happiness and put myself first in a good way. As a result of this I have become more confident as a person & this has helped me no end with taking control of my life and doing the things I want to do. I cannot praise Alex enough and would definately recommend her to anyone; she's a truly amazing therapist, so easy to talk to and a real life saver.Thank you Alex."  Aby, 21 years old


'I first went to see Alex around 2 years ago as a very lost man with zero self-esteem, confidence and battling major anxiety and panic disorders. As a 25 year old I was depressed with no idea or confidence on how I was going to move on with my life. Seeing Alex on a regular basis with talking therapy and Bach remedies I was able to work through my issues one at a time. I have now gone from a very shy man with low confidence in a relationship which did not serve me, to a single man who works behind a bar and plans on travelling Thailand alone!! The changes in me are nothing but amazing and I never thought I could feel this free! I am now full of confidence and beginning to really get to know myself with no signs of anxiety or panic. I would recommend Alex's service to anyone in a heart beat. She has guided me through a change I never thought possible. I now love my life a look forward to the future. If you feel you need to make changes in your life, then get in touch with Alex. You will not regret it!' DF, Ashby


"I cannot recommend Alex enough, she has helped my daughter manage her panic attacks...she is a happier, more confident person and that is all thanks to Alex." AC, Derbys


"I read Alex's details on the website and decided that, despite my reservations about my child seeing a 'Counsellor', contacted her. Straight away I was afforded some comfort by being given some tips on how to deal with her difficult behaviour before the first meeting…that helped.  Alex was very calm and empathetic with my daughter. She was put at ease from the beginning and reassured that what she was experiencing was not unlike what other young people like her were too. I know that made a big difference. Alex also suggested using the Bach remedies and I have to say the results were literally overnight! Being a sceptic I thought that this was coincidental at first but I am now absolutely sure that they have and continue to make a huge difference.
Some 3 months later and my daughter is back to her old self. She sings in the morning when drying her hair and we chat all the way to school when I am dropping her off. My nights are no longer disturbed by a worried girl dragging her quilt and cushion into my room and she happily goes over to meet with her friends. A truly remarkable difference and one that I did not believe I would see. Alex's support has been brilliant and I would certainly encourage anyone to 'give her a go' no matter how well you think you can sort it yourself…a problem shared has certainly been our saviour!!" Helen M, Derbyshire

"When I first came to start my sessions with Alex I was suffering from terrible anxiety and I was desperate for help as I was unable to eat or sleep as a result of my constant feelings of fear. I started therapy within three days of contacting Alex, this was a huge relief to me and I had been told other treatments had a waiting list of at least 14 weeks. My treatment consisted of mostly of EMDR and Bach's Flower Remedies but also included CBT. I had seven 1 hour sessions in both Derby and Cromford and began to feel back to normal after only the first couple of hours. Now that I have completed my seven hours I feel like an entirely new person. Alex not only helped me to change the thought patterns that caused my feelings of anxiety but also taught me how to diffuse situations before they became stressful to me. Each of my sessions was worth every penny and I would recommend her to anybody." 
Bryony, 16, Derbyshire

"I would like to strongly recommend Alex's services. I started with Alex a shadow of my former self and left feeling back to being 'me'. Alex made me feel extremely comfortable from the very start and I opened up to her about issues I would have never dream't of even speaking out loud to myself, never mind a stranger. She has not only changed my life, but also my partner's. Even though he did not attend the sessions, it has proven that my positive energy and change of thought processing has had a massive effect on him too. I cannot stress enough how much I would recommend this service to anyone with an issue, big or small.
Thankyou Alex – You not only brought 'me' back, but saved my relationship."  Kate S, Derbys
"Mentally, I was in a very dark place when I went to see Alex. Having suffered a bereavement some two years prior, I thought that I had managed to overcome most of the associated problems on my own, but there were latent issues which were having a detrimental affect on my emotional responses. It took a crisis to make me realise that I did need outside help to address these. I had never used a counselling service before, so I was initially wondering if it would prove to be right for me. However, through her natural intuition and professional caring approach, Alex provided the tools and techniques that I needed to enable me to move on and progress.  I can honestly say that I now feel much calmer, happier and able to meet and deal with all that life offers, on my own terms."
Steve, Derbys
"I was suffering from a great deal of anxiety from personal and work realated issues, which had manifested in OCD to help me "control" my  life. Or so I thought... The first few sessions really helped me deal with some long standing personal issues and using EFT and visualing to deal with these issues I was able to clear my head and forgive myself. From this we tackeled the OCD element which we did in a logical manner, using Alex's methodology and good humour. I was able to see that what I tought were important tasks that needed to be done to bring me luck and stop bad things happening, were not real and gave no benefit. I am glad to say that my OCD has now gone for good! Finally Alex helped me through tough times at work, from a job and people that really got me down, I was able to deal with my fears which enabled me to move on in my career to bigger and better things. I really cannot thank Alex enough, for really listening and helping me see the wood for the trees!"
IB, Leics
"I saw Alex details on the website when I was in a crisis following the death of my dear mother. I thought a few sessions for grief counselling would soon have me on my way and back to work. With Alex's support, coaching and facilitation i soon realised that the crisis was just a catalyst for the many issues I had. Over a period of time these issues were explored and brought to the surface. Alex taught me lots of techniques to aid my recovery including learning how to enjoy doing things for myself. With Alex's support I learned how to value myself, spend time enjoying myself and to focus on the things that are important to me. Alex assisted me to balance the challenges life brings whilst enjoying things as they happen. I feel very positive about life now and this has had a positive impact on my husband, children and our family life. I have ended my employment after 27 years and with Alex's support I have learnt the art of acceptance and rekindled my creative side to enjoy my new life at home developing the things that are important to me.I could never have imagined being a full time mother and a wife but I am loving it. I am enjoying spending time spoiling myself and developing the many interests that have been dormant for several years. I could not have made these changes in my life without the excellent support and facilitation from Alex and would recommend Alex to you."
SB Leicestershire
"I suffered with depression, anxiety and panic attacks for over ten years. I always felt that these were caused by growing up in a violent household. I was scared of everything and life had become a difficult chore, rather than a pleasure. I was completely lost and had no confidence in myself or my ability to achieve anything.
I found Alex's website and i thought i'd give it a go! I was a little apprehensive as i'd seen other therapists in the past who weren't able to help me. I'm pleased to say, Alex was the total opposite! She was very, very understanding and calming. I was completely myself with her and found for the first time in my life I could talk about what had distressed me for years. Alex helped me to understand myself and move forward through a combination of Emotional Freedom Technique and talking therapies. I felt better and better after every appointment with Alex and I was really suprised at how quickly I noticed changes in myself. I now feel like the old me; confident, out going, and happy. I've said goodbye to anxiety and panic attacks and I no longer feel down about my life. I am up beat and always see the positive rather the negative.
I genuinely thought there was no hope for me, but I was very wrong. I would highly recommend Alex and her range of therapies." Hannah B, Derbyshire
"I have been overwhelmed with how effective and how I've responded to the NLP sessions. Alex is an extremely good listener and a very talented professional. She has been very adaptive to my needs, in just 6 sessions the difference in my wellbeing has been remarkable.
I would recommend Alex without any hesitation. The Bach's remedies are well worth a try too!" Kate Derbyshire

"I write this letter to say that I would and have, recommended Alex Bacon to my friends.  The first session was amazing, what came up from the depths of my being; I am 68 years old and through the patience and knowledge of Alex, was able to release things that traumatised me from the age of 3 to 68, so much so it has helped me to move forward in my life.
I have had 5 sessions, each one worth its weight in gold."
K Skinner, Burton on trent
"Alex is a naturally gifted therapist with great insights into the full workings of the unconscious mind. She has helped me enormously on my own path to health and happiness and I have recommended her on many occasions and continue to do so. Her NLP and EFT skills, encompassed with her extensive background and experience in counselling make her unique in being able to deliver results in a relatively short timeframe. If you really are committed to change, then I would highly encourage you to invest a course of sessions with her."
Daniel
"EFT helped me a lot , firstly giving confidence in myself and also helping me accept who I was and understand anxiety more too.
After having several sessions I started to make progress and started to use the Bach. I am now a lot more relaxed and comfortable in meetings at work and eating infront of people. Also I have been going out in busy pubs.
I use EFT everyday (mostly in the morning) and I feel that I have control of my anxiety rather than it over taking me. Thank you very much Alex!!"
K Fern, Leicestershire
"Alex's approach helped immensely with my son Matthew, who following my divorce being increasingly depressed and withdrawn.  Since the sessions with Alex, he is back to his old self and much happier both at school and at home, and his performance in all his subjects has improved. Thankyou."  
Ms M, Derby- Parent
Training, qualifications & experience
CBT Post Graduate certificate
CPCAB Advanced Diploma in Counselling
CPCAB Certificate in Counselling Studies
NLP Practitioner Certificate
EMDR Certificate
Advanced EFT (Emotional Freedom Technique) Practitioner
Bach Flower therapy Practitioner (BFRP)
Experience: I worked for 2 years as a counsellor in secondary education; for years within a domestic violence charity as counsellor and within a Mental Health charity with clients with severe depression and anxiety disorders as a counsellor.
I have also worked within an EAP (Employee Assistance Program) company as a therapist and Medical Injury work within companies. I currently work in private practice as a Counsellor and therapist,

I work with a range of clients: privately, in Government, Voluntary and Corporate based organisations, delivering therapy, coaching and training sessions.
Member organisations

British Association for Counselling & Psychotherapy (BACP)
BACP is one of the UK's leading professional bodies for counselling and psychotherapy with around 60,000 members. The Association has several different categories of membership, including Student Member, Individual Member, Registered Member MBACP, Registered Accredited Member MBACP (Accred) and Senior Registered Accredited Member MBACP (Snr Acccred).

Registered and accredited members are listed on the BACP Register, which shows that they have demonstrated BACP's recommended standards for training, proficiency and ethical practice. The BACP Register was the first register of psychological therapists to be accredited by the Professional Standards Authority (PSA).

Accredited and senior accredited membership are voluntary categories for members who choose to undertake a rigorous application and assessment process to demonstrate additional standards around practice, training and supervision.

Individual members will have completed an appropriate counselling or psychotherapy course and started to practise, but they won't appear on the BACP Register until they've demonstrated that they meet the standards for registration. Student members are still in the process of completing their training.

All members are bound by the BACP Ethical Framework and a Professional Conduct Procedure.
Accredited register membership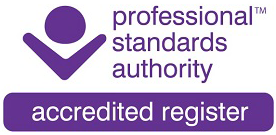 Accredited Register Scheme
The Accredited Register Scheme was set up in 2013 by the Department of Health (DoH) as a way to recognise organisations that hold voluntary registers which meet certain standards. These standards are set by the Professional Standards Authority (PSA).
This therapist has indicated that they belong to an Accredited Register.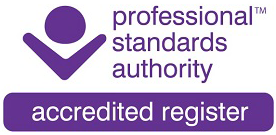 Areas of counselling I deal with
Other areas of counselling I deal with
Couple Therapy

Anger Management
Stress Management
Redundancy & Career Coaching
Young people's issues
NLP Coaching
Self Image
Emotional Therapy
Emotional Freedom Technique (EFT)
EMDR
Fees
Free initial telephone session
Concessions offered for
Health Insurance/EAP
Additional information
£60-95 per hour for Individuals, couples and family sessions.
When I work
M

on

T

ue

W

ed

T

hu

F

ri

S

at

S

un

Morning
Afternoon
Evening
Night
Further information
My Ashby-de-la-Zouch clinic has disabled access on groundfloor level and has a disabled parking space outside.