Talking to a therapist vs talking to a friend
How is talking to a counsellor or psychotherapist different to talking to a friend or family member? What is it that makes it therapeutic? How does it help and is it worth my money? What benefit will I get from committing my time to the sessions?
These are great questions, and tend to come from a place of uncertainty. You may not be getting the support you need but fear that a therapist is just another person to talk to without any real resolution.
Alongside my private practice in counselling, I supervise and support a team of NHS emergency response staff and I hear so often the words "I've got friends and colleagues and family I can talk to about it" and it's great that they feel they have the support they need but at the same time I often instinctively know that it won't be enough. There often comes a point when they admit to themselves that they need something more and accept psychological support. 
The challenge I find is that there is a distinct lack of understanding of the true benefit of seeing a therapist, that it is so much more than simply talking things through, that there are things about ourselves and our behaviours that we haven't acknowledged or haven't understood that will never be explored with those closest to us but impact us on a daily basis. It takes a skilled listener to help us uncover the reasons behind the traits we exhibit, our coping mechanisms, our core beliefs, our biases, and more.
The following is what I, as a counsellor, would want you to understand. The difference between having a conversation and having therapy:
A therapist will hear your story and offer you support based on identifying an outcome that's right for you. A friend may offer you support based on what they would do if it were them in your position.
A therapist won't interrupt your flow. They will know when to allow you to talk, when to allow you to sit in silence, and when to step in and offer gentle challenge. A friend may very well interrupt in order to control the conversation so they feel they are making a difference.
Therapy is all about you. It is consistent and follows a clear process. Friendship is based on two-way support and is ad hoc. You may find yourself going round in circles and repeating the same things over and over. 
A therapist will accept your experiences as you understand them and strive to put themselves in your shoes with empathy. Friends will want to connect with you and show you they understand by sharing their own experiences however this can have the effect of making you feel guilty for feeling the way you do if the experiences of others appear worse than yours.
A therapist will ask skilled questions to help you focus on the important aspects of your experiences, they are able to pinpoint those single words that stand out amongst all the others that are vitally important to identifying those core beliefs you hold that may need some investigation. A friend or colleague will simply not have the capacity to do this.
"You've just done what me and my supervisor have been trying to do for the last 12 months"

- after only two sessions
Therapists will help you explore your emotions in a safe environment. If you usually shy away from your emotions, it can be a scary prospect getting emotional in front of those that we know well. We may fear our friends will think less of us so we try to maintain our composure. This isn't good for us.
Friends may try to make it better, to cheer you up when all you want is to sit in your sadness. A therapist will allow you to do this unless it becomes unhealthy, at which point they will delicately offer you the opportunity for change and a hope of feeling differently.
Friends and family may not know how to respond appropriately to your distress leaving you feeling alone or even uncared for. This can simply be down to the lack of knowledge and experience in how to react to another person's emotions that therapists will have the skills and knowledge to manage.
A therapist will offer you a non-judgemental attitude when you feel you may be judged by friends or family. They won't know anything about you or the people you might want to talk about so you can be free to be more open and honest than you might otherwise be with those close to you. 
Therapists will summarise and reflect back what they have heard you say, not just in that single session but also from identifying patterns from previous sessions which, when heard coming from someone else can help you hear and see it differently. This can offer clarity. A friend will offer you a conversation that is likely to move forward only.
"My therapist's observations on my ramblings were very insightful and thought provoking."
A therapist can offer safety and security via strict adherence to confidentiality that you will struggle to find elsewhere. How much do you truly trust your friends, colleagues, and family to keep it to themselves?
A therapist can offer skills and experience from learning taken from other clients, other people that have gone through similar experiences as you and they will undertake monthly supervision from an equally qualified therapist where they can additionally benefit from their supervisor's experiences. It is likely your friends will not have heard this before and may therefore struggle to support you.
Relationships with friends and family can be complicated. There's a chance they won't want you to change because they are gaining something from the person you are with them. A therapist is dedicated to helping you become the person you want to be.
A therapist will be an intent listener, they will really hear you and see you. Friends may not hear those little inflections in the voice or see those subtle gestures that need spotting and exploring and you may not recognise these in yourself either. They can make a world of difference when you are made aware of them.
A therapist may offer you strategies to help you identify unhealthy thinking patterns and behaviours in order to find healthier ways of being. This takes time. Do your friends have the time and the knowhow to support you in this way?
"My therapist guided me right through the process and changed my life."
In summary, our relationships with friends, colleagues, and family members can be wonderfully supportive and they play a huge part in our general wellbeing and offer us connection and a place to offload. They don't however, offer us the indulgence of focusing entirely on us, the time to explore our innermost thoughts and feelings, the opportunity to be absolutely and truly heard, or the space to find a better understanding of ourselves on a more conscious level. Therapy is wonderfully empowering and can be truly life-changing and sometimes even life-saving.
Our nearest and dearest are not our therapists. And they shouldn't be. They have an important part to play in our lives but when you need to focus on you, I'd highly recommend you speak to a qualified, skilled, and experienced counsellor. It really is an experience like no other.
Share this article with a friend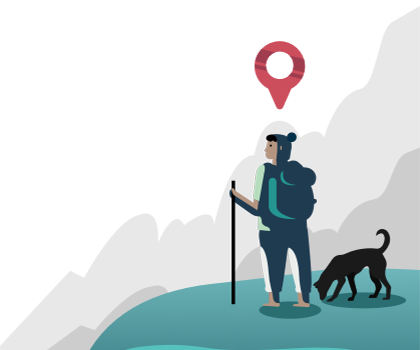 Find the right counsellor or therapist for you