Who am I? The importance of identity
Knowing and embracing who we are is so important, but sometimes we can run from pillar to post without being in touch with our identity. Alternatively, we may understand so little about ourselves that we shy away from thinking about who we really are. Either of these circumstances can mean that we end up in jobs we don't like, or in relationships that don't suit us. It can mean that we don't understand our values enough to let them guide us, or that we end up doing things that are against our values simply because we aren't paying attention. Not being in touch with who we really are can mean that we don't play to our strengths, so we don't fulfill our potential in life.
We can find ourselves in front of a mirror saying, 'I don't know who I am anymore', and we may ask 'who is this person?'. We may not even understand how we got to this point because we haven't paid attention for so long. All of this can be very painful and confusing.
If we lose who we are, we can find ourselves going along with others because we aren't sure what we want anymore. This can end up being painful and can also mean we aren't living a life that's best for us. Others may even take advantage of the status quo and take complete control, leaving us feeling powerless.
If you feel out of sorts and realise this may be why, it can be enough to simply re-evaluate recent decisions such as a job you've taken or a relationship you are in and get back on the right track. It can also be helpful to make sure you are doing the things you enjoy such as hobbies and seeing long-time friends.
The impact of a difficult childhood
Sometimes, however, the issue can be a deeper one. For instance, growing up we may have needed to fit in with others rather than forge our own path. Being too much of our own person may have been detrimental to the family unit in some way. Children are very sensitive to these needs in order to survive, so it could be that you slipped into a very small and convenient space, and now, years later you may still find it very difficult to own your identity. The positive way of looking at this can be that there might be a massive pool of untapped self and potential.
The impact of trauma in adulthood
Something else that may have happened is that life's events in adulthood may have been so traumatic that you no longer know or understand who you are. In this case, it is important to come to terms with the trauma so that we can know who we are again and move forward. Trauma changes us, and often we need to re-calibrate before moving forward.
Factors from birth
Another important thing about identity is that from birth it is partly controlled by things outside of our control, such as country of birth, culture, and gender, as well as the economic status and religion of our family, amongst many other things. We may struggle because we don't fit-in in some way with what is expected of us, or we may move somewhere or come into contact with people who don't understand who we are. This can be very difficult, and we can end up questioning ourselves and our identity.
Society and social media
Added to any of these factors, we are all constantly fed pictures of what an ideal life looks like: what we should wear, what foods we should buy, and what we should look like. A picture may be built up where we feel we should be a loving mother/father, hold down a full-time job, do yoga three times a week, and still have time to do charity work and cook a vegan meal from scratch. The images and information we receive can be confusing and even contradictory, and what we are told we should strive for may not be what we really want. It takes great self-awareness and strength to say no to these images and to say no to family and friends. This self-awareness may not be something we have in abundance if we've had a rocky start to life or have survived trauma or discrimination.
Moving forward
If you are unsure about your true identity, or if you feel your identity has been compromised in some way, it can feel very difficult to gain or regain your true self, but it can be done. Certainly, it may well take some soul searching which at times can be incredibly amazing and freeing, but can also be painful and tough. Ways to your true self include reflective writing, art, spending time in and reflecting in nature, as well as reading books that help you question yourself and broaden your mind. Counselling also offers a safe and non-judgemental space to explore yourself and practice being who you want to be.
Whatever your journey with regards to your identity, I hope that you find the way soon to shine your authentic and beautiful light in the world. We all have something unique and valuable to offer.
Share this article with a friend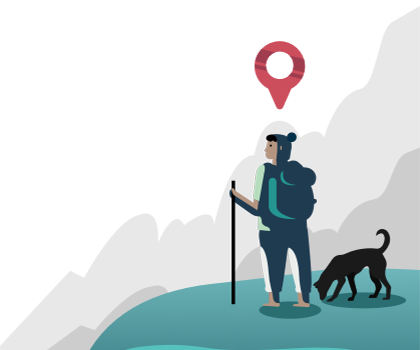 Find the right counsellor or therapist for you