Anxiety
The vicious cycle: being anxious about being anxious
Anxiety throws you into a vicious cycle that is difficult to break. Let's take Sam, for example. Sam was riding the bus one day, and suddenly he started to feel a little claustrophobic. He noticed his heart racing, his hands sweating, and he suddenly felt dizzy, worrying that he might faint. The fact that he could not get off the bus at that moment made things worse.
The next day, Sam had to catch the bus again. Naturally, he was worried that yesterday's event might repeat itself. He spends the time he has waiting for the bus worrying about it. By the time he gets on the bus, his heart rate is already slightly elevated, which leads him to think "oh no! It's happening again". The feeling of having no control causes him to panic, and before he knows it he's feeling trapped again and wondering if the symptoms he's experiencing might cause him to faint. The next day, his worry is a little more elevated than the day before, and so on.
By this time, Sam has gone past the point of just plain anxiety. The initial trigger of feeling a little claustrophobic and trapped on the bus is no longer the problem. In fact he could probably cope with that fairly easily, if he weren't so anxious about being anxious. Now, the mere anticipation of experiencing anxiety, or a perceived lack of control on the bus is enough to cause Sam to sweat.
Sam's example is a simple one, but a common one. It can be applied to most areas of anxiety, where the initial trigger that made you anxious takes a back seat and you now start to worry that you might become anxious, which is enough to set the ball in motion.
So, how do you deal with this idea of being anxious about being anxious?
The key is to stop the ball before it gets too far.
1) Try to recognise a trigger. What sets the ball in motion? The sooner you can learn to recognise it immediately, the sooner you can learn to stop it before it snowballs out of control. This takes time and practice.
2) Once you get good at recognising when you are becoming anxious about being anxious, try the following. Again it takes time and practice, so be patient with yourself.
3) Breathing exercises. The way we breathe has scientifically been shown to change our brain waves, which can physically induce a state of calm. Breathe in through your nose for three seconds, and out through your mouth for five seconds. Repeat for a minute or two. Practice this throughout the day, so that when you need it, you are good at it.
4) Use distraction. Once your mind focuses on one thing, like the anxiety that you might become anxious soon, it can feel impossible to think about anything else. Look around you, and grab something in your environment. Anything you can find. A pillow works well if you're at home. A pen works well if you're at work. Whatever is around you, pick it up. Start to touch it. Focus on the sensory aspect of the object beneath your fingers or hands. What does it feel like. Is there a sound when you rub it? Is there a particular smell. The point of this, is to focus on shifting your attention, and tapping into the senses of touch, smell and sound work really well to change your thought process.
5) Accept anxiety as part of life. We all experience anxiety at some point. Yes it is an unpleasant experience that we would all like to avoid. But half of the problem is that we are inclined, as human beings, to avoid negative experiences. Realise that when you become anxious, even if it is to the point of having a panic attack, nothing bad has actually happened to you. You may feel like you're having a heart attack, but you probably aren't. In the end, the worst thing that happened was that you felt out of control and a bit afraid and uncomfortable for a while. Maybe you embarrassed yourself. But that is okay. You are okay. The sooner you can convince your brain that "OK, so I might have a panic attack on the bus" (in Sam's case), the sooner your brain will let go of the anxiety about being anxious. This means, that for Sam, by the time he gets on the bus he is not already worked up, and can probably cope much better with feeling a little claustrophobic and trapped, making him less likely to panic about it.
Again, anxiety is a part of life. The sooner we can accept it as such rather than trying to avoid it along with the rest of life's unpleasant experiences, the sooner we are likely to overcome it. And again, these things take time and perseverance, so be patient with yourself, and practice "riding the bus" as much as you need to.
Share this article with a friend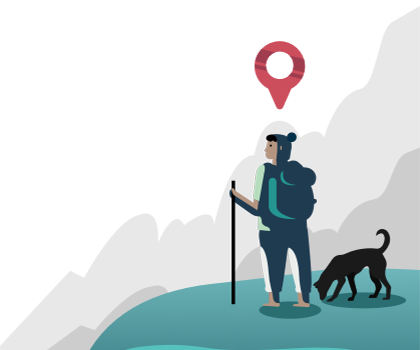 Find a therapist dealing with Anxiety