The power of working outside
Yesterday I was feeling blue. I had been struggling with something, I was beginning to see my own part in the drama, and beginning to see how much was outside of my control (a lot). I wandered down into the garden, and as I began to pay attention to the flowers, the insects and the birds, my mood began to lift.
Studies have shown that a view of woods (or a single tree), or other natural landscapes, are better for your mental health than looking at the human-made landscape. Other studies show the uplifting power of getting out into the natural world.
In Jay Griffiths' book 'Wild', she discovers that what transforms young people in indigenous communities in places like the Amazon Basin and the Arctic Circle who are struggling with addiction and mental health issues is reintroducing them to the natural landscape, with the help of community elders who know the old ways.
In 1980s Japan, government research showed the calming power of 'forest bathing', or shinrin-yoku.
What is it about being close to the natural world that is therapeutic?
When I see how the strawberry plants have grown and spread themselves all across the veg patch, I am reminded that the Chinese character for nature means something like 'self-managing'. The natural world manages just fine without us. Our minds are often like this too – when we can relax, the healing process begins to unfold of its own accord.
When I watch a goldfinch collecting rabbit fur for a nest, or bees scudding between the small blue flowers of green alkanet, I am reminded that the world is bigger than I am, that there is beauty, and that there are things that I can give my attention to other than my own problems for a while.
In returning to the natural world, there is also something potentially deeper at work. We are human animals, and there can be something inherently healing about returning to the living world - something to do with our evolution, biology and finding our appropriate place in the eco-system.
Some therapists offer clients sessions outside for those reasons.
There are other good reasons to consider working outside as well.
Being outside can allow the client and therapist to regulate the intensity of the session in different ways. Rather than two humans sitting opposite one another, which can sometimes be intimidating, we are side by side taking in the same experience of the world.
Some clients find that turning their attention to a beautiful view, to the sky, or to the earth, provides a sense of being supported in a way that they don't experience in the human-ordered world. Think about how many natural processes are at work just for you to take your next breath, for example. Being outside can increase our awareness and gratitude for these things.
Working outside can reveal different parts of our minds. Watching crows play, or seeing roadkill, might evoke a feeling or memory that we might miss in the usual space of the therapy room. 
Some people go to therapy to explore relationship issues, and seeing how all of the different elements of the natural world relate to one another can provide a mirror for their own lives. Some clients might be worried about climate change, and working outside can offer a supportive space to explore these issues. Some people come with anxiety or depression and find that being accompanied outside is inherently healing.
If working in this way appeals to you, search for 'eco-therapy' or 'wild therapy' on the Counselling Directory.
Share this article with a friend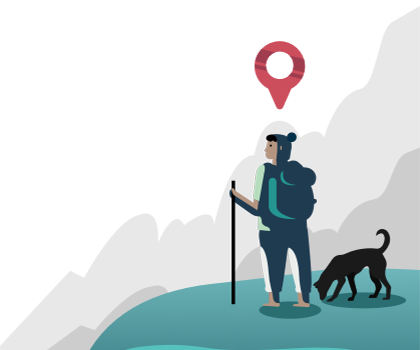 Find the right counsellor or therapist for you