Anxiety
The power of choice - do you feel stuck and anxious?
Life is awful, frustrating, depressing, hard, and difficult. I bet you too never have any luck! It's just one thing after another; every year you find yourself thanking the lord the year is coming to an end and a new happier year could be on the horizon with lots of good luck, opportunities, and fewer negative people bringing you down. A new year where no one person, job, or tragedy is going to ruin it for you!
Sound familiar? You're not alone.
You know you are going to be happy when;
you end the toxic relationship
the manager or colleague is fired
people stop making you help them
someone else shows you how much you matter to them
… right?
For many people, it's difficult to take responsibility and be accountable for the choices they make, the way they feel about themselves, the mindset they choose, or the opportunities they miss. I know bad things happen to good people, and there are true victims in the world, but we are talking here about the choices we make every day and how those choices affect our lives in terms of our feelings, thoughts, and behaviours. How we affect others negatively - mostly unconsciously - yet we feel they're the problem, forgetting we have unrealistic expectations and have demonstrated no communication whatsoever.
How do we switch from being a pessimist to an optimist, and is it right to do?
No. Have too much positivity and we can shut down our ability to feel and deal with negative emotions. Nobody likes an all-seeing, all doing, positive 'guru-ing' person, but finding the ability to feel more in control by feeling both negative and positive is the key here.
Making choices
Choice can be taken for granted and massively undervalued. We have a choice every minute of every day; even thinking we have no choice is a choice. Life can determine the choices we make that can make us seem happy or sad, positive or negative. When we are dealt difficult experiences in life, we get to choose how we are going to feel, think, and behave.
In 2006, after a fall, I had broken my tibia, fibula, and smashed my kneecap ("like cornflakes" quoted the doctor). After 15 operations, a three-month stay in hospital and having my leg amputated above the knee due to MRSA, I came home to a completely different life. However, everything else was still the same in a way: the house, pets, friends and family... life went on. My partner and I had experienced a life-changing moment that would change our relationship and how we lived forever, but how were we going to manage it? It wasn't pretty! It was a mess. There were tears, arguments due to frustrations, and just general "poor me"! I was not, and still am not, an all-seeing, all-doing, positive guru. I was 33 years old; this was not meant to happen to me. The biggest change, one I didn't see coming, plan for, or expect, was my attitude. Yes, not the one leg, but the attitude!
Life throws us gut-wrenching curve balls that can break us into tiny pieces, feeling too sharp and vulnerable to be glued back together. For me, the only thing I could control at this time was my attitude, and this is how I chose it.
I had two choices;
1. Sit in a wheelchair at 33 years old, probably sad, isolated, lonely, angry, and bitter. I wouldn't be in a relationship because my partner would have been my punching bag for all the bitterness. Basically waiting to die so it was all over; all the bad things and bad luck that had happened to me.
2. Adapt and overcome. This is new - who gets a second go at adulthood? Who gets the chance to find a new way of being? Who am I going to become in the wheelchair? What have I always wanted to do? It will be frightening, but I will be learning new ways to do all I did before. I could have been dead. MRSA nearly took my life, but it could be an opportunity.
In life we have choices - we get to choose our attitude. There is not always a 'how-to'; we just get to decide between choice one or choice two. If we begin to take responsibility for ourselves and be accountable if we make the wrong choices, we can feel empowered. Make choices that are best for you. You are enough.
I believed, albeit unconsciously at the time, that I had no limits, I felt I had nothing to lose. I saw problems as opportunities, and I was blessed to have a partner and family who believed in me and supported me. As blessed as I was, I also believe that had I been on my own, I hope I may also have gotten to this place. I chose my attitude and, therefore, I chose my thoughts and behaviours.
Choosing authentically is difficult, and it is a daily challenge as we are drawn to negativity rather than positivity; it's easier. Our fears, self-esteem, and beliefs can steer us backwards or, even worse, trap us in limbo feeling sad, stuck, lonely, stressed, unhappy, and anxious. Our default defence mechanisms can root us in a cycle of negative choices, such as allowing fears to dictate our lives, allowing anxiety to stop us from living, letting self-esteem trap us into thinking we are not good enough, or generally living a life we do not feel we chose or fair.
Research suggests we feel our happiest when we are solving problems, yet those same problems for some can feel overwhelming due to our attitude towards them. Problems can be opportunities to build resilience. How difficult a problem might be can be influenced by the attitude we choose when we look at it.
Since 2006, I have achieved more in my life personally than I had in my whole life prior. It all began by attending a course at the local college for three hours a week for something to do, as I was climbing the walls with frustration. I did level three counselling. Since then, I completed the level four diploma, BSc Hons in counselling, a teaching qualification, a counselling supervision qualification, and currently a master's in 'advanced counselling and psychotherapy'. I have had a counselling private practice for nine years and lectured at the college I completed my level three in for 10 years. I now work as a children's therapist; another amazing opportunity I was given. I took every opportunity I was given - I got to re-do my adult life and go back to school. In 2006 I would never have predicted this.
I did not choose all of the above; I chose to do something for me for three hours a week after I felt control of my life had been taken away.
Having choice is infectious and it is empowering, and for me, it has been liberating. No one or no single thing took my previous life away; it just changed because of life experience. I don't always look for the 'how-to'; I look at the choices and check my attitude. I make wrong choices all the time, but they are my choices, my responsibility, and only I am accountable. I know and understand how difficult it is to fall into a negative cycle, as I splashed around in mine for a long time after 2006, but I also did before this time. The difference pre-2006 is that "it wasn't my fault" - it was other people, jobs, etc that were to blame. If I am happy and positive now, it's because of making the right choice. If I am unhappy or negative, it's because I made the wrong choice or perhaps waited too long in making a choice.
It's OK to feel negative, but how long you choose to be negative for is your responsibility. Life experiences are difficult and emotional, but they gift us with resilience and wisdom. Having choice is empowering, and when you know and feel like it's yours to make, regardless who or what surrounds you, anything is possible! Good luck.
The power of choice (part two) will explore and describe useful techniques to help you make better choices and identify which parts of your life you want to empower yourself.
Share this article with a friend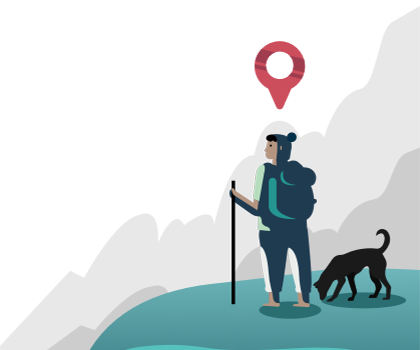 Find a therapist dealing with Anxiety