Anxiety
Rediscovering joy - how creativity can help
I ask all of my clients the same question – what brings you joy? For too many, at the start of therapy, the answer is 'nothing' or even 'I can't remember'. A hallmark of low self-esteem and being ground down, they may not even want to look for joy right now. And I don't blame them, it often feels safest to stay still and not tempt a positive feeling to come for a while only to feel it go again. But stillness isn't growthful, and for those entering therapy, there is a desire to begin to grow and move again, no matter how slowly. That is where creativity can be helpful in rediscovering joy.
For me, it's origami. For you, it could be painting, crochet, upcycling, colouring. The list is endless, and it's a unique choice. The craft you choose to be creative in could be a throwback to a childhood experience, when it seemed we had time, and when your desire to be creative - even if it came with a bit of mess - was met with positivity and praise. Or it could have been a way you sought peace and quiet; calm in a busy world. It could be something you've longed to try but considered unimportant or too difficult. For some reason though, lately, you've put aside the colours and patterns. You decided you wouldn't be good enough at it, or couldn't find the time. It may have been an insignificant choice at the time, just another thing that fell away when the pain began, but I never see that choice as insignificant.
I see creativity having a powerful link to joy – in its simplest form. Being creative is a way of taking up space in the world, of declaring that you and the things you make have a right to existence. It is a way of seeing what you do, and possibly yourself, as being a source of beauty and colour. It can distract you or calm you, provide you with a sense of order and space for what you love and value. Most of all, in the completion of a project, there comes a sense of achievement.
It might be a knitted hat and not the stressful work project looming over you, or the phone call you can't make today, but nonetheless, you did it. And that feeling grows and multiplies.
Suddenly, the joy serves a greater purpose; as fuel for a change in the way you see yourself. And in the created object you have abiding proof – there is a reality to the idea that you 'can'.
By claiming time and space for your creativity, you practice claiming space and time for your needs. By valuing what you have made, you value the creator. By gifting what you have made, you honour your relationships and spread the joy beyond your own experience.
I encourage many of my clients to consider the sources of past or present enjoyments, especially creative ones, and to try re-engaging in them as a way to practice self-care and rediscover joy. It doesn't end there though. This is advice I have learned to follow myself. I have always been creative, but origami is a special kind of creativity for me, one that symbolises my own journey through therapy and out into my professional life as a therapist. It is about bringing beauty out of pain and restoring order.
When I can't think or process, I fold. When I feel too much or too little, I fold. When I am lost, I fold. When I need to make something right, I fold. Then what I fold is admired, is acknowledged as beautiful, and that's how I feel too. Disorganised and painful thoughts become the reason for creating a beautiful object, something ordered and harmonious, and in the act of creating those thoughts are transformed. I feel calm, I take pride, I feel achievement. It reminds me to see my difficult moments as part of a moving stream that will pass on, even if for now the journey is frustrating and complicated. The repetition in the folding is soothing, but there is an endpoint – until the next time I begin a new project, a new journey, and I learn something new about myself.
I am no longer in therapy, but it's still important to ask myself that same question – what brings me joy? I wonder what your answers could be. 

You can find out more about how art therapy can help you and search for a therapist on Counselling Directory.
Share this article with a friend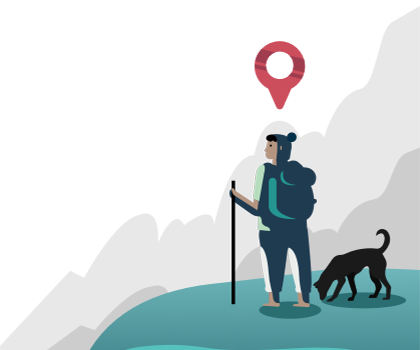 Find a therapist dealing with Anxiety