My journey to becoming a counsellor
Many years ago, when I first started my training, our tutor asked us all to write a journal about ourselves, and our reasons for wanting to become counsellors. Everyone has differing reasons for wanting to make a profession from 'listening' and so I began my journal and was surprised at what I wrote.

Having sought guidance from a counsellor myself, many years previously, I knew the struggles that we all have in life to cope with all kinds of issues. I also knew that, by experience, we can reach out and enable others to overcome battles we ourselves have fought and won; gaining valuable insight from our clients as we do so. It is a mutual learning experience. Counselling allows us to do this and is a very special profession indeed.
I tell clients counselling is "talking and being heard". Yet, it can be very rare that we will be able to really speak about our innermost self, and know that the person we speak to truly hears us. So it the counsellor/client relationship is very special. 

Therapy allows you to talk and feel comfortable enough to be yourself. You can be completely at ease with another person who will not judge you or make comparisons with others they know; viewing your life through your lens, as closely as you choose to do so. With you on the journey as you discover yourself and your strengths and weaknesses; the ones we all have.
Feeling properly heard can be a first time experience for us as people. Families and relationships all have limits and of course, counselling does to, but counsellors allow clients to choose the pace. There is no rush and confidentiality is the touchstone for being able to really trust another person. 
Part of counsellor training involves years of therapy, though this is something clients are usually unaware of. Counsellors are aware of what it's like to sit in the chair, so to speak. They know how it feels to really open your heart and soul - your innermost self - to another human being and know that you are safe and that they will be there, with you on your journey.

So now, almost 25 years later I look in my journal from my training years and see that my reasons for wanting to be a counsellor remain unchanged. I have changed, as we all do but the central and most fundamental reason for my beginning my training was because, once, I needed someone to help me through a time in my life that was very, very difficult. 
I found a counsellor and the experience changed my life, for the better - I learnt how to cope in my life and how to free my real self. I had all the tools within - she taught me that all I needed to do was to find them and I did. I remain forever grateful for her gentle, patient guidance in that dark, difficult time. I emerged into the sunlight of a new me. Calm and no longer bewildered by life's ups and downs.

It was a magnificent and very enduring journey and one I shall never forget.
Share this article with a friend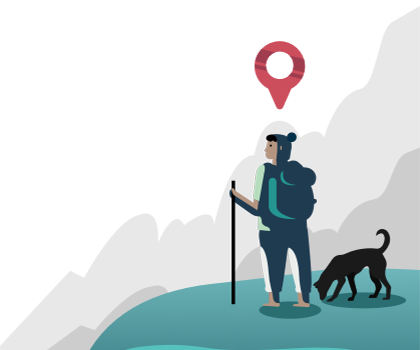 Find the right counsellor or therapist for you