It's therapy, but not as we know it: Can online therapy work?
Search for 'Therapy' images online and you'll likely be met with a battalion of soft-focus sofa shots featuring two people face-to-face. So, when faced (if you'll pardon the pun) with a global pandemic that required us to avoid proximity at all costs, there were many questions - not least my own - about how therapy can work online.
For therapists, it felt like a sizeable challenge - not least being confronted for the first time with one's own grainy mug shot whilst gazing at another. But for clients? It felt like asking a lot, particularly when quite aside from COVID, many people were - and still are - finding it hard to keep going, let alone to become the next Bill Gates. 
Therapy in the time of COVID-19
Are you wearing pyjamas?
What are some of the main worries regarding online therapy? Confidentiality tends to be the main concern for clients. Some people describe feeling anxious that they might be overheard or interrupted, and likewise, that if their therapist is working from home, they could be side-tracked by an errant wunderkind yelling, "What's for dinner?". It's tantamount to seeing a teacher in a supermarket. Which leads me on to the anxiety that the therapeutic space is no longer neutral.
The idea of a therapist observing you in your natural habitat would have the tidiest of us scrabbling for the Marigolds. It can feel invasive, and vice-versa, being confronted with another from the waist-up only, can conjure all sorts of uncomfortable thoughts about your therapist and make you feel that you are in some way intruding on them!
Lastly, there's the terror of technology, which can feel overwhelming at the best of times, let alone if you haven't been near a keypad in aeons.
Does it work?
Despite these many understandable misgivings you might have about online therapy, it is still therapeutic even if it is offered in 2-D. And that's because, while the backdrop might be different, the intention remains the same - to hear what's going on for you and to help you make sense of it.
After some initial hiccups, for example, speaking on mute for five minutes, the screen fades away and it's just the two of you doing what you do - the therapeutic relationship still stands. Ironically, despite the distance, we remain proximate online. When something comes up that feels difficult about working online, just like everything else, it can be thought about. Often times, working in this way means that new stuff emerges that perhaps wouldn't have done face-to-face so it can provide fresh opportunities for change.
And another great thing about online is that it can offer a new level of accessibility - we are not limited by some of the things that can make regular face-to-face therapy difficult. 
The downside
It would be remiss to suggest that online is without its challenges. It does demand that you find a way to carve out a safe space to work from, and there may be times technology lets us down. Quite aside from that, it might just not be your thing. If it's not for you, it's not for you.
Keep in mind that many therapists are still able to offer face-to-face as guidelines shift for our industry. And they're not the only two options - there's also the possibility of the phone and even walking therapy. Whatever works for you and your therapist - the important thing is to keep the conversation going.
What you'll need
If you're yet to try online therapy but want to give it a go, there are a couple of things to bear in mind. Remember the following three tips.

You'll need a safe, confidential space where interruptions from slipper-chomping puppies are limited. Have you a spare room you can occupy for the duration of the session?
You'll need a (very) basic knowledge of Zoom, Skype or Facetime (your freshly-acquainted therapist can help you with this). Allow for a few mistakes, we're all human!
Finally, you'll need the will to give it a go and accept that it might take some time to adjust - it's all to be thought about. If it doesn't work, that's OK. Speak to your therapist and be honest about your concerns. Together you can work out the best option for you.
Share this article with a friend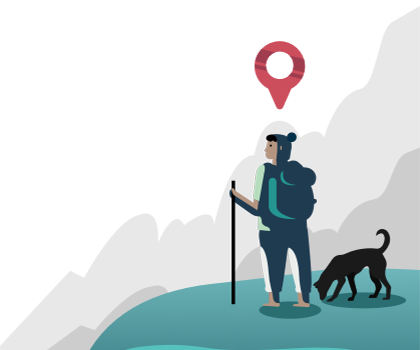 Find the right counsellor or therapist for you