Obsessive compulsive disorder (OCD)
I silently DID: dissociative identity disorder
A while back multiple personality disorder was the label used for dissociative identity disorder
(DID). Films and books were the subject of what many saw as a sort of strange and curious, maybe disturbing disorder. Although not clearly stating this condition, but with some poetic licence, the story of Dr Henry Jekyll and Edward Hyde is a classic example.
Dissociation

Have you ever driven a car, done the washing up or got dressed maybe, while you have had something else important on your mind, then looked back and realised you had no idea how you did what you just did? You know this has happened when you have no concrete specific recollection of all the menial little tasks that made up the job you just accomplished, you just did it in auto pilot, while you focused on thinking about other important matters. This is a normal self regulating psychological strategy that most of us employ quite often, it's known as dissociating.

What this strategy allows us to do, when needed, is to remove ourselves from the more mundane physical world and enter into a more preferred or needed heady space. There can be different reasons for why this happens.
Dissociation and trauma

Dissociation is a coping strategy that everyone uses from time to time. However some people who have had to deal with profound trauma, in their early years, have had to pull upon this strategy to quite literally save their lives. Our brains are profoundly clever at times, thank goodness they are.
Although 'The Strange Case Of Dr Jekyll and Mr Hyde' is a fictitious story by Robert Louis Stevenson, there is a reality to the concept hidden behind the story and the term we now refer to as DID. As for Jekyll, who changed after drinking a potion, if he was a real person, I would image that in his childhood he experienced a significant ongoing trauma that the little boy Jekyll had to learn to protect himself from. Little Jekyll learnt very quickly to draw upon dissociation, separating himself from his real world to escape the frightful pain of the abuse he had to regularly endure as a child. It is likely that Hyde, Jekyll's alter, is an altered state of consciousness reflecting aspects of his abuse and abuser. When Jekyll found himself in situations where he was triggered later in adult life he habitually dissociated to his alter to protect himself. 
More common experience of DID

DID is now well researched and it has been estimated by the International Society for the Study of Trauma and Dissociation that 1 to 3 % of the population experience this habitual tendency, to more or lesser degree. This means that this condition that many people feel uncomfortable and strange about, maybe because of the stigma the media has helped to create, is actually more common than obsessive compulsive disorder (OCD), a condition that many of us are familiar with today in our often stress ridden society, either through personal experiences or through knowing a friend, partner or colleague.
Why the stigma?
Maybe one of the truly sad and real dysfunctional aspects of the condition of DID is how it is perceived by many in society, leaving many individuals who experience it to suffer in silence through fear of having to deal with the painful consequences of being outcast or stigmatised, as well as having to deal with the very real difficulties DID can also present for them on a regular basis. The truth for many is that maybe coping with the condition within society takes a lot of painful, but well thought out management strategies, resilience and strength, developed over time, which may work some of the time but sometimes not.
Most DID symptoms, for those who experience the condition, are less extreme and maybe more discrete than Jekyll's alter, Mr Hyde, but for some who experience DID, the extreme shift is very real, unconscious  and comes with no warning or even awareness of the transition or experience. This shift must be a very difficult, confusing and painful experience to have to deal with on a regular basis. However for most individuals who have to deal with DID, there is often an awareness of different alternative states of consciousness as they happen. The alters can have very down to earth characters, friendly, reserved, eccentric, extrovert, provocative or just very normal, if normal exists. For some people who experience their alters, the alters are helpful, important and maybe not easy to eventually integrate into the whole personality as this can feel like letting go of an important attachment.
For many  people experiencing the symptoms of DID, the symptoms often become well disguised in the everyday lives of those dealing with the them. Often those individuals may be holding down important professional careers as well. So maybe through the need to keep it quiet, so as not to have to deal with the painful issues of society's stigma such as the possibility of loss of employment, friendship or whatever that stigma chooses to deliver, it feels safer to DID in silence. I feel it's worth asking "is the issue of stigma in relation to DID, or any mental health issue for that matter, not societies issue, or disfunction, not the person who is having to deal with the symptoms of DID?"
Share this article with a friend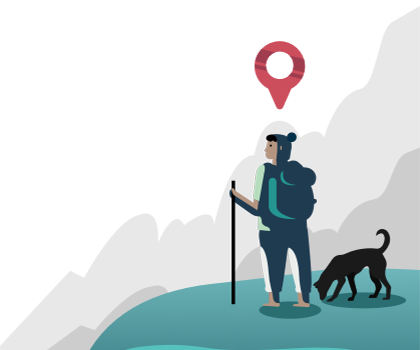 Find a therapist dealing with Obsessive compulsive disorder (OCD)