How to find a great therapist
In a world where we are more stressed, anxious, and unhappy than ever before many people are becoming more focused on the importance of their mental health and are seeking counselling to help them improve their mental well-being.

Finding the right counsellor is crucial for getting the most from therapy and with more and more counsellors now working online or via the phone we are no longer constrained by locality when it comes to finding a suitable counsellor. But where do we start? 
Finding a skilled, caring, professional counsellor, someone you can trust and bare your deepest secrets to in total confidence can take a little work, but it's important and worth the effort when you consider that the right therapy could literally be lifesaving! Think about the last time you booked a holiday or bought some furniture, you probably didn't just go with the first option. You may have taken some time, thought about what you needed, did some research, considered your options, and trusted your instincts.

So, let's use these skills to help you find the counsellor you need.
Consider what you're looking for
Why are you coming for counselling?
Is there a particular issue or issues you'd like to focus on or are you looking for something more general? Some counsellors will specialise in certain areas such as addictions, trauma, or bereavement - make sure who you are considering has experience in what is bringing you to therapy.
Who are you?
The skills of providing counselling for couples, families, children, and young people are different from those needed when working with individual adults so pick a counsellor who has the appropriate skills and training to work with clients like you.
What are your needs?
Do you have any special requirements or needs to help you access therapy? If you do then ensure any counsellor you consider can provide this.
Think about your budget

Private therapy is not free so consider if you can afford ongoing therapy or if something more focussed would suit your pocket better. Don't be afraid to negotiate or ask for a discount, lots of counsellors offer concessions. If you live in an expensive area of the country and are happy to work online or via the phone then why not shop around nationwide, counsellors in more rural areas where the average wages and cost of living may be lower tend to charge less then counsellors based in a city.


Frequency and number of sessions
It's worth thinking about how often you would like to access therapy. Most counsellors offer weekly or fortnightly sessions, and some will be flexible and offer less frequent or one at a time sessions. Do you want to work within a set number of sessions or a certain timescale? Think about what fits with your life. 
Methods of therapy

There are several different ways to access therapy. Traditionally most counselling has been carried out face to face either at the therapist's office or your home. More recently therapy in nature has started to grow, with walk and talks and mindfulness in nature now being offered. There is also therapy via the telephone, email, text and webcam. All have certain benefits and certain factors to consider.
Research therapy
I cannot stress this one enough. There are so many different types of therapy out there it can feel a little overwhelming but take some time to research and familiarise yourself with some of the different types of therapy available.

You might find something specific you really want to try in which case pick a counsellor that specialises in that therapy, or you may be open or excited to try different approaches, in which case counsellors trained in a variety of theories (who often describe themselves as integrative, blended, eclectic or pluralistic) might be a better option for you.
Where do you find a good counsellor?
If you want to work face-to-face with someone local to you then asking around can be helpful. Do you know anyone who has been to therapy? If so ask them about their experiences. Places like your local GP surgery, health clinics or local schools and colleges may also be aware of counsellors working locally. 
An internet search will bring up lots of suggestions. Websites like Counselling Directory list qualified professionals that have been checked and verified to ensure they are experienced, hold the relevant training and work ethically; so that's a good place to start. 
Make a shortlist of counsellors whose profiles you like the look of look for information about how they work, what kind of clients and issues they work with, what type of therapies they offer - cross-reference it with what you are looking for and if they don't meet your needs move on!
Contacting a counsellor
Once you have your shortlist it's time to reach out.
This can be a little daunting, but counsellors are usually friendly people and will try their best to help you feel at ease. Before booking a session most counsellors will offer a free telephone call or assessment to enable you to ask any questions and get a feel for who they are and how they work. It can help to have a list of questions you want to ask with you.
This initial conversation is usually a two-way process. You have things you want to know about the counsellor and they will ask you questions to find out about you. What is bringing you to therapy, what you are hoping for etc. Expect them to ask questions, but only share what you feel safe to of course!
Trust your instincts. How do you feel when you are talking to them? Nerves are normal of course but do they seem genuinely interested and take time to listen and understand you? Do they seem approachable, professional, trustworthy? Were they happy to and able to answer your questions? 
If you are not sure, don't book! Make a polite excuse that you need to think about it for a bit. You could always say you need to check your work schedule or want to talk to your other half/parent/friend before booking a session. If they are not OK with this then are they really the right counsellor for you?


Things to avoid
Beware of false promises! No counsellor or therapist should be promising or guaranteeing results from therapy with them. It's OK to be offered hope and encouragement; for most people therapy with the right counsellor does have a positive impact, but we are all different and it can take time to find the right therapist or approach. A good counsellor will know this and accept that they cannot possibly be the right therapist for everyone! 
Jargon! There can be a lot of scientific and specialised language used in counselling and psychotherapy, which can be confusing. Counsellors should always be happy and able to explain things to you using appropriate, relatable language that fits their audience. If you are looking for a counsellor for your child, for example, are they able to explain anxiety in a way your child would get it? If it feels like they are just trying to baffle you with jargon or impress you with their knowledge walk away. 
Is it all about them? Counsellors usually work very hard to get a feel for what your world is like so that they can help you find the answers you want. They might at times share a little about them, and this can be extremely beneficial to help build the therapeutic relationship between you, but be aware of the counsellor that overshares or relates everything you say to themselves or their experiences.

Therapy is about you, not them, just because they may have a life experience similar to yours does not mean you experience it the same way; we are all unique. A great counsellor will take time to listen, accept and do their best to make sense of what you are sharing but will understand that it is your journey, your world, you are, and always will be, the expert in that, not them.
Over my years of training and working as a counsellor and having my own therapy and supervision, I have been very fortunate to experience some truly amazing counsellors who do everything they can to support their clients. We are out there, and we want to help. Hopefully, this guide will help make it a little easier to find the one for you.
Share this article with a friend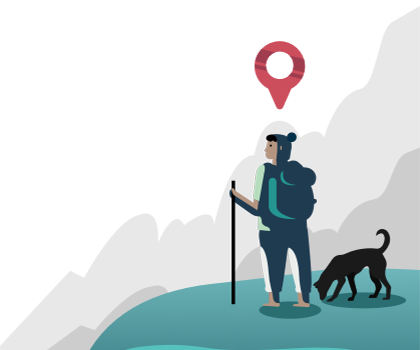 Find the right counsellor or therapist for you