Getting real
As a human species, on the whole, we evolved, we developed, and we became more sophisticated.
We learned to use a fork and knife, and we built houses that are not only giving us shelter but are solid and tastefully decorated. We discovered electricity and we cook delicious meals, combining the most unusual ingredients together. With progression in our external world came a shift in how we express and present ourselves. To fit in, we needed to adapt.
To be a part of sophisticated surroundings, one needed to become gentle with fragile porcelain cups and toughen up to meet society's demands and rules, that suddenly started to grow bigger, stronger, and more rigid.
We discovered clothes and we disguised our bodies with fabric. We have also learned how to cover up our deepest desires and emotions. All this in an attempt to be loved and accepted, to simply fit in. Have we compromised our integrity and uniqueness? Have we comforted, and given away parts of ourselves, that are real and genuine, for fear of rejection? Is today's obsession with good looks, fame, and success creating an epidemic of anxiety and depression?
We look around and see a perfectly fake world of beautiful, famous, always happy people, with super white teeth and perfectly shaped bodies. They all have perfect little houses, with perfect little gardens and perfect families; deep, affectionate, passionate, romantic relationships, where there are never, ever any arguments or problems. These super humans are never reached by sorrow, bereavement; their dogs never die, mothers in law are sweet and loving, their children are living angels who never have tantrums, who are always healthy, clean and never get bored; their nails never break, their clothes never get stained with tomato soup, they don't go bald or grey; their bodies are always super fit and healthy, their hearts are never broken.
We start to believe that life can be all rosy and pain-free, that everlasting happiness is easily accessible and achievable, just waiting around the corner.
We start to think, "everyone around me is living a perfect life, apart from me". Moreover, we sometimes buy into this belief - that it's our personal failure if we don't have a perfect, happy existence. Life starts to seem unfair, and the resentment is gradually building up a bitter wall around our hearts.
We realise that our bodies are out of shape, our children are messy, our partner is driving us mad at times, we just had to put our dog down, and someone just made an awful, hurtful comment that broke our heart a bit.
So what do we do with all these feelings of disappointment and inadequacy that we experience? We either get angry with the world or ourselves - we blame, we rage, or we get sad and depressed.
We feel undeserving and unworthy. We want what all these people on social media, Facebook and YouTube have. A perfect set of white teeth; an amazing, killer figure; a successful job, that brings not only piles of money but also prestige and respect; a relationship with a daily display of fireworks and doves hovering above; immortal pets, inflatable and unshakable self-confidence, five hundred Facebook friends and thousands of likes on Instagram.
We then wonder - what do they have that I don't? They must have something... maybe they are working harder, maybe they are more driven, maybe they do things I don't do. Maybe, simply, they are not me. And, therefore, there must be something wrong with me.
Then follows the 'if only'… If only I was like them, if only I had what they have. Then I would be happy, then I would feel loved, then it could all fall into place for me.
We then find a perfect solution - "I need to be like them. More like them and less like me".
Therefore I will become vegan and practice yoga, I will sign up for fitness class and get a cute little puppy. I will get plastic surgery, take a trip to Thailand, whiten my teeth, get a fake tan, learn Japanese, organise my wardrobe, and get that PhD in Philosophy.
This will surely make me happy and deserving. I will get there, to this land of never-ending joy and everlasting fulfilment. I will tick all the boxes on the 'cool person list' and will join the club of 'forever happy'.
Then, gradually, we realise, that this membership in the happy club, actually, comes with price tag. If I sign myself up for a 'happy ride', I can't show any weakness, I need to be super happy and super fit all the time. I cannot be tired, or grumpy, or sad. I need to keep up and make sure I match the profile of myself, that I immaculately and methodically created, so I can fit in with the clan of always happy, perfect, super-humans.
I cannot be me, I cannot express myself the way I deep down want to and need to. Deep down, I feel like a fraud, because I secretly hate broccoli and really want a piece of rich chocolate cake, with icing, full of sugar and gluten, and fat; I would rather watch Netflix than torture myself on the treadmill, I am not really into boot camps and glamping; I like baggy jumpers and hate wearing high heels, and don't really like weightlifting and beer, and most of all I don't like feeling this extreme pressure to keep up this perfect image of myself and be this fake person I became, but hey - little sacrifice for being in a "successful, happy" circle.
Deep down I fear, that if I dare to be me, no one will love me or like me. I fear, that I would feel misery...
If we start to believe that we are only lovable and accepted when we are a certain way, it urges us to be at "our best" and filter all the potentially 'risky, undesirable' behaviours. We suppress anger and frustration so we appear nice and polite at all times, we suppress sadness because no one wants to be around a miserable person, right? We paste a fake smile on our face and we muster courage and resilience, even if we are dying inside. We hide all those tricky feelings and reactions deep inside, even from ourselves.
We hide so deep inside that eventually we forget who we really are. We dread that we will get found out and kicked out from the golden circle of happy people. So we pretend, we learn to forget ourselves, and cut off these alien feelings that are trying to come to the surface when we are lying awake at night. To avoid tears and sadness and grief, we do more yoga, we take up drawing lessons, and spend endless hours in the gym. We hang out with our perfectly happy friends and talk fashion, makeup, and football.
In our perfection-ridden society, is there a place for a bad hair day? For grief and spontaneous little cry? For getting it wrong and making mistakes from time to time? Is there a space for sensitivity, helplessness, and vulnerability?
It seems that we have pushed all these displays of emotions into a cellar, a dungeon in our perfectly designed, shiny, scratch-free, spotless world, where everything runs smoothly and if your 'happy ever after' is not so happy after all, the unspoken rule is to keep it to yourself.
Do not ruin this illusion of a wonderful world with endless possibilities, all fluff and butterflies, for others. So fake a smile, grind your teeth, adopt a passive-aggressive attitude and pretend all is well, just like everyone else around you.
It seems that we learned to numb our emotions. We trained ourselves not to feel, to cut off, to disassociate from our real experience.
That makes us indifferent, cold inside, and fearful. That makes us fragile and exhausted. We need to keep straight, poised, and perfectly capable when everything inside us just wants to collapse. That forces us to tense our muscles and clench our jaws, all for the sake of 'keeping face'.
It's a personal choice, how we live our lives. We don't choose our circumstances, but we can choose how we meet them. If only we could apply honesty into our experience, if only we remembered that who we are makes us beautiful, that we are unique, that we can just be without having to prove anything, the world would be a better, more honest and heartfelt place.
So today, just take a deep breath, put your comfy shoes on, allow yourself to feel whatever is there in this wonderful, unique heart of yours. Don't pretend, don't avoid, don't compensate. Don't be scared of being you.
Maybe someone out there will be grateful for your genuine nervous, shaky smile, little panic in your eyes, stained blouse, bad hair day. Just maybe, your allowance to be you will inspire them to be who they are as well.
Share this article with a friend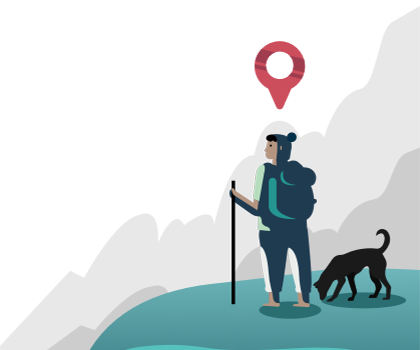 Find the right counsellor or therapist for you