Writing from the heart
14th - 16th May 2021, 10am - 4pm
Whether you have a personal or family story to tell, or you simply want to write for the joy of self-expression and discovery, this weekend gets you straight to what matters most. It's about personal growth and wellbeing as well as writing – and you don't need to be a writer to join us.
We'll be working in easy two-hour sessions, one in the morning, one in the afternoon, from Friday to Sunday. There'll be time for sharing, plenty of breaks, and some light tasks in between sessions.
Telling and sharing our stories helps remind us who we are – and what could be more important in these extraordinary times. Join us in May and write your heart out!
For more information visit thestorieswetell.org.uk or watch our event video, which tells you more about what you can expect from the workshop.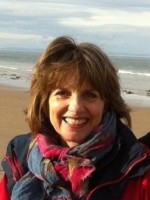 The Stories We Tell workshops are run by Sarah and Jamie Jauncey. Sarah is a counsellor and yoga teacher, Jamie a writer and musician. All their weekends are based around the way we interpret our life experiences - in other words the stories we habitually tell about ourselves and those around us.