>

Thinking about the unconscious with Cate Lyon - Online...
Thinking about the unconscious with Cate Lyon - Online workshop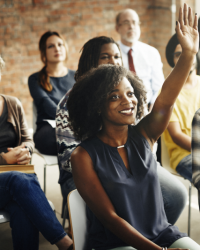 10th July 2021, 10am - 4pm
Qualified practitioners: £75 Counselling/Psychotherapy trainees: £65 WPF Therapy trainees/staff: £55
Are you studying on an introductory course and would like to learn more about unconscious processes?
This workshop content is aimed at an introductory level and is open to all. There is no expectation of any pre-course knowledge or clinical practice.
The workshop will be of particular interest to those who are exploring a range of therapy models before embarking on professional training, at an early stage of their training and clinical practice, seasoned practitioners who feel in need of a refresher and anyone who simply has an interest in the topic and enjoys exploring.
By the end of the course you:
1. Will have gained a good basic grasp of some key unconscious processes and some confidence and appetite for further exploration.
2. Will have some confidence in recognising, exploring and discussing unconscious dynamics.
This workshop will take participants on a whistle-stop introductory tour of the unconscious. We shall visit some unconscious processes such as repression, projection, transference and countertransference and stop off at some key defensive mechanisms. We will unravel some jargon and discuss how these processes might manifest themselves in our everyday lives. We shall consider some clinical and non-clinical examples of such phenomena at work along our way.
There will be some direct teaching, and plenty of individual & pairs exercises and time for group discussion.
Target audience: Counsellors and therapists in training. This is aimed at those who are starting on their therapy training.
Comment from a previous workshop: "Cate is an extremely skilled and engaging workshop leader"
Workshop leader
Cate Lyon is a Psychodynamic Psychotherapist trained at WPF Therapy. She is Counselling Lead in NHS Primary Care (IAPT). She practices and supervises in private practice. She teaches and trains extensively in the field and consults in these roles in a range of public and private organisations.
Applications must be received by Thursday, 28th January 2021. 
Before booking, please read our terms and conditions for CPD events. If you experience any problems, please contact events@wpf.org.uk.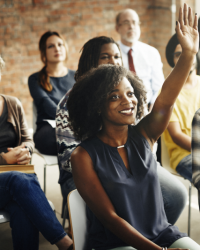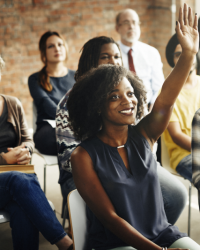 Hosted by WPF Therapy
WPF Therapy is a well established and respected therapy training organisation. Throughout the year we provide CPD workshops and lectures to augment the clinical and theoretical learning offered by training organisations. This also offers the opportunity to focus on topics pertinent to the clinical work provided by new and established practitioners.